2016 Is Bringing It With These 16 Sexy Movies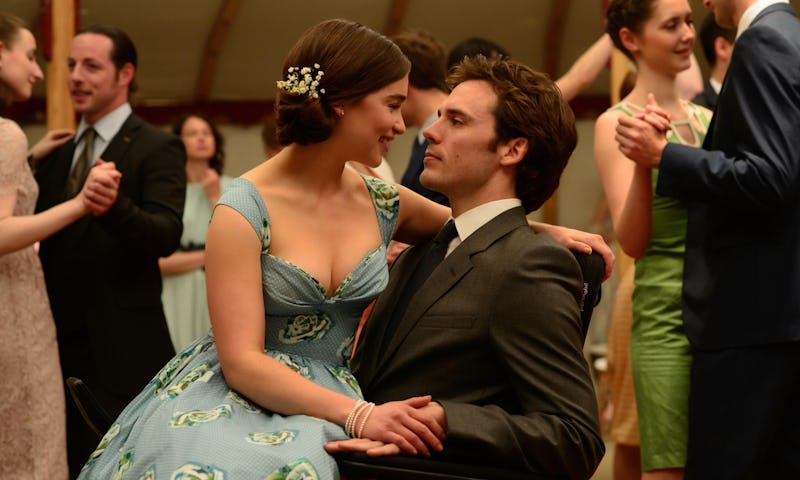 It's not quite the dog days of summer yet, but the heat is most definitely on. While you chill in your central air, allow me to get your mind wandering to some more metaphorically steamy thoughts. 2016 is halfway over, and that's long enough to begin looking back over the year in movies. Starting, of course, with the hottest releases from January until now. The past six months have had a lot to offer in terms of devastatingly sexy scenes; in fact, they can be found everywhere, from rowdy campus comedies to high-concept thrillers. Has your interest been piqued? Keep on reading to see the 16 sexiest movie scenes of 2016 so far.
While I'm on the subject, I'd like to speak directly to the rest of this year when I say: Bring it on. Keep the make-outs, the morning afters, and the flirtations coming. All of them. Though the 16 movie scenes from 2016 films below are all appealing in their own way, I'd love the next list to be more diverse and inclusive, in every possible regard. Sexiness doesn't have to look or be a certain way. What matters is the confidence, the intent, the sweetness — whatever the situation in question calls for.
1. I Saw The Light
There's enough sorrow to fill entire albums of country tearjerkers in this Hank Williams biopic. But leading man Tom Hiddleston flashes some skin and romances co-star Elizabeth Olsen, so it all balances out.
2. Captain America: Civil War
Zooming right passed that forced kiss between Steve and the niece of his dead first love, I'm going with the helicopter-meets-bicep scene that is now seared into my memory forever.
3. Me Before You
However you may feel about the ending, Me Before You definitely gets the essence of falling and the way it makes you feel helpless and alive at the same time.
4. Everybody Wants Some
A bunch of rowdy college baseball players in their sexual prime and what do they do? They hang out with each other, often in crop tops. Put this whole movie on the list.
5. Tarzan
These people aren't real. Real people do not look like this. If they do, they should pair up, and make out as much as Tarzan and his Jane do in this movie.
6. Deadpool
Deadpool is a love story trapped in a rubber suit with a foul-mouthed cancer patient. Wade and Vanessa's sexual gymnastics are extra spicy because they totally dig each other. Aw.
7. The Shallows
Blake Lively fights off a shark in not much more than a orange bikini. The pre-shark surf scenes are gorgeously shot.
8. Pride & Prejudice & Zombies
Regency ladies who keep three-inch daggers in their garters are my kind of literary heroines. The highlight of the movie is the scene where the Bennett sisters get ready for Bingley's ball and armed for zombie battle at the same time.
9. How To Be Single
Dakota Johnson lets go of her inhibitions and straddles a softly lit Anders Holm in the kind of New York loft I would cut arms off to own. That's how to be single.
10. The Lobster
Forbidden love is always good stuff, especially when the alternative is being transformed into the animal of your choosing.
11. Neighbors 2
There are so many half-naked co-eds in this movie (and the perpetually shirtless Zac Efron as their sort-of mentor) that it's impossible to narrow the sexiness down to a single sequence.
12. Neon Demon
This horror-thriller has a ghastly end, but Jesse's (Elle Fanning) first foray into the world of high-fashion features looks to die for.
13. Batman V. Superman: Dawn Of Justice
I wasn't wild about this movie. It only really came alive when Bruce Wayne (Ben Affleck) and Diana Prince a.k.a. Wonder Woman (Gal Gadot) literally danced around each other.
14. The Huntsman: Winter's War
Jessica Chastain and Chris Hemsworth going for it in some kind of mystical body of water; what else do you need out of life?
15. A Bigger Splash
If Dakota Johnson recklessly seducing her mother's boyfriend isn't your bag, perhaps you'd prefer the marvelously androgynous Tilda Swinton as a marvelously androgynous glam rock star?
16. King Cobra
King Cobra made its debut at the Tribeca Film Festival and doesn't have a wide release date yet. But I'm so sure that a biopic that stars Christian Slater and James Franco as feuding gay porn producers has something to offer to this list that I'm preemptively including it.
And the year is barely half over. The sexiness bar is raised for the back half of 2016.
Images: Warner Bros. Pictures; Giphy (5); lokihiddleston, dornansteele, dailychrishemsworth, knightlley, dennisrevnolds, f***yeahzacdavid, cinemasource, chandelyer, bahtmun, hoechlins, niklausxcaroline/Tumblr