This 'Scream Queens' Season 2 Spoiler Reveals Lots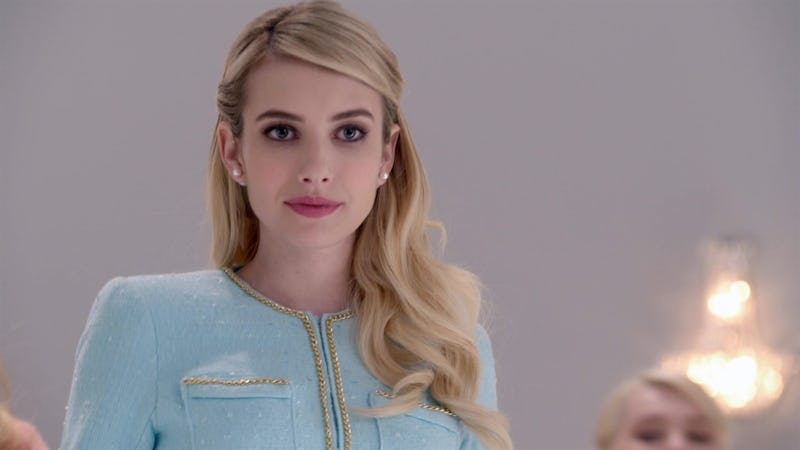 It seems like it's been forever since we unmasked the Red Devil killer in Season 1 of Scream Queens (Hester, what's good?) and though the bathtub baby will be sticking around for Season 2, it looks like it's not just murder and mayhem that's on the minds of the former sorority girls of Kappa Kappa Tau — at least, not for all of them. Chanel Oberlin — aka, the Chanel — has romance on her mind in Season 2, according to Emma Roberts' interview with Andy Cohen on Watch What Happens Live! According to Roberts, Chanel will get a love interest on Season 2 of Scream Queens, and we already have a clue as to which character might be stealing her heart.
Though plenty of familiar faces will return to Scream Queens, many dudes on the series got the axe (quite literally) before the show finished its freshman run. Fortunately, Roberts teased to Watch What Happens Live! that her character's love interest would be a brand new Scream Queens character: According to the interview, there are two dudes in the running for Chanel's heart. She will either be romantically involved with the character played by John Stamos, or the character played by Taylor Lautner.
This is great intel — and even more intriguing when we consider that previous spoilers hint that we may already know who is attached to Chanel in Season 2.
Like Cohen, I'm definitely more interested in Chanel striking up a romance with Lautner's "age-appropriate" character. But, a spoiler from Entertainment Weekly might suggest that the college student is actually involved in a May-December romance with Stamos' character instead: according to the spoiler from June 2016, Lautner plays Dr. Cassidy Cascade, "a doc who becomes involved with [Billie Lourd's] Chanel #3." Unless a love triangle is brewing — always a possibility — it could rule out Lautner from being Chanel's love interest in Season 2.
So, if Stamos is playing Chanel's love interest, what's his deal? Like Lautner, this guy is playing a doctor with a dark secret. According to TVLine, Stamos will play Dr. Brock Holt, "a brilliant — but secretive — head surgeon," so perhaps his romantic interest in a much younger woman is one of his less-than-savory secrets. I'm not crazy about the idea of Dr. Holt and Chanel getting involved in a relationship, but given Chanel's track record of unworthy dudes like Chad, I'm not sure how much worse it could get. Unless Dr. Holt is a serial killer, of course — which is always a possibility on this series.
No matter who Chanel dates, here's hoping that they survive another season of murderous mayhem — they're going to need all the luck they can get.
Images: Fox; Giphy