11 '90s Trends To Dress Your Future Child In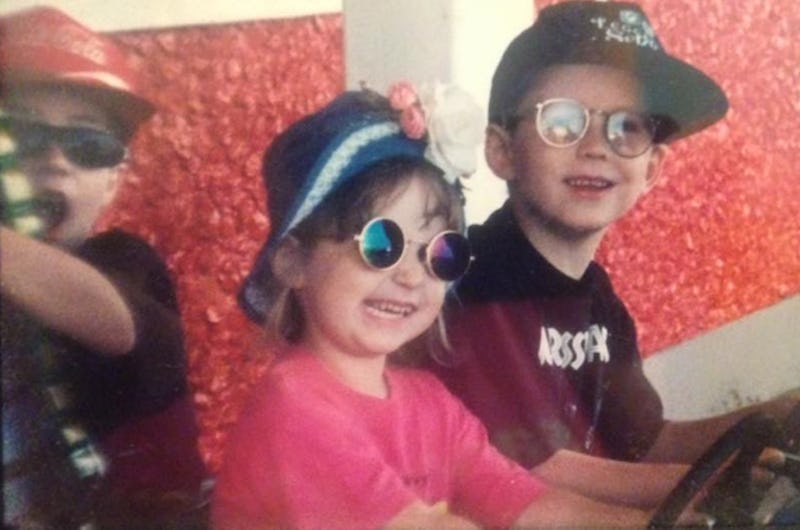 I do not want children, but if I did want children, my kids would wear the best damn outfits I could find until the moment I'd have to start letting them dress themselves. Be it through '90s trends to dress my kids in or custom-made gold leather jackets to match their outfits with my own, these children would look totally badass. And I don't say this just because there is probably a ton of money to be made in making your kid Instagram famous.
Let's be honest: The reason so many Millennials love reminiscing over the '90s as much as they do is because we so often wish we were still back in the decade — being innocent, carefree, and adoring all the brilliant TV, fashion, and music that existed back then. How better to relive these moments than through an actual living, breathing child?
This isn't to suggest that you lock your kid in a bunker, pretend you're living 20 years in the past, and force feed them VHS tapes. Instead, you could consider bringing back some amazing outfits from a time during which pretty much only amazing outfits existed. The following trends in particular are ones that you may not feel comfortable reviving yourself as a fully grown adult. So acquire a child that you're allowed to buy clothes for and dress them in these 11 sorely missed styles.
1. Bucket Hats
Oui Upcycled Sun Hat, $30, etsy.com/ershware
I am so over seeing "cool boys" wearing bucket hats at British festivals, but on kids? They look as adorable as they're supposed to look.
2. Moon Boots
Moon Boots, $10.83, etsy.com/thehandmadelephant
Moon boots didn't kick off in Britain quite as much as they did in America, and that's what I miss most about the '90s: Missing out on moon boots.
3. Overalls
Tie Dye Baby Dungarees, $19.63, etsy.com/abidashery
Yes, dungarees came back for adults in full-force these past couple of years, so let's keep it that way. Why? Because dungarees are cool as hell. How better to keep a trend alive than by forcing it upon the next generation?
4. Culottes
Batgirl Culottes, $27.07, etsy.com/sewingcircus
Half skirt, half shorts, but definitely not a skort, culottes were the practical answer to proper '90s play-wear.
5. Jelly Shoes
Vintage Jelly Sandals, $15.50, etsy.com/retrarium
What would a '90s fashion list even be if it didn't feature jelly shoes?
6. Space Buns
If Kim K can bring them back for North West, you can bring back space buns for your child.
7. Inflatable Backpacks
'90s Inflatable Backpack, $21.66, etsy.com/hoodratroughdiamond
Personally, I just think it would be too-cute if you and your mini-me wore matching ones. Blow-up backpacks may not be the most practical of bags, but they're definitely the most fun.
8. Butterfly Clips
Pastel Butterfly Clips, $5.60, etsy.com/idlized
If I had to endure the pain of pulling butterfly clips out of my hair and losing half of my skull with it, so too will any future nieces and nephews.
9. Tie Dye
Tie Dye Baby Onesie, $13.99, etsy.com/yellowskytiedye
Seriously, though, is there any trend more '90s than tie dye? I think not. Tie dyeing also doubles up as a fun weekend activity to do with children that costs little money and will make for even more '90s reminiscing.
10. Two-Pieces
Love Made Me Two Piece, $10.83, etsy.com/ronnieandruby
Not just any two-pieces, no: Two-pieces made up from pedal pushers and a matching top. These outfits were essentially pajamas you were allowed to wear out of the house: A concept I am 100 percent for bringing back.
11. Spiral Hair Grips
Hair Spirals, $16, etsy.com/luxycorner
Another hair accessory that hurt, these spun themselves into your skull and stayed put until they were forcibly removed by mom. Another hair accessory I can't wait to inflict on any future children, it's just an added bonus that they look super cute.
Hopefully these '90s trends to bring back for your kids have inspired you in planning future outfits for future babies. I mean, you can never be too organized, right? The above 11 looks were thrown upon us as kids for a reason: They're adorable and fun, and meant to be kept alive through the next generation.
Images: Georgina Jones (1); Courtesy Brands