Make The Wait For More 'East Los High' Easier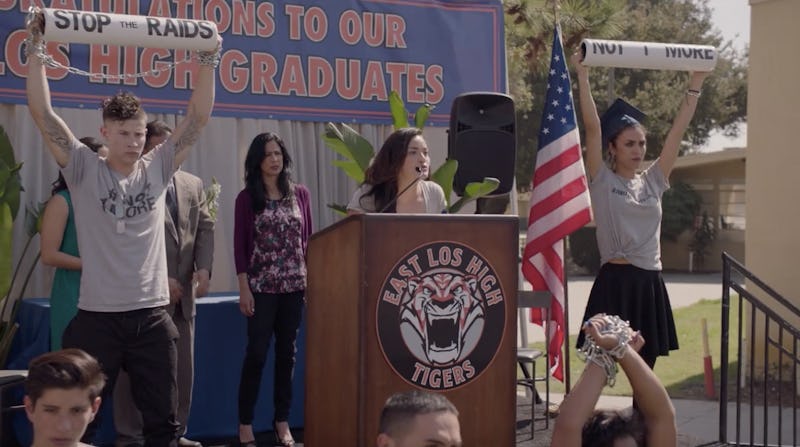 Prince Royce! Police! Pop 'n' locking! That's what I mostly took away from the Season 4 trailer for East Los High , which premieres on Friday. Of course, the Hulu original series, which follows the trials and tribulations of teens at an inner city high school in East Los Angeles, is filled with lots of fun, drama, and captivating storytelling, too. With all of that in mind, you might be wondering if East Los High will return for Season 5 — and crossing your fingers that it will.
Unfortunately, Hulu has not made any official announcement regarding the fate of the teen drama. The streaming service has renewed East Los High as early as right after its season premiere has begun and as late as the December prior to the new season in the summer, so there's no need to panic over the fact that a fifth season hasn't been given the green light just yet.
But considering East Los High's success up to this point and its presentation of a unique perspective on growing up in the U.S. today, I wouldn't be surprised if this wasn't the last we heard of it.
Whether or not East Los High gets renewed for a fifth season, you're still going to have to fill the void left by the teen drama for a period of time. Why not do some poking around Hulu for another teen drama to enjoy? Here are a few of the ones you won't regret giving a try.
Beverly Hills, 90210
It may seem campy to us now, but Beverly Hills, 90210 helped pave the way for the soapy teen dramas we know and love today — and probably a lot of the '90s fashion that has made a comeback as of late. Immerse yourself in the glamorous and tumultuous world of privileged teens growing up in the titular affluent community through all 10 seasons available to stream on Hulu now.
My So-Called Life
No teen drama does angst better than My So-Called Life. The show is famous for shockingly having only one season and also giving Claire Danes and Jared Leto their big breaks. So could you really ask for anything more?
Dawson's Creek
The small town of Capeside was full of big problems for its teenage inhabitants on Dawson's Creek. And I'm not even talking about dilemmas about which new hairstyle to try, although you'll see plenty of changing 'dos over the course of six seasons, too.
Roswell
If you thought high school was hard, just imagine how difficult it would be to have to juggle homework, a social life, and be half-human, half-alien. Well, you don't have to waste any time imagining it at all, because Roswell has explored this subject for you in its three seasons that are available to watch on Hulu now. If you wanted to watch it just to see a young Shiri Appleby and Katherine Heigl, I totally wouldn't blame you.
The OC
The OC picked up right where Beverly Hills, 90210 left off, kicking off a whole new era of teen drama when it premiered in 2003. It had basically everything you could ever want out of a show: pretty people, gorgeous locations, and catchphrases. I'm still trying to figure out why there were only four seasons of The OC.
Misfits
Misfits is a teen drama unlike any other. Instead of the halls of a high school, a community center is where these delinquents get their education as they complete their court-ordered community service. Oh, and a mysterious storm gives them all supernatural powers, which is good, because they need them to fend off all the evil the bad weather brings, too. Watch Misfits once, and you won't soon forget it.
And if you don't dig any of these teen dramas, East Los High is always worth another watch.
Images: Hulu; Giphy (6)