11 Summer Makeup Hacks To Try Immediately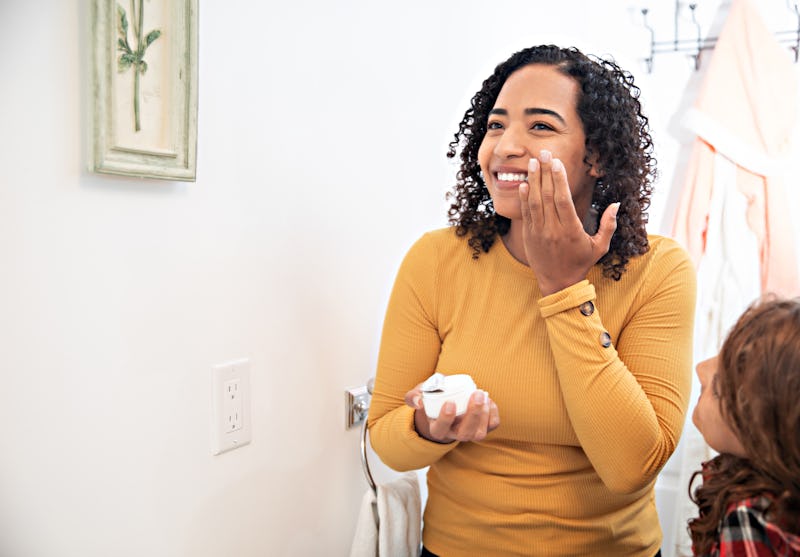 vitapix/E+/Getty Images
Ah, summer: Now there's a love-hate relationship to last a lifetime. The season brings with it plenty of bonuses (beach time) but a lot of drawbacks as well — including melting makeup and frizzy, sun-fried hair. So, what's the fix? What are some summer makeup hacks to try immediately?
Luckily for us, there's a lot out there that can be done to make your summer every bit as fly as the other three seasons — even more so, in fact, because what makeup doesn't look better in a poolside loungechair, with a margarita in hand? And hey, it sure beats dealing with the dry skin of winter. Really, though, makeup technology has gotten so good, that you'll barely even notice a difference with a few quick changes in your routine — you know, swap out your heavy night cream for something a little lighter, stock up on all of the amazing mattifying products out there... if anything, the change in season is a good excuse as any to make a little shopping excursion.
At any rate, here are a few tips and products to help keep your summer makeup on point — be it with ridiculously waterproof brow gel, sweat-proof pressed powder, or refrigerated nail polish.
1. Use Waterproof EVERYTHING
Make Up For Ever, $22, sephora.com
If you want to hang out beachside or poolside, waterproof makeup might be an important step — mascara and eyeliner are already staples, but these days, pretty much everything comes in waterproof form, including eyebrow gel and eyeshadow. Cool, right?
2. Stock Up On Setting Spray
Urban Decay All Nighter Makeup Setting Spray, $30, urbandecay.com
Setting spray is something of an advanced makeup move, but it can make life a whole lot easier in summer — it keeps your makeup from sliding right off your face, which is never fun.
3. Embrace Face Sprays in General
Avéne Thermal Spring Water, $18.50, aveneusa.com
Heck, even if they're not doing anything to keep your makeup in place, they're still mightily refreshing in the heat.
4. Pack Impromptu Blotting Papers
Palladio Oil Absorbing Rice Paper Tissues, $3.99, ulta.com
Even if you forget your trusty blotting papers at home, everything from paper towels to toilet seat covers can help remove shine in a pinch. Regular blotting papers are probably preferable, though.
5. Eyeshadow Primer
HD Eyeshadow Base, $7, nyxcosmetics.com
Maybe you can get away without a primer in the drier winter months, but in the summer, eyeshadow primer's something of a must: Believe the hype, it helps your eye makeup stay in place, no matter how oily your lids are.
6. Find A Good Primer
Rimmel Stay Matte Pressed Powder, $5, us.rimmellondon.com
Setting spray is all fine and well, but so is your standard powder. It too will lend plenty of staying power to your makeup, and it will help keep things matte as well, which can be a huge bonus, especially if you happen to have an especially shiny complexion in summer.
7. Store Your Nail Polish In The Fridge
Rising temperatures can form annoying, mani-ruining bubbles in your nail polish. The quick fix? Leaving your polish in the fridge will prevent the bubbles from forming, according to The Examiner.
8. Try A Cushion Foundation
Laneige BB Cream, $34, target.com
Cushion foundations have been growing in popularity for the last couple years, and it's not hard to tell why. They're ultra convenient, especially when it comes to summer months. Plus, they happen to be easy to reapply, and most come with a substantial amount of SPF protection. They also have a nice cooling effect, which is a nice added bonus when it's hot out.
9. Oil Your Hair Before Swimming
Spectrum Naturals Coconut Oil, $8.70, iherb.com
Applying oil (say coconut) to your hair before swimming can help protect it, both from the harsh salinity of the ocean, and the hair-destroying chlorine from your favorite pools.
10. Or Afterwards
Moroccanoil Treatment Oil, $44, moroccanoil.com
If you're one of those people who gets frizzy strands from summer (curse you, humidity!) you might want to add a little hair oil to your routine to keep your hair shiny and smooth. You have lots of options — there's always argan oil if you're feeling luxurious, or even simple coconut oil from the grocery store will do the trick nicely.
11. Take Heatless Beach Waves for a Spin
Summer's the perfect time for beach waves — though heat tools can be a pain. Luckily, there are lots of ways to get the waves without the heat, including braids, twists, and even the headband trick.
Images: vitapix/E+/Getty Images; Giphy (2); Courtesy Brands