11 Plus Size Bloggers Who Slay The Beauty Game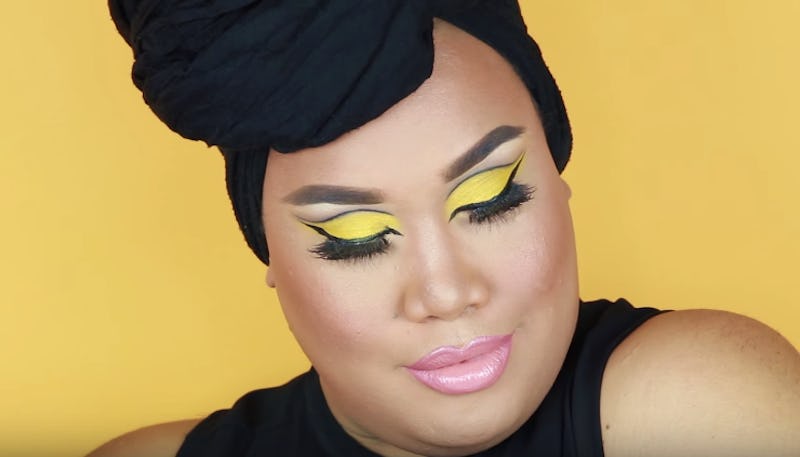 Although you definitely don't need to be of a certain class, weight, gender, or race to wear makeup, the beauty blogging game can unfortunately still seem dominated by thin, white, cis women. Because of this, finding plus size beauty bloggers whose identities are diverse and intersectional is nothing short of inspiring. Be it plus size bloggers who also discuss beauty, beauty bloggers who happen to be plus size, or even beauty vloggers who combine their body positivism with cosmetics-based videos, the presence of plus size humans in beauty is an important one.
These bloggers encapsulate what I adore about makeup, and that's the sheer diversity of it. I don't just mean in the amount of looks you can get from one palette, but in the incredibly different amount of people who use makeup on the daily. Makeup has no constrictions or restrictions, just as it has no limits. It can be used in a myriad of ways, which reflect the many differing types of humans who can and do use it.
Whether these people are crafting a makeup-artist-level look for us to recreate at home, or simply reviewing their favorite day-to-day products, these plus sizers are absolutely killing it in the thin-dominated world of beauty.
1. Bethany Rutter
Bethany Rutter is arguably one of the most prominent names in plus size blogging here in the U.K., but that doesn't mean that her blog posts center solely on the world of fashion. Recently, Rutter uploaded a post to her blog Arched Eyebrow with a day-to-day makeup tutorial. You can also catch this glamorous babe on Twitter discussing her favorite products alongside her fat acceptance narrative.
2. Patrick Starrr
I'm not going to beat about the bush: I have a personal obsession with Patrick Starrr. Not only are his makeup looks and beauty tips to die for, but this vlogger's tag line sums up why makeup is one of the most body positive parts of the fashion and beauty worlds: "Makeup is a one size fits all!"
3. Nikkie Tutorials
Nikkie of Nikkie Tutorials earned her body positive credentials, in part, through her viral video "The Power Of Makeup" in 2015. Now this plus size star has made the online beauty game totally her own, even scoring a collaboration with makeup brand Too Faced.
4. Callie Thorpe
Speaking of plus size British bloggers, no plus size beauty list is complete without Callie Thorpe. Where Rutter delivers edgy makeup looks, Thorpe offers great skincare advice and recommendations on her fashion, beauty, and lifestyle blog From The Corners Of The Curve.
5. Danielle Vanier
Danielle Vanier is part of the British babe trio including Thorpe, Rutter, and herself. On her eponymous blog Danielle Vanier, she features some outstanding beauty looks, tips, and tricks all in one.
6. Runa Azam
Plus size Muslim vlogger Runa Azam doesn't give us her beauty and fashion looks separately, but simultaneously. If you ask me, it makes sense — considering that tends to be how looks work, after all.
7. Stephanie Yeboah
Stephanie Yeboah of Nerd About Town uses her blogging platform to discuss lifestyle, fashion, and, yes, beauty, but also body positivity and fat politics. Her site serves as a one-stop-shop for everything you could possibly want from a blog — plus size or otherwise.
8. Chloe Pierre
Chloe Pierre has the kind of Instagram aesthetic I can only dream of. Or, if I paid more attention, that I might be able to recreate myself by following her tips on literally everything on her self-titled blog. I can't find a single snap in which Chloe Pierre doesn't look flawless and that's partially due to her amazing beauty advice. She's another body positive must-follow for any and all blog lovers.
9. Chloe Elliott
Another Chloe, and an equally great Chloe, Chloe In Curve is the perfect fashion and beauty blog to make you look and feel like an all-around princess. Personally, I believe Elliott actually is one. Her sweet style contrasts wonderfully with her Twitter call-outs, and her hair and makeup are always just as on point.
10. Passion Jonesz
The levels of professionalism on Passion Jonesz' YouTube channel seriously floor me. This makeup guru does everything from product reviews, to outfit planning, to tutorials, and even DIY projects. Jonesz is constantly updating her page, so you'll be getting some consistently great content.
11. Sarah Conley
Sarah Conley's blog Style It is a perfect toss up of posts about beauty and fashion, and all the while she kills it as a body politics-talking plus size babe. Conley's beauty category is full of reviews, tutorials, and fun little asides about all things makeup and skincare.
While the quality of someone's beauty advice has nothing to do with their clothing size, it's still important to recognize and represent the plus size community: Something that all of these humans do perfectly. If you weren't already following these 11 brilliant bloggers, there's no better time than the present.
Image: Patrick Starrr/YouTube (1)