The 'Basketball Wives LA' Cast Are Very Rich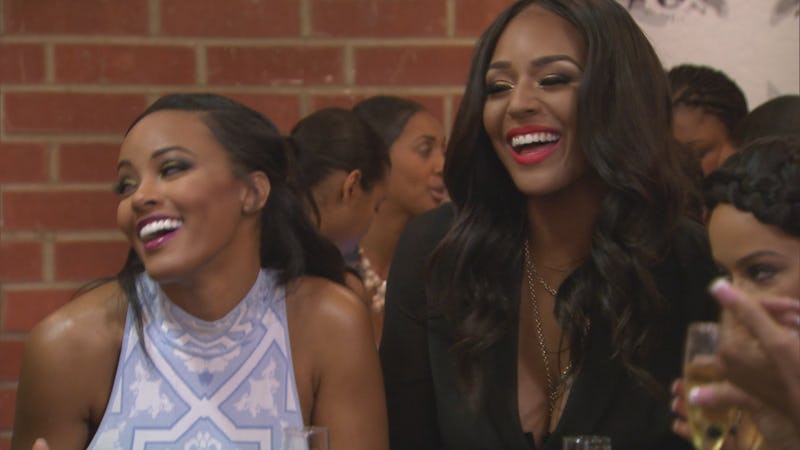 Being the wife, girlfriend, or ex of a famous athlete can be enough to make you famous, but can it make you rich? The net worths of the Basketball Wives LA cast is impressive, and will make you wish that you too had a spouse (or an ex-spouse) with an impressive NBA contract. But, that's not to say that these women don't bring some bank to their relationships too. Between what they've been doing on their own and the connections they've made through their relationships, these women have managed to make quite a lot of money for themselves. That helps explain why these women don't just looks fabulous, but are actually smart and accomplished, too. Basketball Wives LA always features a ton of drama between the women (it's honestly the show's main appeal), but these women hold down their careers in the offseason.
The cast of Basketball Wives LA has changes a little over the years, with new women joining the group and others leaving the series behind. This current lineup features a couple of OGs who have been on the show since it's 2011 premiere, some that have joined in the meantime, and a couple of newbies to even things out. These women may have differently sized bank accounts, but they all have a huge appetite for both drama and success.
Jackie Christie
She's been on the show since the beginning, and it makes sense, because she's the original Basketball Wife. Jackie has been married to Doug Christie for over twenty years, and her ability to keep her husband's fidelity is so legendary that The New York Times covered it back in 2002. According to GoNetWorth, Doug is worth approximately $50 million, after his decade playing for a handful of great NBA teams. WhatIf Sports has Christie's salary history, and it appears he made over $6 million in a single season when he played for both the Toronto Raptors and Sacramento Kings, so that $50 million figure seems accurate.
And according to Celebrity Net Worth, Jackie alone is worth a reported $10 million, because of her tireless work as an entrepreneur. Jackie explained the businesses she owns in an interview with Black Enterprise, and while, for example, her Bossard Cognac is relatively inexpensive, she has so many businesses that she could easily have made millions over the course of her career.
Malaysia Pargo
According to The Net Worth and Celebrity Net Worth, Malaysia is worth about $3.5 million. Even though she's also an original cast member, she isn't worth quite as much as Jackie, but that might be because Malaysia's ex-husband, Jannero Pargo, is reportedly only worth somewhere between $3.5-4.5 million, according to Celebrity Net Worth. Malaysia's businesses Three Beats Jewelry and bedding sales may have contributed to her millions, since jewelry designers can make up to $50,000 a year and textile designers up to $90,000 according to Glassdoor.
Brandi Maxiell
Richest Net Worth reports that Brandi's net worth is $2.5 million, a respectable amount, and Sportrac reports that her husband, Jason Maxiell makes a little over $1 million a year, and is overall worth just under a reported $10 million, according to The Net Worth. Brandi is best known for being a TV star, but she's also a proud ovarian cancer survivor, and she sells anti-cancer T-shirts and is an activist. And she's also still married, unlike some members of the cast, so it's possible that her husband shares the wealth in this family.
Shaunie O'Neal
As one of the Basketball Wives producers, Shaunie is very successful in her professional life, able to build what Richest Celebrities reports is a net worth of $35 million. TV executive producers can make between $100,000 and $200,000 per year, according to PayScale. Shaunie's ex-husband, Shaquille O'Neal, is worth a staggering $350 million, holds hundreds of millions in real estate, and according to TMZ, was once paying $100,000 a month in child support, so Shaunie and Shaq's four children are very well taken care of.
Angel Brinks
The ex-girlfriend of Tyreke Evans, Angel's net worth is a more modest half a million, according to The Net Worth. But keep in mind that this will be her first season as a full cast member of Basketball Wives, so her profile could rise. And her clothing lines could help boost her income as well, since a designer can reportedly make up to $100,000 a year, according to PayScale.
Tami Roman
Depending on whether you ask TheRichest or Celebrity Net Worth, Tami is worth somewhere between $400,000 and $500,000. According to her website she's a successful actress and reality star. The Screen Actors Guild ensures that its members make a specific salary, so it must help to boost her overall worth.
LaTosha Duffey
LaTosha is new to Basketball Wives LA, so her net worth is not yet public knowledge. However, she was married to NFL player Brian Jackson, who reportedly signed with the Saint Louis Rams in 2011 for $540,000 according to Sportrac, and she's currently the fiancée of Iman Shokouhizadeh, a basketball agent, a position that makes an average of $473,000 a year, according to Sports Management Worldwide. Beyond that, Duffey is also a DJ who's worked for the NBA and hosted Amber Rose's Slutwalk — and according to Forbes, a celebrity DJ can make up to $100,000 for a night's work.
Angel Love
And the final new cast member is Angel Love, whose net worth is still a mystery. She was at one point dating Dejuan Blair, who is worth a reported $4 million with a $6 million salary deal with the Pheonix Suns according to Celebrity Petal and RealGM. However much money Angel has, it will be her entrepreneurial spirit that will help her fit in to the Basketball Wives LA cast. She sells a line of T-shirts called BadAssBrownChick, not unlike her friend Angel Brinks, meaning she, too, could reach into the $90,000 - 100,000 a year range if her designs do well.
The cast of Basketball Wives LA may all have different levels of success, but every single member of the show has worked hard for where she is today.
Image: VH1