Did The Emmys Snub Sophie Turner?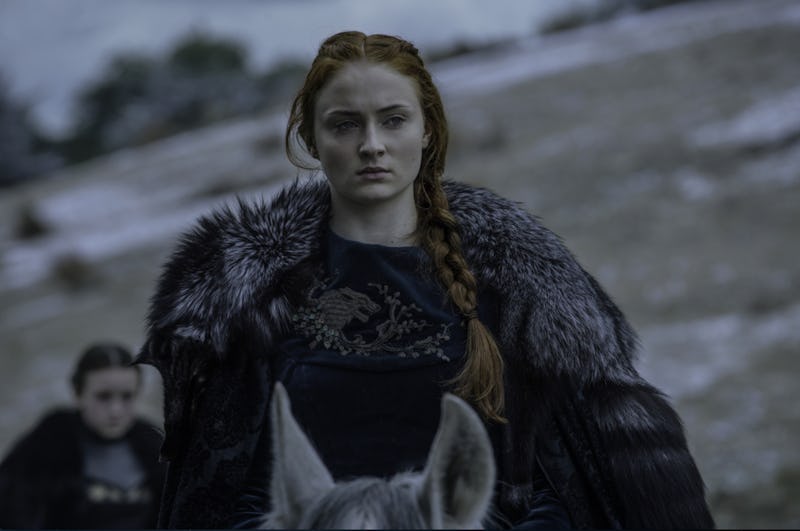 Game of Thrones has wracked up Emmy nominations left in right for the 2016 year. With nominations for Outstanding Drama Series, Outstanding Directing for a Drama Series, and a whole bunch of Best Supporting Actor and Actress nods, it's clear to everyone that this show is still on top. None of this recognition is a surprise (I mean have you seen Season 6?). What is a surprise is that the incredible Sophie Turner didn't receive an Emmys nomination for her performance. It's almost like the super computers who run the Emmys (because that's probably how it works, maybe) were like, "well, Sansa is finally doing OK in the series, so let's break the heart of the actor who portrays her instead." Seriously, did Sophie Turner get snubbed at the Emmys for Game of Thrones?
The other Game of Thrones actresses who were nominated had some crazy impressive performances — I still get chills when I see an image of Lena Headey as Cersei receives her daughter's dead boy or Emilia Clarke as Daenerys walking out buck naked from the flames (again!) or Maisie Williams as Arya while she struggled with the seemingly unfair murders committed by the Faceless Men. Sansa has gone through hell and now is on the "back" part of the "through hell and back" phase, and Turner has done a wonderful job showcasing that.
At the end of Season 5, Sansa was a broken woman, willing to put her faith in a broken man, Theon, as a means of escape. At the beginning of Season 6, she would stop at nothing to break free — she literally almost froze to death and was torn apart by dogs but kept on heading towards freedom. Then, she was reunited with her brother and the whole sequence was one of the most heart-warming Game of Thrones has offered up. After that, she convinced everyone it was time to go into battle against Ramsay (because she didn't want to see him again unless it was in the Westerosi version of a body bag.) And if that wasn't enough, she proceeded to tell Petyr Baelish, the guy who hooked her up with Ramsay Bolton, right where he could stuff it.
During this time, she continued to prove she was in fact a boss, sassing both Snow and Littlefinger and showing them she wasn't some idiot girl anymore. She had been through the worst and was stronger for it and not to be played with.
Sansa had a pretty busy season, to say the least. Turner nailed all of the intricacies of her character's actions: the fear that Ramsay's men would catch her, the ice cold disdain towards Theon though he was her savior, the joy of seeing her brother/cousin and then the eventual slight distrust of him, the very modest joy at the death of her rapist. Don't even get me started on when she told Littlefinger about her rape, because that acting in that scene was so poignant, it deserved an Emmy nomination all by itself.
Sansa has grown so much as a character — from an angsty teenager to broken woman to a strong and scrappy fighter — and Turner has done such a wonderful job portraying these changes. It is both surprising and slightly depressing that the actress was very much snubbed this year.
Sorry Sansa/Sophie, but just you remember, Awards shows don't really define you or your acting ability. And besides, when winter finally comes, I bet you're going to have some great monologues, and monologues lead to Emmys. So you get your angry badass vibes ready for Season 7, and we'll be waiting (sort of) patiently until then.
Images: Helen Sloan/courtesy of HBO; Giphy (3)