19 Times Celebs Dressed As Other Celebs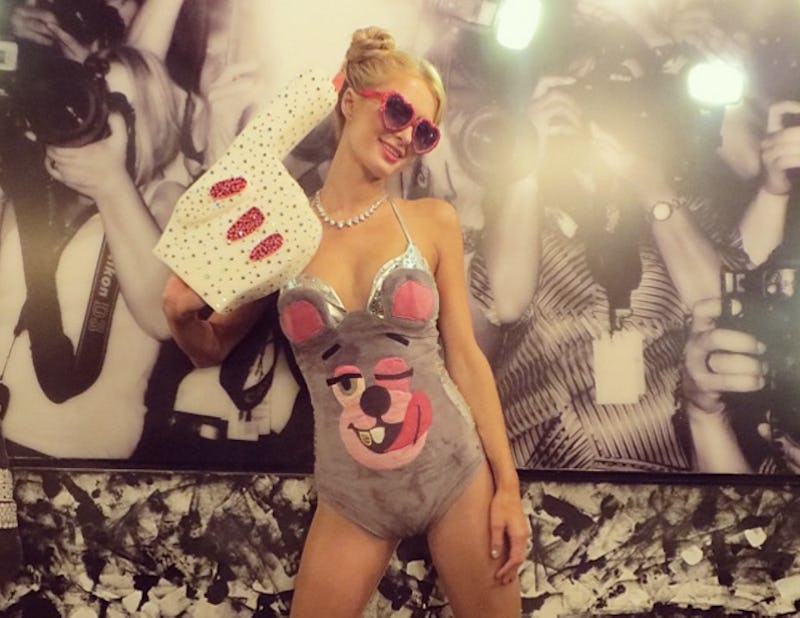 Whether it's to steal elements of their style or merely to be nosy, we all occasionally have a look at what famous people are wearing. What's really confusing, however, is when you see celebrities dressed up as other celebrities. Whether to throw some immense shade, to honor the name they are impersonating, or simply to attend a humble costume party, this seems to be a surefire way to get the world of media talking about you.
With plenty of disposable income and a need to wow the press, many notable names arguably put a lot of pride and effort into the costume party outfits they conjure up. I highly doubt you'll ever catch Beyoncé throwing on an old bed sheet with a pair of eye holes haphazardly cut out of it, or Jay Z wrapping toilet paper around himself and splattering little bits of ketchup around his mouth as a last resort Halloween plan. It's likely that the majority of pop icons will have a team of stylists to prep them for the fabulously spooky parties and nothing will go unthought of.
There have been plenty of times when our favorite figures have impeccably taken on the form of other people that you will definitely recognize. Take a look through these hilarious homages to celebs by their peers and remember: Imitation is the sincerest form of flattery.
1. Paris Hilton As Marilyn Monroe
Since portraying the likeness of the vintage movie star at her 10th perfume launch back in 2010, the baby-voiced socialite has been described as "a modern day Marilyn Monroe" by directors. This was a very fitting outfit indeed.
2. Paris Hilton As Miley Cyrus
The Simple Life star and heiress sure does love dressing up. Here's a photo from the time she dressed up as Miley Cyrus for Halloween in 2013 — the same year when the singer twerked on Robin Thicke at the MTV Video Music Awards while donning a big foamy hand.
3. Hugh Hefner & Crystal Harris As Robin Thicke & Miley Cyrus
Miley Cyrus' VMAs look was a popular Halloween theme back in 2013. Playboy mogul Hugh Hefner and his wife Crystal Harris arrived at the mansion as both Cyrus and Thicke to their own party. The internet blew up debating whether Harris or Hilton had made the best parody.
4. Miley Cyrus As Lil' Kim
Cyrus herself is quite the impersonator, as you can tell from this Lil' Kim-inspired look from 2013. MTV interviewed Lil' Kim about the lilac outfit, and the iconic M.C. more than applauded the homage.
5. Miley Cyrus As Dolly Parton
Lil' Kim isn't the only person who Cyrus has dressed up as over the years. Another one of my favorite portrayals by the ex-Disney star is this fab costume inspired by her godmother and fellow singer Dolly Parton.
6. Ellen Degeneres As Nicki Minaj
Talk show host Ellen Degeneres is always down for a bit of wholesome fun and I genuinely laughed out loud the first time I saw a YouTube clip of the presenter walking onstage dressed as Nicki Minaj. It was such a jump from her everyday aesthetic that it's hard to not find funny.
7. Lady Gaga As David Bowie
Shortly following the passing of the late rock legend David Bowie, singer and super-fan Lady Gaga powerfully performed her own rendition of the deceased icon's music as a memory to his life and work at the 2016 Grammys. She took obvious elements from his Aladdin Sane phase and incorporated them into her own personal style.
8. Perez Hilton As Lady Gaga
Rocking up to Heidi Klum's 10th annual Halloween bash dressed as Lady Gaga was a great moment for celebrity gossip blogger Perez Hilton.
9. Beyoncé & Blue Ivy As Janet & Michael Jackson
This mother-daughter matching outfit combo was adorably cute. Blue Ivy was looking super sweet in her Michael Jackson costume and I just love how mama Beyoncé dressed in Janet Jackson's likeness to match.
10. Kelly Osbourne As Christina Hendricks
Womenswear designer Christian Siriano created a duplicate dress of the one he made for Christina Hendricks' Emmys red carpet walk so that Kelly Osbourne could play the actor for a night on Halloween. A round of applause for dedication.
11. Rachel Zoe & Rodger Berman As Sonny & Cher
Celebrity stylist Rachel Zoe and her partner Rodger Berman donned their own versions of this classic Sonny and Cher look for Halloween. Great job!
12. Kate Moss As Cara Delevingne
Potentially my favorite Halloween outfit of all time, here we can see Kate Moss poking fun at fellow supermodel Cara Delevingne while wearing similar clothes and walking around with a comical amount of mystery white powder on her nose. Also note that British Radio 1 DJ Nick Grimshaw was supposedly dressed as Rita Ora — hilarious.
13. Amber Rose As Slash
I never thought I'd see someone who looked more Slash than Slash, but Amber Rose nailed the rockstar's appearance perfectly. If I saw her on stage at a Guns N' Roses reunion tour, I wouldn't be at all surprised.
14. Chord Overstreet As Brad Pitt
I'm not feeling the white guy with dreads look on the far right, but Chord Overstreet was looking like a pretty accurate Brad Pitt on the left. Another great Halloween costume likeness.
15. Fergie As Honey Boo Boo
I'm not sure if this look is creepy or adorable, but Fergie managed to pull off a very convincing Honey Boo Boo. The sickeningly sweet pageant girl ensemble made its debut at Heidi Klum's 12th Halloween party at the PH-D Rooftop Lounge in NYC.
16. Fergie As Elvira
Ever a lover of dressing up, Fergie once again bossed the Halloween scene as she wore a costume that made her look completely identical to the spooky Elvira back in 2013. I would love to be allowed to rummage through the singer's wardrobe just to see if she still has all these amazing outfits.
17. Lena Dunham As Louis C.K.
The hairline poking through the bald cap really gets me; like the more I look at it, the funnier it gets. Girls creator and actor Lena Dunham dressed pretty comically as renowned comedian Louis C.K. in 2011. Dunham actually apologized to the man himself on Twitter so he wouldn't take it the wrong way.
18. Diddy As Prince
This costume honestly looks like it was bought straight from the party shop, but that's why it's hilarious and I kinda still love it. Here's P. Diddy when he dressed as the late Prince, guitar and all.
19. Audrina Patridge As Madonna
The Hills star Audrina Patridge looked absolutely incredible as a copycat '80s Madonna when hosting her own Halloween party at Les Deux in 2007. It looked good originally, it looked good here, and it would definitely still look great now. This is definitely one that I'd wear myself.
So which celebrity would you like to see impersonated by another? I'd pay actual money to see Donald Trump dressed as a dollar store red swimsuit-clad Pamela Anderson. No offense to Pammy, of course.
Images: parishilton/Instagram (1); The Ellen Show/YouTube (1)