The Best Primers For Sensitive Skin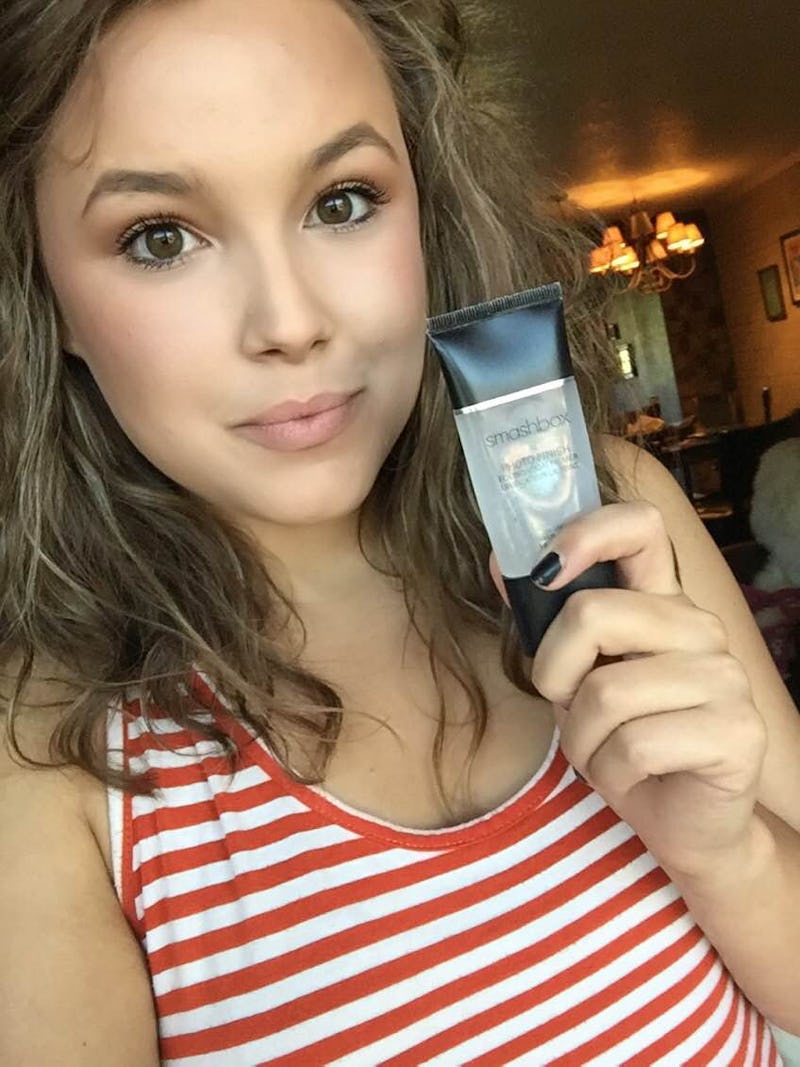 Primers are my favorite beauty product — they work under makeup and without makeup at all, and do double-duty to correct major skin issues. When it comes to great products, you definitely get your money's worth with a quality primer. But are they right for every skin type and texture? The answer is no. Lucky for you, I scoped out the best primers for acne or troubled skin.
At this point in my life, I can't remember a time I didn't have acne. I'm 24, and like 85 percent of Americans my age, I deal with minor breakouts. Major life changes like stress and pregnancy can trigger acne in anyone at any age, and changes in sleep, diet, and hydration can cause flare-ups. Trying to cover up the problem with extra product can make matters even worse. What's a girl to do?
One of my secret weapons for fighting acne is primer. I skip heavy foundation for a smoothing primer that blurs out my red spots and discoloration. Many primer ingredients can fight acne causing issues like bacteria, sun damage or dryness. You can use primer in a ton of versatile ways: as a base for your foundation, mixed in with your foundation, or by itself. And the formulas come in a range from liquids to lotions and even sprays.
I tried out a bunch of primers meant for acne-prone skin and here are the best ones.
1. NYX Cosmetics Skin Elixir Balance Tea Tree Primer
NYX Cosmetics Skin Elixir Balance Tea Tree Primer, $12, Target
I love this primer because it immediately zaps my flare-ups. Tea tree oil is a powerful bacteria fighter.
Cover FX Mattifying Primer with Anti-Acne Treatment , $38, Sephora
Cover FX has been bringing it in the makeup game lately, and this primer is as impressive as anything. Salicylic Acid prevents and heals blemishes, while tree bark reduces the size of pores.
Benefit POREfessional Face Primer , $31, Sephora
This primer is a cult favorite for a reason: it mattifies and whisks away oil from the skin, and Vitamin E fights free radicals and inflammation.
Smashbox Photo Finish Foundation Primer Light, $34, Amazon
I'm a huge fan of the whole Smashbox primer line, because there is a primer for every acne-causing or post-acne issue. This water-based primer is 60 percent water, oil-free, and can help even skintone and promote collegen.
bareMinerals Blemish Remedy Mattifying Prep Gel, $19, Amazon
More peptides, bark, and tea tree oil to fight your acne while the gel sits on top of your skin to protect it from heavy foundation.
Maybelline New York Master Prime Face Studio Primer Blur + Redness Control, $7, Amazon
Green tinted primer counteracts redness and blurs out pores, so it's basically a filter in a bottle.
e.l.f Cosmetics Blemish Control Primer , $9, Amazon
For just $9, you can fight acne with Salicylic Acid to control breakouts. It has a satin finish, so you can still look dewy without feeling greasy.
If you've got sensitive skin, don't worry — these products will have you covered and leave your skin looking so unbelievably smooth.
Images: Jessica Willingham; Courtesy of brands