Light Sleeper? These 8 Sleep Hacks Actually Help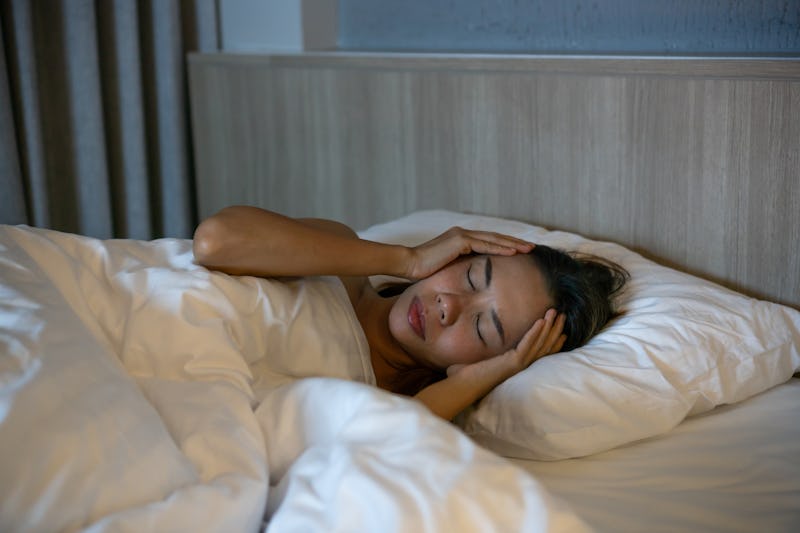 Pattarisara Suvichanarakul / EyeEm/EyeEm/Getty Images
Living in the south, you get used to a certain slow calmness. I would go to bed each night with the lullaby of softly rustling trees and chirping crickets. Then, I moved to New York where, all of a sudden, I can't sleep through the night without waking up. I've become a light sleeper who wants better rest, but in Brooklyn, the closest thing I get to a lullaby is perhaps an actual baby crying over the sound of honking cars.
Like clockwork, every night I hear people arguing outside my window. And when they're not arguing, they're having a raucous reggae party, complete with fireworks. Missing my fairytale-like deep sleep has sent me on a mad hunt for anything that can help me get the best restful sleep I can. If loud city noises aren't to blame for your waking up several times a night, it could be your eating habits or even your room décor.
Janet K. Kennedy, PhD, clinical psychologist, founder of NYC Sleep Doctor and author of The Good Sleeper: The Essential Guide to Sleep for Your Baby (and You) says that while some people are naturally light sleepers, poor sleep hygiene can affect sleep quality as well, but that there are definite ways to get you back on track.
1. Swap That Last Drink At The Bar For Juice — Or Something Nutritious
What you eat and drink can affect how you sleep, Dr. Kennedy says. That extra drink at the bar may cost you a few hours of sleep, so if you know you've had enough to upset your sleep schedule, try swapping your drink-of-choice for a more nutritious option, like a juice. It'll reset and detox your system, and your liver will thank you.
2. Wind Down With A Relaxing Massage
Shiatsu Deep Kneading Massage Pillow Pad Cushion with Heat Balls, $40, Amazon
Moving to New York was a stressful experience, and according to the Anxiety and Depression Association of America, that kind of stress can also cause irregular sleep. Setting time aside for yourself to relax before bed with something like a heated deep tissue massager will help you wind down and prepare for a full night's sleep.
3. Shut Out Distractions With A Sleep Mask
Urban Zen 3D Contoured Eye Mask, $16, Amazon
Sleeping with an eye mask may seem a little outdated, but it's a hack that Dr. Kennedy says is helpful if you are prone to waking up in the middle of the night. This sleeping mask is contoured — unlike its previous silk counterparts — to securely fit your face, so no light gets through.
4. Skip Your Morning (And Afternoon) Coffee — Take Vitamins for a Boost
Vitamin B12 Fast-Acting Complex, $20, Amazon
We are a society addicted to coffee, and our four-cups-a-day habit may be making stable sleep near impossible. In excess, caffeine is, sad to say, just not good for you. Try a less addictive and harmful option, like B-12 vitamins, to give you that mid-day boost of energy. These 100 percent natural and vegan liquid drops absorb about as fast as your regular cuppa coffee, too.
5. But If You Have To Have Your Coffee, Do Decaf
For a lot of people, the joy of coffee comes from the ritual. If that's your case, instead of your iced macchiato, extra shot, go for a decaffeinated drink.
6. Block All Light With Heavy Duty Shades
Deconovo Room Darkening Thermal Insulated Blackout Grommet Window Curtain, $15, Amazon
In New York, light pollution is very real, so light from the street lamps floods through my room all hours of the night. Dr. Kennedy says that if this is the case, using black out shades or curtains can help block light from interfering with sleep, getting you one step closer to a full eight hours.
7. Create A Calming Sound Buffer With A White Noise Machine
Marpac Dohm-DS Dual Speed All-Natural White Noise Sound Machine, $50, Amazon
If sounds are the reason you aren't waking up well rested, a white noise machine, particularly a non-digital one like this Dohm machine, could help. It uses a fan, not digital recordings, to create a sound buffer that makes ambient noise less intrusive, Dr. Kennedy says.
8. Take A Breather Before Bed With Aromatherapy
InnoGear 200ml Aromatherapy Essential Oil Diffuser, $36, Amazon
Aromatherapy has been practiced for years as a way to relax and release the day-to-day stresses of simply trying to function. If you find you're having a hard time leaving your day behind you, create a nighttime ritual including this aromatherapy diffuser to unwind.
Bustle may receive a portion of sales from products purchased from this article, which was created independently from Bustle's editorial and sales departments.
Images: Pattarisara Suvichanarakul / EyeEm/EyeEm/Getty Images; GIPHY (2); Amazon (6)