Did Connie Britton & Kyle Chandler Ever Date? That Question (and 8 More!) Answered About Your Favorite Actress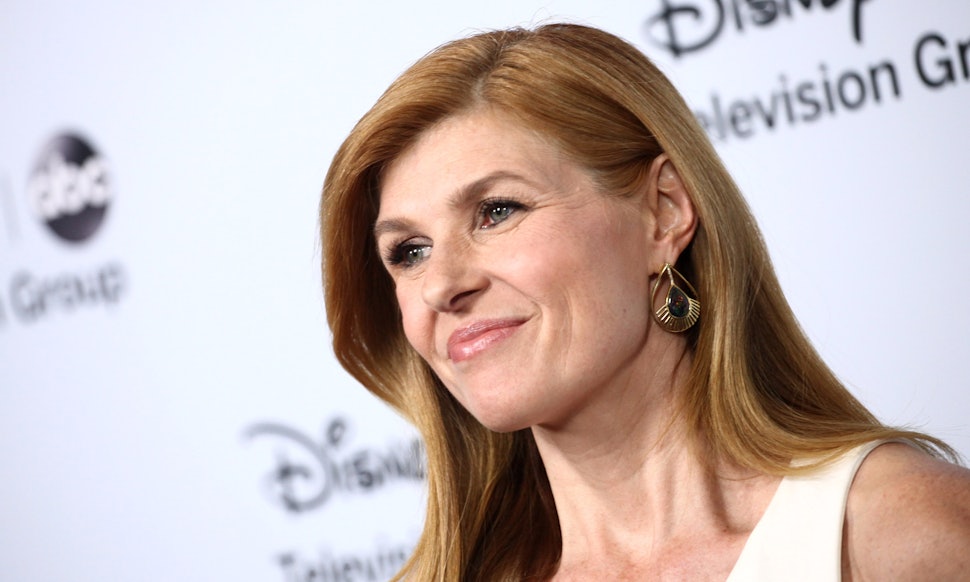 Tommaso Boddi/Getty Images Entertainment/Getty Images
As we all know, Hollywood tends to ignore female stars once they've reached middle age, relegating them to "mom of" roles or giving their parts away to actresses twenty years younger. If you're Nashville 's Connie Britton, though, who celebrates her 47th birthday on March 6, none of that applies. The older you get, the better your roles are — and the whole thing about women looking worse as they age? One look at that hair disproves that theory in seconds.
Strangely, though, despite Britton's most famous character being something of a TV icon, most fans know little about the actress herself. In honor of her birthday, here are 9 amazing facts you might not have known about Connie Britton.
She Majored in Asian Studies
One might expect Britton to have majored in Texan Dialect or Wavy Hair Mainentance, but the actress actually focused on Asian Studies while at Dartmouth. She even spent a summer living in Beijing, along with future New York Senator Kirsten Gillibrand. The politician wasn't Britton's only famous roommate, though…
She Roomed With Lauren Graham
She Made Her Theatrical Debut as a Prostitute
Tami Taylor, a prostitute? Apparently so, when, in the early '90s, Britton made her theatrical debut as a sex worker in a production of The Early Girl. Her performance got great reviews, but it also almost led to her being ousted from her acting program, which forbade students from taking professional employment during their course of study. Whoops.
She Was The Only Actor From the 'FNL' Movie To Reprise Her Role in the Series
And it's a good thing she did, because a Friday Night Lights without Britton as Tami Taylor is too strange to even imagine. Although Brad Leland (Buddy Garrity) also had a role in the film version, his TV show character was substantially different.
Image: Universal
She Almost Starred in 'Jerry Maguire'
"You had me at hello." One of the greatest movie quotes of all time was almost said by none other than Connie Britton, who got this close to getting the part eventually held by Renee Zellweger. Although Britton nailed her audition to Maguire director Cameron Crowe, the producers wanted to test just one more actress before handing her the part — and unfortunately, that actress happened to be Bridget Jones.
Image: TriStar Pictures
She's Had a Project With David O. Russell In the Works For Years
While starring on American Horror Story in 2011, Britton revealed that she would soon begin developing an FX drama along with American Hustle director David O. Russell. Three years later, that amazing-sounding series has yet to take form, and since Britton and Russell are both busy with other projects, it's unlikely it ever will. Take a moment to imagine how great a Britton-Russell collaboration would be, and let the disappointment settle in.
She Was Married Once - But Not to Kyle Chandler
As much as we'd all like to think otherwise, Britton and her TV husband, Kyle Chandler, never dated in real life. Coach is happily married with two kids, and Britton, who is single, has an adopted 3-year-old son. She was married, once, to John Britton, but the couple divorced in 1995.
Although She and Chandler Are Close Friends
Exhibit A: She calls him "Sugar." Exhibit B: He built a guest house she swears is for her. Exhibit C: They used to road-trip together from L.A. to Austin, where Friday Night Lights was filmed. Cue our "WHY CAN'T THEY DATE IN REAL LIFE" crying now.
She Stood Up For Women's Rights
During the 2012 election, then-candidate Mitt Romney adopted the Friday Night Lights "Clear eyes, full hearts, can't lose" slogan for his campaign — but Britton wouldn't have it. Along with FNL producer Sarah Aubrey, the actress wrote an op-ed that slammed Romney for using the slogan, when his presidential campaign supported policies that went against everything their series stood for, including equal pay for women. "Romney may have co-opted the show's motto, but the women of Friday Night Lights know we need Obama," they wrote. And, like always, the FNL females got the results they demanded.
Image: NBC