Ron Swanson With A Baby: Always The Cutest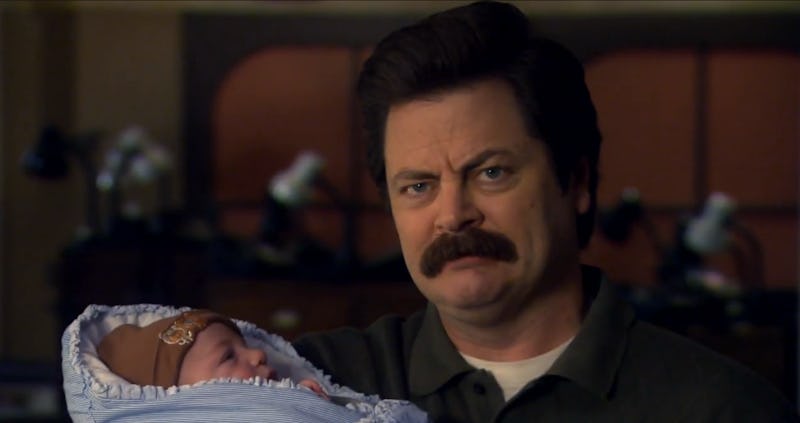 Ron Swanson is a legend. His wholehearted love of breakfast meats, his guarded BFF comraderie with Leslie Knope, that mustache, the ex-wives, the pyramid of greatness, Duke Silver. It's all great. And now Ron Swanson's a dad! You can witness a deleted bit of the greatness of that particular fact in this clip from Parks and Recreaction 's Thursday episode, "The Wall."
This clip find Ron looking for a good place to take his baby. He picks, of all places, the Pawnee City Hall third floor. We already knew about the first floor (which contains the Parks office and many others), the second (that mural Leslie and Ben love), and the fourth (hellmouth), but the third is apparently "silent, empty, and completely free of government work." In other words, it's Ron Swanson's paradise, if only it had a little more material for woodworking.
Here's the synopsis for this week's episode:
THE PARKS DEPARTMENT PREPARES FOR A BIG BENEFIT CONCERT – After Leslie (Amy Poehler) tries to take down the wall separating Pawnee and Eagleton, her life takes several unexpected turns. Tom (Aziz Ansari) and Ben (Adam Scott) meet with potential corporate sponsors for the concert, while Ron (Nick Offerman) brings a surprise to the office and finds a new office hobby.
I'm gonna go ahead and assume the surprise is his baby?
Image: NBC