Galaxy Freckles Are Summer's Newest Beauty Trend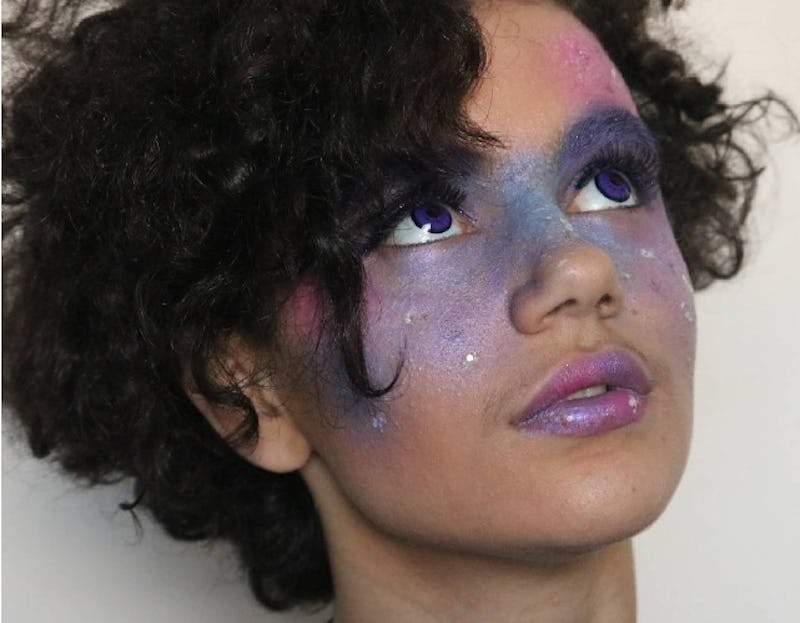 With summer in full swing, we're seeing many beauty trends highlight the sun-kissed look of freckles. From rainbow freckles to gilded doll looks, makeup artists and beauty lovers alike are finding fun ways to play with the feature. And the newest faux-take happens to be galaxy freckles, as reported by Popsugar.
Dubbed by MTV as the most "Tumblr festival beauty trend yet," this look is perfect for a weekend music escape with friends or for a bold Friday night out. Using galactic shades of blue, purple, and silver across your cheeks, this look isn't for the makeup-shy. Rather, you'll be sporting painted-on constellations across your face, with a healthy smattering of faux-stardust.
According to MTV, "Like a way less basic version of the glitter under the eyes trend that itself replaced flower crowns as the big festival beauty trend the year before, this look sees people painting delicate patterns to look like constellations all over their faces using metallic makeup and pools of glitter."
Although this look is a little more makeup-intensive than the other freckle trends out there because of the need to stroke on clouds of nebulae, it has the upside of letting us flex our creative muscles. While the concept of exaggerating or creating freckles is the same, beauty lovers are encouraged to try out a variety of different interpretations, from subtle to intense.
The Gloss reported, "You can even add some planets into the look, if you want. Some take a more precise approach with identifiable constellations, while others go for a more abstract approach. And some people like to add in a bit of glitter to make the look a little dreamier."
It's up to the wearer to decide how they'd like to approach things. If you want to go full-on whimsical, don't keep the freckles only to your face. As The Gloss observed, "Some people are extending the look down their necks and onto their chests." There's really no wrong way to do this. Just imagine how amazing you'd look at a weekend festival, sporting these freckle constellations with your pastel hair.
But with the summer comes the heat, so a natural hesitation for avoiding this look might revolve around how to keep it from melting off. Popsugar has us covered in that department, suggesting, "Just be sure to finish your face with a setting spray if you plan on re-creating this in real life. That way, you won't risk smudging your perfectly sketched-on stars."
In case you'd like to recreate this trend but are at a loss as to what sorts of products or techniques to use, here's a very helpful tutorial from YouTube beauty vlogger DonutPrincessXO.
If you're feeling bold and artistic one day, definitely give this idea a go. What do you have to lose? Happy creating, y'all.
Images: Courtesy lottierobertsmakeupartist/Instagram (1); Courtesy Instagrammers