'House of Cards' Cast's Twitter Q&A Must Address These 10 Questions About Season 2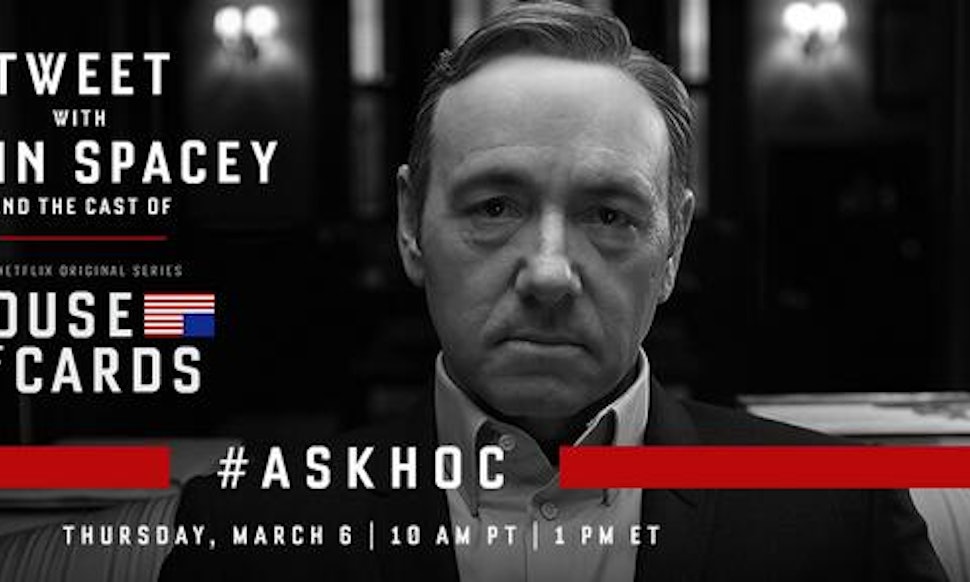 Attention Cardheads and Spacey-stalkers: the House of Cards cast is hosting a live-tweet Q&A on Thursday! At 1 pm ET (10 am PT), Kevin Spacey and the rest of the cast will take to the @HouseofCards Twitter to answer as many fan questions as their cramped fingers will allow. So in the spirit of our #AskHoC inquisitiveness, we have 10 questions of our own for the cast. Hopefully we'll get some answers.
Season 2 spoilers ahead, naturally.
Images: Netflix
For Kevin Spacey, Robin Wright, and Nathan Darrow: Was that threesome awkward?
You know you've been wondering about their tender moment, now all you have to do is ask.
Also, will Meechum be a regular romantic fixture next season? (We secretly hope so.)
For Kevin Spacey: Did you ever giggle during the monologues?
Frank Underwood is such a grave character, and we often wonder if you just can't take yourself seriously as the world's most dramatic murderer.
For Everyone: How do get into character? Is it fun to play evil characters?
None of the characters on House of Cards are "perfect," but some are especially bad. How do you prep to pretend kill, lie, exploit, and steal?
For Robin Wright: How do you always look so fly?
Seriously, you always look powerful, like a granite Margaret Thatcher sitting atop the most majestic peak in the Rockies.
We dig your entire wardrobe, from the power-suits to the running tights.
For Mahershala Ali: How do you always ACT so fly?
Remy is the smoothest operator on House of Cards, and WE NEED TO KNOW HIS SLY SECRETS.
For the directors: Do you have to kill an animal every season?
We understand that you like violence. You've killed three main characters already.
But between the dog in Season 1 and the parakeet (and almost the guinea pig) in Season 2, we're tired of breathlessly awaiting the "No animals were harmed in the making of this film" at the end of the episode. Will Season 3 stop the streak of animal abuse?
For Kate Mara: How did you feel about dying at the beginning of Season 2?
Kate, we feel for you. We didn't see your death coming, either, and some of us really liked you.
More importantly, though, are you going to binge-watch Season 3 since you're not in it?
For Michael Kelly: How do you feel about dying at the end of Season 2?
Same question, different dead white person.
For Everyone: Can you tell us anything about Season 3? Any vague predictions?
Or maybe some tiny, unimportant predictions? Like the color of Claire's next peacoat?
For Reg E. Cathey: WHY did Freddy have to lose the restaurant?!
We don't like this one bit. Those ribs were the only redeeming part of Frank's daily routine.
Although Freddy's speech about Frank "pretending to be his friend" was pretty awesome. Reg, do you have any good ways to grieve the end of the ribs, maybe?