6 Republican Convention-Goers Talk Melania Trump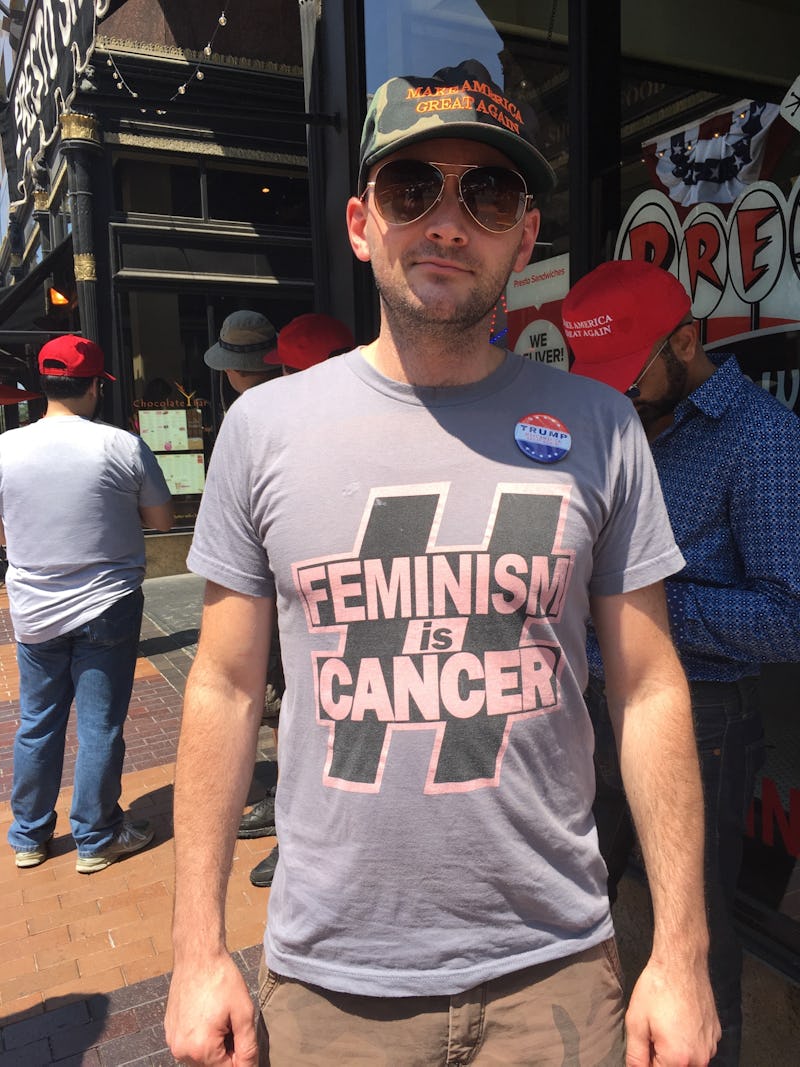 Melania Trump's Republican National Convention speech is the speech that, for Tuesday anyway, just won't die. Trump's speech is being discussed more than anything else that has taken place thus far during the convention, and not for good reasons. Trump has been accused of taking a couple paragraphs of her Monday night speech from First Lady Michelle Obama's 2008 Democratic National Convention speech. Specifically, several full sentences in two different paragraphs appear to be taken almost word-for-word from Obama's old speech. While the media has been having an absolute field day with this revelation, what do the people at the Republican National Convention actually think about Trump's speech?
Bustle was in Cleveland to cover the convention, and we asked six people outside of the Quicken Loans Arena what they thought about Trump's alleged faux-pas. For the most part, the interviewees at the convention thought the allegations were unfounded, but some also thought it didn't look good, while others thought if there were similarities, they weren't intentional. As you try to sort out your own feelings about Trump's reported failure to abide by high school English essay rules, check out what these folks in Cleveland had to say.
Regina Counselor, 49
I don't think she went and sat down and looked at Michelle Obama's speech and said I'm going to say these same things ... There's more important issues for us to focus on. She was supporting her husband, which any good old American girl is going to do.
George McIntyre, 30
I heard that there were parts that were similar, but I don't think that anybody has a stake on certain phrases. So whose to say someone can't come up with the same phrase?
Barbara, 63
I thought it was really a nice speech... I thought it was just what any woman would say. I was shocked when I heard they were accusing her of plagiarism.
Brenda Roberts, 60
I don't think those allegations are real. I think it's just, they are just trying to pick apart. But she's a strong woman, I don't think it's going to bother her.
Angela Schmidt, 35
You know, I've not been able to do a lot of research on that and I'm a person that has to do research and find the facts and sort them out for myself before I believe any news source. So it does look pretty damning, from what I read. Which is not a good thing because I don't think Trump, his campaign, needs any more, you know, things to pick at.
Bob Kunst, 74
To me it's a stupid argument, I don't care. What could Obama's wife say that would make anything worth stealing? And none of it makes any sense.
Presumptive Republican nominee Donald Trump will be declared his party's nominee very soon, and this debacle is likely to get pushed aside as new speeches roll in throughout the week. Still, it will be interesting to see what impact, if any, Trump's reportedly cribbed speech has going forward. Judging by the responses we got from Cleveland, this is just a minor blip in an already erratic campaign.
Additional reporting and images by Emily Shire/Bustle