Snapchat Lovers, You Need To Try This Dating App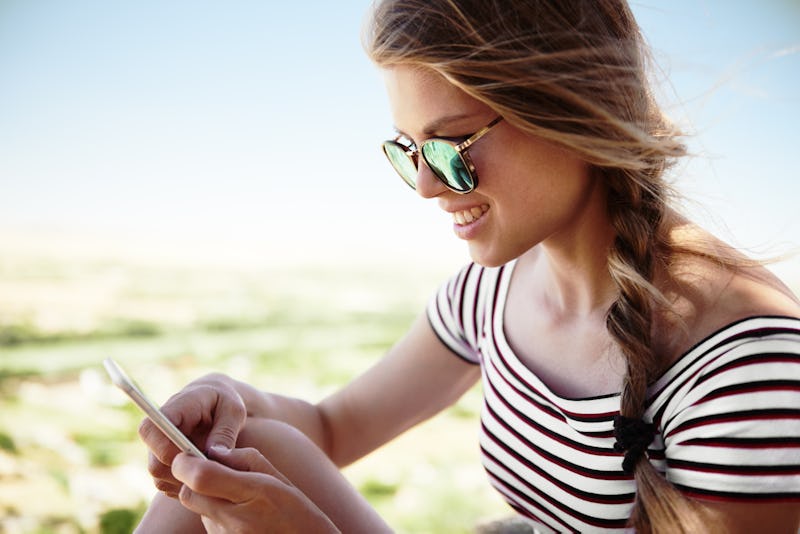 What inspires you reach out to someone online? Online dating service, Zoosk, conducted a survey of its users between 18 to 34-years-old and found that 90 percent of them were more likely to message someone who had more pictures and videos on their dating profiles. Three out of four women and over 50 percent of men also found social media profiles like Instagram, Twitter, and Facebook told much more about who a person is than their basic dating profile. Because of that, Zoosk just launched a new social dating app, Lively, which wants to "create a more genuine way for today's daters to connect" through picture and video stories.
Whether you're in the dating app scene or not, you should know there are tons of options out there. Lively attempts to differentiate themselves by providing its users with a quick and easy look into a person's life and interests. They do this by sticking together photos and videos into a moving "story" collage, which eliminates the need to keep swiping over and over again through images to get an idea of how someone is.
Zoosk's Vice President of Product Management Behzad Behrouzi tells Bustle, Zoosk wanted to "build and take a product to market that is focused on more specific demographics or dating approaches. Lively's moving-story profiles will resonate especially with those with active lifestyles and busy social schedules."
If you're looking to try the app out, it's currently available for free on iTunes. Here are a few things you should know, according to Zoosk's Vice President of Product Management Behzad Behrouzi.
1. It's Not A Swipe Right Or Left App
"The market is flooded with 'swipe' dating apps, where people make hasty cosmetic decisions about each other based on a static image. All those apps really do is create coincidences," Behrouzi tells Bustle. "With Lively, chemistry begins online— experiences replace selfies and moving stories replace text as the focal point of member profiles. Lively helps capture those intangible moments and aspects of someone's character that draw people together. How they hold a drink, laugh at a joke, or move through a room. This way, Lively will quickly create connections, not coincidences."
2. It's Not Meant To Be A Hookup App
The app says it's about creating real connections. "Because profiles are more intimate, matching with as many people as possible isn't the goal," as Behrouzi says. "When you match with someone on Lively it's more than a happy coincidence, it's a real connection."
3. A Simple Selfie Just Won't Do
"Be ready to think outside the selfie," Behrouzi says. "Though it's easy to create collages with photos and write a few lines, adding video to your profile is really what makes it come alive and helps your personality come across. Since people can have multiple stories, we've seen some creative ideas that really show off who people are."
4. Stories Are Just The Beginning
A recent study found that strong storytellers make the best partners. Lively wants to give you the opportunity to better connect with someone by telling the your story.
"Stories are just the beginning," Behrouzi says." Watching someone's stories really helps you get a sense of who they are much faster than photos, so be prepared to have a lot more to say to someone when you start chatting."
Images: Fotolia; Courtesy of Lively