7 BeautyBlender Alternatives To The Sponge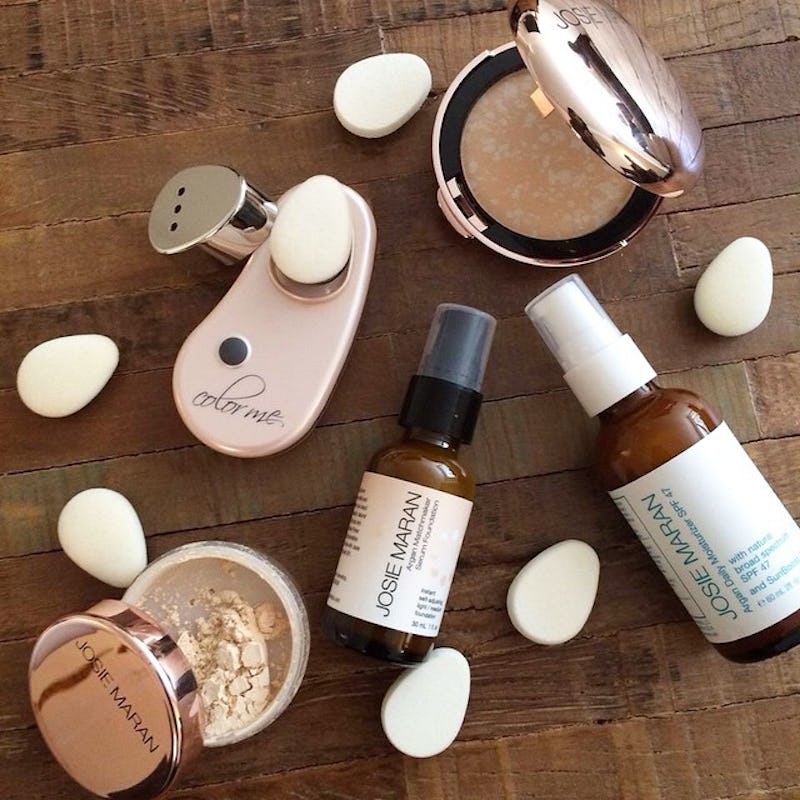 We've all heard a thing or two about the magic sponge that blends anything to perfection, but have you heard much about other blending tools? My guess is probably not, which is why I'm here to point out a few BeautyBlender alternatives that are just as good, if not better.
If you're a liquid foundation user, you probably understand just how important it is to make sure you've blended properly. From first hand experience, I think it's safe to say that nothing is worse than looking in the mirror and noticing a streaky application of foundation. Yikes!
While the BeautyBlender is all we've heard about the last few months, believe it or not, there actually are a few great tools that you're probably not aware of — and they're equally as great. For example, if you've never used an oval brush or a gadget, it's totally worth a try.
If you like to break out of "the norm" once in a while, or simply prefer to have a few brushes you can rotate in while you wait for your others to dry, here are a few ideas you might want to consider:
Artis Oval Blending Brush, $67, Net-A-Porter
The Artis Oval Brush has become a staple to beauty bloggers around the Internet since it came out. Aside from it's unique shape, the bristles are very fine and soft, allowing the brush to blend to perfection. While it's pricey, YouTubers swear by it!
Luxury Kabuki Brush, $27, Virginn Mineral Makeup
Small but mighty is how I would describe this handy little tool. Perfect for powder or liquid foundation, this brush helps your makeup sink into every crease and cranny, leaving you with a flawless finish. Plus, it's totally portable!
Blend Smart Automated Foundation Brush, $26, Sephora
The BlendSmart Automated Foundation Brush rotates to help you get the best coverage possible — with the least amount of work!
Bare Minerals Perfecting Face Brush, $28, Sephora
With nearly five star customer ratings, this brush is cost-effective and great for blending.
Tarte Airbuki Powder Foundation Brush, $28, Sephora
If you're a powder foundation user, trust me, you'll love this brush!
Color Me Automatic Foundation Applicator Pro Edition, $68, N et-A-Porter
This handy motorized gadget uses sonic pulse technology to mimic a tapping technique, leaving your face looking insanely flawless, no matter if you're using foundation or powder.
Urban Decay Good Karma Optical Blurring Brush, $32, S ephora
If you've never tried an Urban Decay brush, they're amazing! And this one is just as good as that handy little blending brush you're probably familiar with from the Naked palettes.
Best of luck! If you still stick to the sponge, I won't hold it against you, but these are all certainly worth a try!
Images: @colormeinsider/Instagram; Courtesy of brands