How To Clean White Leather Shoes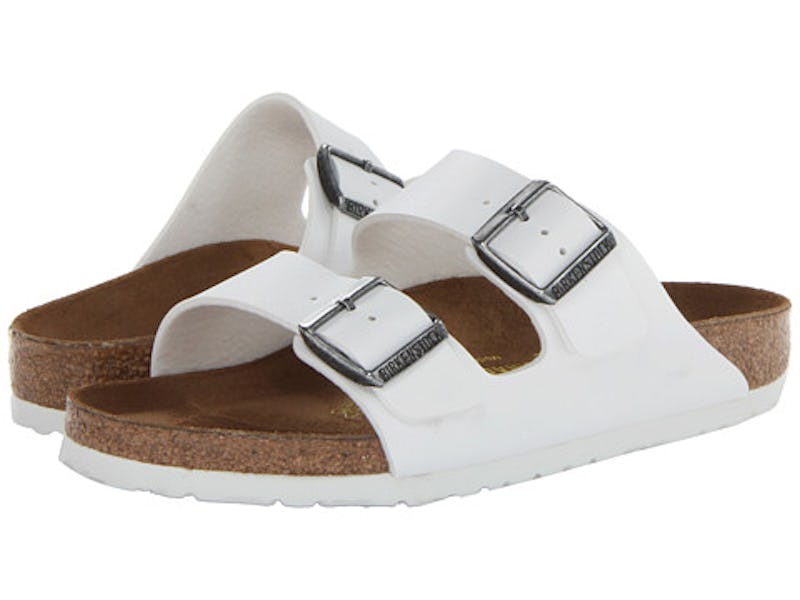 White shoes are the perfect update to any summer outfit — think loafers, Stan Smiths or patent leather pumps — but whether you're wearing them to run around the city for an afternoon or sinking in the grass at an outdoor wedding, they're inevitably going to get filthy. As put together as we may feel, none of us are immune to the coffee, dirt, pizza and wine stains of the real world. But fear of the elements shouldn't keep you from wearing your #sick white white shoes out in public, because there are plenty of ways to clean white leather shoes.
This season, there are countless reasons to invest in white leather shoes. Not only do they make your legs look extra tan, they match with literally every single thing you already have in your closet. Crisp white sneakers are an easy (and comfortable) way to dress down a sundress, and white heels are a great transitional piece from day to night. White Birkenstocks, which made a shocking fashion comeback three years ago are seemingly never going out of style.
The moral of the story: Don't be afraid to wear your white shoes — not just before labor day, but all year long too. There are a few simple things you can do to keep them looking brand new longgggg after you take them out of the box.
1. Prevent Stains From The Outset
Stuart Weitzman Leather Care Kit, $30, Stuart Weitzman
There's only so much you can do to keep a rogue glass of rosé from pouring itself out on your white leather shoes, but you may as well try. Before you wear a new pair of shoes, spray them with leather protectant to keep any outside stains from permeating the actual leather.
2. Check Them As Soon As You Get Home
Pour La Victoire "Tegan" Loafer, $179, Nordstrom
As with stains in clothing, the sooner you get rid of a stain, the less likely it is to be permanent. As soon as you get home, do a once-over of your white shoes with a damp (not wet! damp!) cloth to get rid of any damage you may have caused during daily wear and tear.
3. Use A Magic Eraser, Dove Soap And A Toothbrush
Birkenstock Arizona White, $100, Amazon
Yup — as it turns out, these products can both be used to clean things outside of your bathroom. Use the Magic Eraser to buff out any scuffs, then take a damp toothbrush covered in dove soap and use it to scrub the shoe in small, circular motions. Use paper towels to clean off excess moisture from the inside and outside of the shoes.
4. Dry Them Out
Leather Mule Shoes, $119, Zara
If the shoes are damp, stick paper towels in them overnight to absorb the moisture and help the shoes keep their shape. Avoid using newspaper or magazines because the ink may bleed and dye the shoe, and keep them out of the sun to avoid bleaching them an unnatural color.
5. Bleach White Laces
Adidas Stan Smith's, $80, Amazon
No matter how clean you keep your leather, having grubby laces will ruin your whole look. Remove white laces from your shoes and place them in a mesh bag and soak them solution of one tablespoon of bleach and three gallons of water. Then, put the mesh bag in the washing machine and hang them over a clothesline to dry.
6. Use White Nail Polish To Cover Scratches
Purcee, $54, Steve Madden
Don't get crazy, but if you have any little scratches or scuffs that won't come off in a cleaning, cover them with white nail polish.
7. Use Nail Polish Remover
2750 Superga Women's Sneakers, $85, Amazon
White nail polish isn't the only thing you'll need out of your manicure kit — use nail polish remover on a cotton ball to get dirt off of the rubber soles of white sneakers.
Images: Courtesy Of Brands