How To Land Your Dream Job, No Matter What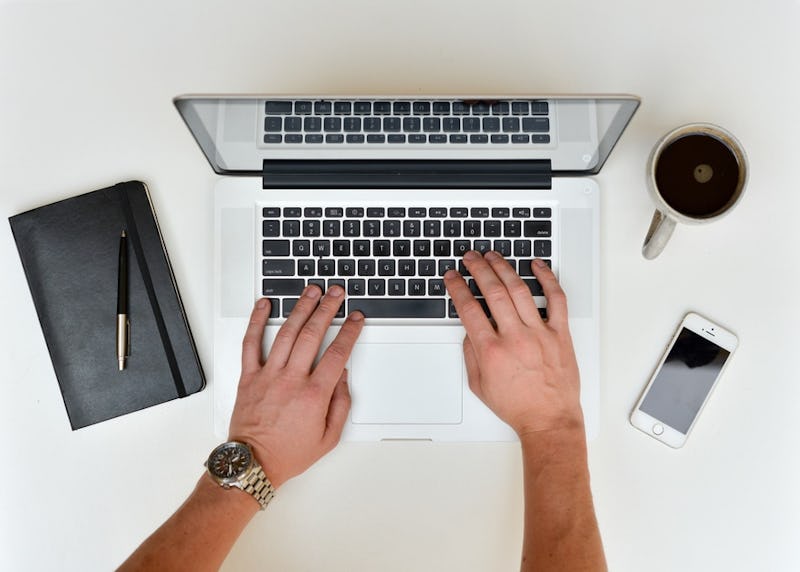 Looking for a job can be intimidating. You compete with hundreds of other candidates in hopes that you land your dream job. You know you have what it takes to excel in the position, but it's easy to feel defeated when you don't hear anything back after applying. When it comes to your resume, you want to make sure that it's top-notch and eye-catching, and there are a few rules you should follow before you send it out.
According to Microsoft's blog, career expert Maxie McCoy said, "Candidates often don't show enough with numbers, statistics and quantitative descriptions of their work." Companies want to see how you've made a difference in your past roles, and one of the best ways to show that is through numbers. Rather than saying you were a writer for so-and-so company, tell them how many views your posts have provided for the site. In addition to your resume, you want to make sure that your cover letter is written like a New York Times bestseller. You don't want to have any spelling mistakes or it will go straight into the trash.
"Even if you're new to the industry, it's all in the language you use to describe what you've done. If you speak to the value you provided rather than the expertise you have, you'll navigate this nicely," said McCoy.
Whether you have a job and just looking for a new one, or you're fresh out of college with no job lined up just yet, here are 11 tricks to use to land your dream job ASAP.
1. Figure Out What You Really Want
It's important to be aware of what you truly want out of your career. Just because the job sounds nice on paper doesn't mean it could be the right fit. "Do some soul searching and figure out what you really want from this job and why this job should want you. Does it pay what you need in order to support you? Does it allow you to live where you want to live?" says career coach Jill MacFadyen in an interview with Bustle over email.
2. Network, Network, Network
Nowadays, most candidates receive jobs through people they know. But if you've just graduated and don't know anyone personally, there are ways to connect with people. "Network until you find someone in the field who is willing to talk to you about his/her career path in this dream field or company. Talk to as many people as possible," says MacFadyen.
3. Meditate
Looking for a new job can be stressful and it's important to keep your composure to land a new position. "Many job seekers are so much in panic mode that they usually don't have a clear mind. With meditation, they can better identify a real dream job that's aligned with their unique strength and talents instead of going for what's glorified by media or family and friends. Some people actually do not need to change jobs if they can use meditation to handle their daily stress and anxiety better. Meditation is also extremely helpful when preparing for the interview as it calms the nerves and allows candidates to present themselves in a most confident manner," says life coach Annie Lin in an interview with Bustle over email.
4. Personalize Your Cover Letter As A Sales Pitch
Aren't cover letters the worst? Unfortunately, they're still an essential part of the whole job search process. While you would probably love to just copy and paste your resume for every job you apply for, you would actually be hindering yourself from showing your personality. "Merely changing the title and name of the company in the cover letter is not enough to show that you have done your homework. Spend time to research and analyze what the company's needs are and why you are the best solution to their problems. Write it down as if you were writing a sales pitch, and the product is yourself. Connect the dots between your unique skills and what the company is looking for. Paint the picture with details to help them realize that you truly are the perfect match for the position," says Lin.
5. Create An Online Portfolio
Building a website will allow you to neatly organize your career experience all in one place. You can show your photos, writing samples, and/or projects with just a few clicks. You don't even need to buy a domain name to have one (but it is recommended for a more professional look). "There's not much you can do to 'enhance' a traditional one-page resume, but candidates can build their online portfolio and include a link in [their] paper resume, cover letter, and e-mail signature. The portfolio here goes beyond the profile on LinkedIn or other social networks. I suggest that candidates build a personal blog or a website showcasing their knowledge and expertise," says Lin.
6. Figure Out How To Showcase Yourself
Even though you know that you're awesome, it might be hard to translate that on to your resume or cover letter. Thankfully, there are a few tool to help set yourself apart from the rest of the competition."Stand out by creating a video or online portfolio. Leave designing your resume to the experts. Use a chic template. This will make it easier for the job searchers to look for jobs instead of spending a bulk of their time updating their resume," says McCoy in an interview with Bustle over the phone.
7. Do Something To Set Yourself Apart
Sometimes you have to take that extra step to get the job of your dreams. It might take up more of your time, but in the end, it will be worth it. "It's hard to set yourself apart in cities, like, New York, Los Angeles and Chicago. But it's important to communicate what your passionate about to get the job. Take an hour to write a post about the industry trends and why you're a great fit. Or create an online portfolio to show all your work. Send a link to your possible future employer to help you stand out from the crowd," says McCoy.
8. Get Personal In Your Interview
Remember: no one has what you have because you're unique, and the best way to prove that is by showing your personality in your interview. "Fifty percent of job interviews are done through Skype. So to make your Skype interview more memorable and relatable, it's a good idea to talk about life-defining moments. Stories are more powerful than data alone," says McCoy.
9. Practice In Front Of A Camera
While practicing in front of camera might feel awkward, it's one of the best ways to feel comfortable for a Skype interview. When you watch the video, you can critique your mannerisms and answers to perfect them for D-Day. "Whether you use Snapchat or a desktop to record yourself, make sure you listen back to see how you sound and look like. This will make you more comfortable in front of the camera," says McCoy.
10. Expect The Unexpected
Anything can happen when you're in the middle of an interview. No matter how hard you prep, your environmental surroundings or interviewers can do something to shake things up. If something bad does happen, it's important to be proactive with your emotions, so you don't panic and freak out. "One in four people interview in a restaurant, coffee shop, bathroom or conference room, and sometimes distractions are bound to happen. Always have a backup plan. If something does happen, don't panic! Your interviewers are human and will understand. Calmly apologize (don't overly apologize) and move on. It's also a good idea to get the phone number in the beginning of your interview so you can call them back just in case," says McCoy.
11. Believe In Yourself
The only way you're going to get the job is if you believe in yourself. No one will believe what you say if you don't believe your thought and visions first. Surround yourself with influential people and fake it till you make it to help boost your confidence. "You have to believe that you're good. Surrounding yourself with positive people will help with that," says McCoy.
Look, getting a job is nerve-racking and exhausting, but the whole experience won't be so bad if you're prepare beforehand. Set up an online portfolio, practice in front of a camera, and believe in yourself. As long as you take your job search seriously and prove yourself, someone will believe in you enough to give you the job.
Images: Pexels