The Look Of New 'Fantastic Beasts' Poster Is Perf!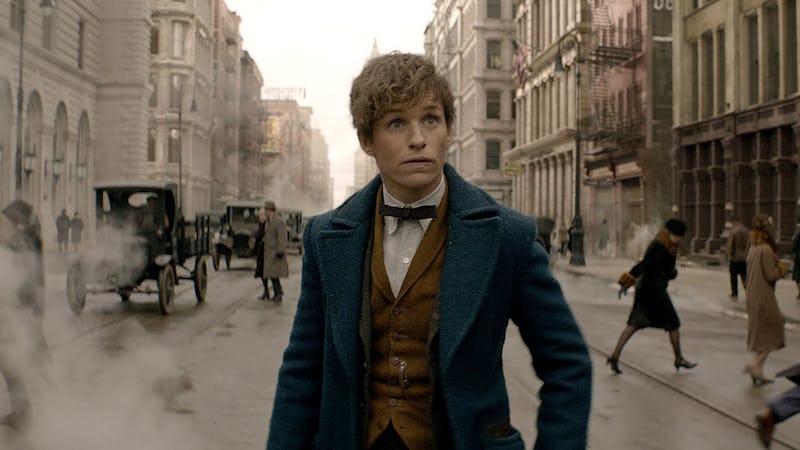 When I found out the newest member of Warner Brother's (pretty dope) Harry Potter movie collection was going to be a period piece, I thought I must have accidentally gargled with Felix Felicis instead of my Listerene — because it was the best news I'd heard all week. You mean the foray into the magical world of Harry Potter is going to be essentially a giant flashback sequence? Amazing! With each new advertisement showcasing 1920s New York, I keep getting more and more excited — those hats, those hair styles, the lamplight, the brass and brick! — even when things like the new poster comes out. Case-in-point: The art deco look of the new poster for Fantastic Beasts is perfect for the time period.
The poster was released by the film's official Twitter page Friday July 22 as a special San Diego Comic-Con treat. It features Eddie Redmayne as Newt Scamander front and center with an art deco New York skyline behind him and the seal of the UK Ministry of Magic's across-the-pond equivalent, Magical Congress of the United States of America (MACUSA), at the top. On the sides, also in their art deco framed portrait finery, we've got Katherine Waterston as MACUSA employee Porpentina "Tina" Goldstein, Dan Fogler as the No-Maj Jacob Kowalski, Samantha Morton as Mary Lou — aka the leader of the No-Maj group the Second Salemers — Colin Farrell as the auror Graves, Alison Sudol as Tina's sister Queenie Goldstein, and Ezra Miller as Credence, Mary Lou's adopted son (who probably has something magical going on).
So we can really bask in the beauty and genius of this poster, let's talk about art deco. According to Alastair Duncan (who kind of has a Harry Potter-y name, no?) of the Art Deco Society of New York on artdeco.org, the influential visual arts style "was the last splendidly self-indulgent decorative style." The art style has many different signature pieces — chevrons, arcs, sunbursts, maidens, fountains, floral abstractions, zig-zags — but all seem to share a similar streamlined look. Art deco started in Paris in the '20s and spread to major cities and is described by Duncan as "a pastiche of styles, one that, when romance and nostalgia are thrown into the mix, provides an infectious energy and 'snap'."
For the poster to use imagery with an art deco flair is perfect for the story this movie is telling. Here, we are in an industrial post-World War I United States that is searching for some amusement and meaning — but meanwhile, we've got magic and minor technology coming together. This sort of relationship is going to be fascinating to watch unfold on screen, and the poster does a wonderful job of capturing it on the still image side of things.
From the looks of the poster and the trailers, this movie is going to be right on the ball for harkening back to ye old times and good-natured fun. I can't wait to see how it all plays out November 18.
Images: Warner Brothers Pictures, Giphy