#BookshelfPorn, So Drop Everything And Read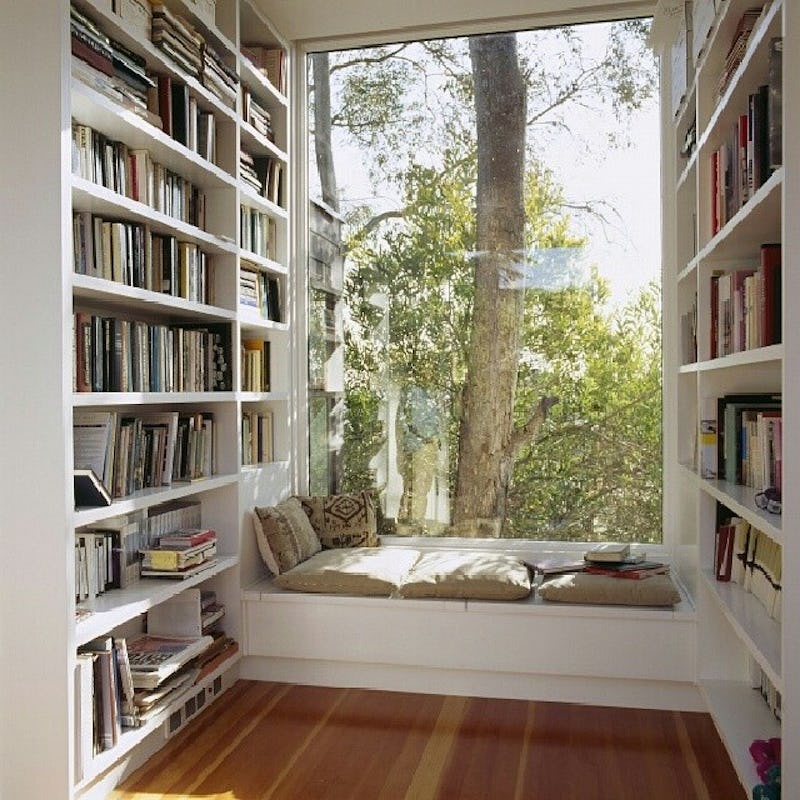 Happy World Book Day, voracious readers and #shelfie-takers! If you're a kid, congratulations! This day is especially for you! Grab a voucher from National Book Tokens Ltd and get a free book from your local bookseller! If you're an adult, and you're "too cool" to re-read Mr. Rabbit and the Lovely Present — you heartless bastard — then I've got something even better for you than a free book. Almost.
#BookshelfPorn. #Shelfies. (That's a shelf selfie…GET IT?) #Amreading. Instagram is crawling with aspirational book storage fantasies that are almost good enough to eat. But since scrolling through hashtags is a hard day's work, I've done the legwork for you. Here: 13 beautiful creations that will make you want to burn down your Ikea shelving units.
As if the color-coordination isn't gorgeous enough, note the presence of what appears to be a MARGARITA on the side table.
If you can climb all the way to the top, you'll find a first edition War and Peace .
I'd scribble my inspiration on the duvet too if I spent this much time reading in bed.
Don't mind me, I'm just arranging some out-of-print interior design magazines beneath my collection of obscure typography prints.
I'd kill for a windowseat, and the blood-red fabric here makes me think someone already has. (Just kidding. This is a place of peace, love, and… orchids.)
Brilliant, but a hair too stressful for the OCD among us.
Not pictured: the frosted glass of iced tea on the patio.
Excuse me for a moment while I pose dramatically on this staircase, reading aloud from a vintage copy of Mademoiselle.
I'll go ahead and ask the hard question here: why aren't government funds allocated to turning every abandoned building into a fantastical open-air library?
I'll meet you here with chocolate croissants if you bring two cappuccinos.
Perfection in normal times, though a death trap in an earthquake.
Anyone who sits here and doesn't come up with the next Great American Novel is a hopeless case.
This is a custom-made bookshelf that doubles as a room partition that doubles as the only thing on my Christmas list this year.
Images: @bookshelfporn_, @coletheabge, @lovemacarlo, @libraryloves, @metterabolle, @transcendentdesign, @pedferraz, @sarabashah, @lightfocusurban/Instagram