7 Things That Help Care For Your Skin In Your 20s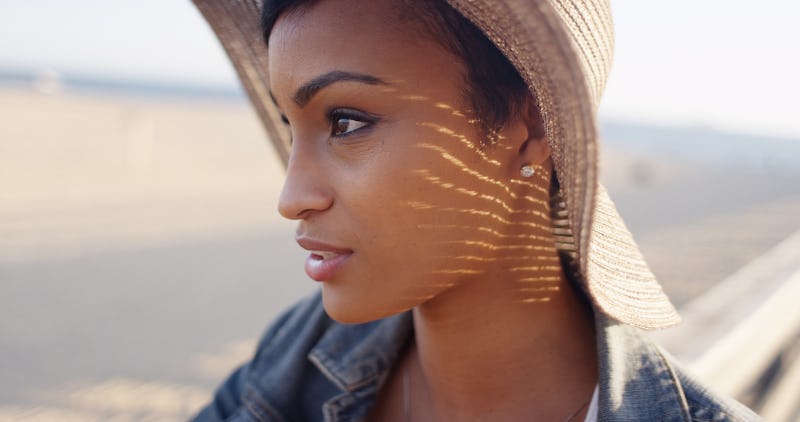 I am a woman in my mid-20s. I honestly don't know when that happened, but the fact still remains. With this realization has come one other: I need to start taking care of my health and my skin. But what are the best skin products to start using in your twenties? Where was I supposed to start?
During my teen years, my regimen was a simple creamy foam cleansing wash, followed by a toner, and coconut oil to moisturize. For a while that was just fine, but lately, I've noticed that my skin is changing. I have fine lines and dark spots that don't disappear as fast as they used to. To decode what all of this meant, I spoke with dermatologist Dr. Doris Day about how skin changes in your 20s.
While there's absolutely nothing wrong with getting older, Dr. Day said that "In your 20s is when the first signs of aging really start to show." It's at this point that taking care of your skin can be a healthy habit to adopt, and that includes paying attention to how you're protecting your skin outside. That's why I want to take better care of myself. Dr. Day said to do this, a new regimen is in order. Read on to find out how to update your skin regimen for your 20s.
1. Apply An SPF Over 30 "Every Day, All Year Round"
La Roche-Posay Anthelios 60 Cooling Water-Lotion Sunscreen for Face and Body , $36, Amazon
Dr. Day said the dark marks and discoloration I've been noticing is a result of sun damage I had no idea was happening. "Many women in their twenties don't realize that sun exposure is cumulative," she said. She recommends a broad spectrum UVA/UVB sunscreen like this one, applied "ideally every two hours, if you're outdoors."
2. If You Must Have A Tan, Use Tanning Wipes
Art Naturals® Self Tanner Sunless Tanning Lotion Set w/ Mitt, $16, Amazon
Many of Dr. Day's patients in their 20s are addicted to tanning, she said. "Their skin is young and beautiful, but they feel they look better with a tan. The reality is that sunscreen alone may not be enough, and if you see your skin creating a tan, this means you need to do more to protect your skin because a tan means sun damage." Ditch laying out all together and try a gradual self-tan like this, if you really feel you'll miss being golden brown.
3. Use A Serum With Azelaic Acid To Deal With Acne & Marks
SUPER ACIDS Daily Azelaic Acid Serum, $98, Amazon
Azelaic acid is "a helpful ingredient to even out skin tone, and it can help with acne as well," Dr. Day said. Find a serum with this ingredient to undo the marks left by sun damage and treat any annoying adult acne. This one is a silicone-free formula that also has lactic acid to refine the appearance of pores and uneven skin.
4. Try A Retinol Packed Moisturizer To Reverse Sun Damage
Dr Dennis Gross Ferulic Plus Retinol Anti-Aging Moisturizer, $38, Amazon
Retinol is another ingredient Dr. Day said to be on the lookout for in your 20s. A moisturizer like this one "can be excellent in treating both sun damage and aging skin and also treating acne." Dr. Day said breakouts are a concern for many women in their 20s who find that they have not outgrown their acne even though they're no longer teenagers.
5. Eat More Fruit For Healthier Skin
Diet is also plays a very important role in having healthy, beautiful skin, Dr. Day said. "Look for lots of fresh fruit and vegetables of all different colors, especially ones that are in season," she advised.
6. Soften Fine Lines From Sun Damage With A Combo of Vitamin C + Hyaluronic Acid
Vitamin C Serum, $20, Amazon
If fine lines are more your concern, Dr. Day recommends a serum packed with vitamin C and hyaluronic acid. This one promises to soften the early lines that show up in your 20s by boosting moisture with hyaluronic acid and with stabilized vitamin C extract will create a bright glow.
7. Get A Full Night's Rest With This Rejuvenating Pillowcase
iluminage Skin Rejuvenating Pillowcase with Copper Oxide, $60, Amazon
Managing stress and getting enough sleep is also vital for helping your skin age beautifully, Dr. Day said, so combining a full eight hours with this pillowcase — its material is made with copper oxide, a mineral that's great for skin — will help your skin in your 20s.
Bustle may receive a portion of sales from products purchased from this article, which was created independently from Bustle's editorial and sales departments.
Images: Fotolia (1); Amazon (6)