The 'Luke Cage' Trailer Reveals So Much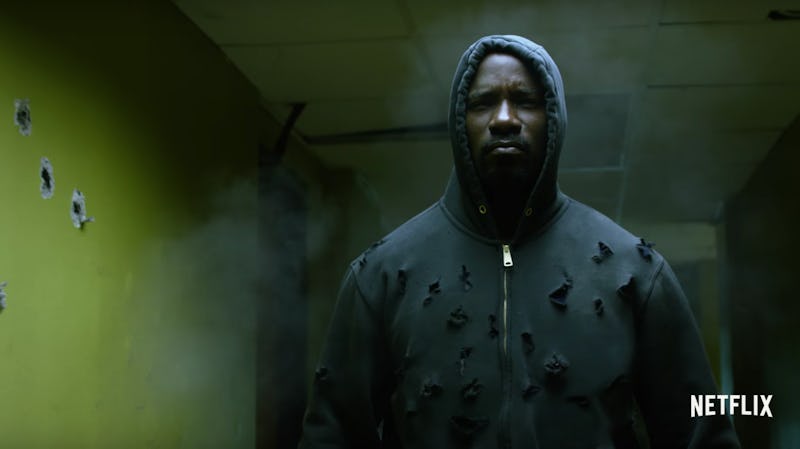 Before now, the only glimpse we'd previously had of Marvel's upcoming Netflix series came at the end of Jessica Jones — but luckily for fans, there's now a Luke Cage teaser trailer that reveals a whole lot about the upcoming show. For those who are unfamiliar with Marvel lore, Luke Cage is a super strong and bulletproof superhero in the Marvel Universe. He appeared in the first season of Netflix's Jessica Jones portrayed by Mike Colter, who will now get his own Netflix show premiering in September.
The new trailer was released at Thursday's Luke Cage panel at San Diego Comic-Con, after the show's creators and actors also answered questions about the upcoming series. Showrunner Cheo Hodari Coker notably told the crowd that the "the world is ready for a bulletproof black man," while Marvel TV head Jeph Loeb described the difference between Marvel's properties: "The Avengers save the universe. We wanted to tell stories about characters who save the streets."
The upcoming series has been highly anticipated by those who loved (or fell in love with) Colter's Luke Cage in Jessica Jones, and the new teaser does not disappoint. In the one and a half minute clip, Cage's strength is on full display as he breaks into some kind of stronghold using a ripped off car door as a barricade. But we already knew he was strong and badass: here's what else the new trailer revealed.
It Will Have A Great Soundtrack
The teaser is set to Ol' Dirty Bastard's "Shimmy Shimmy Ya," which sets a perfectly irreverent and upbeat tone in contrast to the violence of Cage's actions. Coker described the show as "the Wu-Tang-ification of the Marvel Universe," and it's pretty clear it will have a '90s hip-hop soundtrack.
It's Making A Statement
The image of Cage walking in his bullet-marked hoodie is pretty much exactly what Coker referenced in his aforementioned statement about the series: "the world is ready for a bulletproof black man." While I imagine that the show will be subtle in its references to police brutality and racism, those themes would be difficult to ignore when the protagonist is a bulletproof black superhero who received his powers while wrongfully imprisoned.
Harlem Will Play A Big Role
The trailer features villain Cottonmouth (played by Mahershala Ali) mockingly referring to Cage as "Harlem's hero." At the Comic-Con panel, star Alfre Woodard described Harlem as "a place that pulls people in from around the world" and identified the "very real struggle for its identity that the show taps into."
It Will Be Violent
We already knew this from watching Jessica Jones, but it's clear from the long sequence of crushing, shooting, and defenestration in the teaser that this show will not be for the squeamish.
Cottonmouth Will Be A Slick Villain
While the Cottonmouth of the comics is a little more menacing, Ali plays it slick in a suit. Ali explained at Comic Con that he is not a cut and dry villain, but a more complicated character with his own moral code.
Cage Is An Unwilling Hero
This is not a huge surprise to those who watched Jessica Jones, but Cage's reluctance to become a hero at the beginning of the teaser suggests that he is conflicted about his role as a "good guy".
Luke Cage premieres at the end of September, and hopefully we'll get more hints about what's about to hit us in the weeks to come. I can barely wait.
Image: Netflix/YouTube (5)