11 Books Every Solo Female Traveler Needs To Read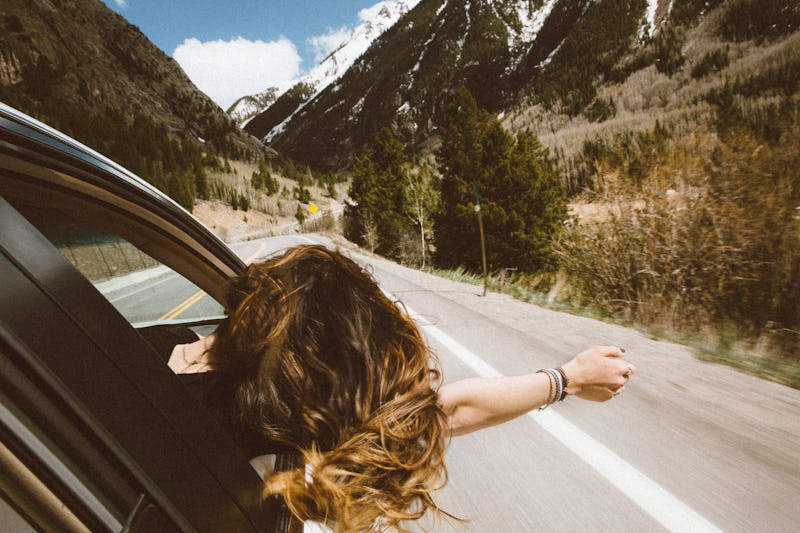 Some of the greatest stories of my life are those of my adventures as a solo female traveler. But sometimes as a woman, and especially as a Millennial woman, when you tell people you're about to hit the road on your own, the response is usually less than encouraging: warnings about never going out after dark, and always having pepper spray handy; cautionary tales of young women who were last seen at the museum/beach/taco stand/discotheque and never heard from again — the list goes on. And sure, while all these stories may have some element of truth to them (and of course it's important to be a mindful woman in the world) there are so many better stories for the solo female traveler. Like, say, some of the stories told in these amazing books about women traveling alone; women who saw the world and had amazing adventures, who maybe struggled a little (or a lot) but returned home all the better and wiser for it.
Because for better or for worse, I have never regretted the journeys I've taken alone. As a woman traveling alone I've had my courage tested, and my assumptions disproven, and my strength challenged, and my mind opened. I've had the freedom to explore exactly who it is I am when nobody I know is watching. And I've been allowed to make mistakes that only I was there to fix. If you've ever traveled alone, you probably know exactly what I mean — and you'll love the books about women travelers on this list. Here are 11 books every solo female traveler needs to read.
If you walk away from Robyn Davidson's book thinking: amazing story, but there is no way I could ever do that, you're not alone — I thought the exact same thing. Tracks: A Woman's Solo Trek Across 1700 Miles of Australian Outback is Davidson's account of her journey through the Australian desert to the continent's coast with four camels and one dog in tow. Along the way she falls in love with the landscape that challenges her body, mind, and spirit more than anything she'd ever experienced before, and she learns the depths of her own strength and courage — which is exactly what all solo female travelers should hope for, even if you skip the Outback for now.
In our age of ever-increasing feminism it's easy to forget that women have been traveling alone for generations — long before gap years and the Peace Corps. Freya Stark was one such woman, traveling alone across what is now Iraq and Iran in the early twentieth century. Traversing a landscape that today is largely regarded with terror, Stark brings to life the ancient history of the Middle East — the kingdoms and mysticism, the nomadic tribes and gorgeous mountains and valleys, and yes, some of the tension that has perhaps always existed there.
As a teenager, Amanda Lindhout began saving every penny she could, always knowing all she every wanted to do was travel the world. And travel she did: backpacking through Latin America, Laos, Bangladesh, India, Sudan, Syria, and Pakistan, before working as a television reporter in Afghanistan and Iraq. But on a trip to Somalia in 2008 she was kidnapped and held hostage for 460 days — converting to Islam, learning how to be a "wife", and risking escape in order to survive. And through it all, what kept her spirits from breaking during her captivity were her memories of all the places she'd traveled before. Intense and suspenseful, A House in the Sky recounts one of the worst things that could happen to a female traveler, and depicts the strength that exists deep within all women.
This collection of stories written by solo female travelers is a great one to throw into your backpack before you head out into the world. Perfect for reading both in short bursts or all at once (depending on what your travel plans allow) A Woman Alone: Travel Tales from Around the Globe is filled with stories of women who have traveled just about anywhere you can think of, and have done it sans a travel buddy. These tales of grit, gumption, and transformation will definitely empower you on your own journey.
Born in 1877, Isabelle Eberhardt had a short, but adventure-filled life (she passed away at only 27.) Moving to Algeria from her home in Geneva, Switzerland, Eberhardt spent almost the entirety of her brief adult life traveling across North Africa and throughout the Sahara Desert alone, dressed as a man. She wasn't really fooling anybody though, and while immersed in an Islamic culture that suppressed women, Eberhardt smoked and drank and expressed her sexuality freely. While certainly not the original solo female traveler, her book might just be one of the earliest written by a woman alone on the road.
The mere fact of traveling alone isn't the only way to get your girl power on. While you're out there, you might as well connect with some fellow intrepid women — women who are stepping outside the box, taking risks, and making the world a better place for women everywhere. At least, that was Holly Morris's idea. Now, traveling with a small television crew and her mother in tow isn't exactly traveling alone, but the women she meets along the way all embody the spirit of what it means to be a woman making your mark on the world, so this one is totally worthy of this list — and worth the read.
Annie Hawes is on a mission — to track down a small oasis town deep in the Sahara Desert. Sounds… simple enough? Traveling through Morocco and Algeria, it seemed like Hawes's answer to everything was yes: yes I will eat that, go there, put my faith in my instincts and the goodness of people around me, and let myself be guided wherever this journey is meant to take me. Spoiler alert: she ultimately discovers her Saharan oasis; but she discovers a whole lot more about herself in the process. This book is lighthearted and hilarious.
8. Dream of a Thousand Lives: A Sojourn in Thailand by Karen Connelly
Click Here To Buy
If you've never heard of Denchai before reading this book, don't worry, I hadn't either. As it turns out, it's a small farming community in northern Thailand — one that poet Karen Connelly made her home for a year when she was only 17-years-old. Her poetic, journal-entry-style account of her time spent there, from her love of Thai culture to all the lessons she learned about herself, is beautiful and captivating, and at times even a little bit funny.
Not to discount all the other amazing titles on this list, but Four Corners: A Journey into the Heart of Papua New Guinea is the one that gave me the most serious case of FOMO. I don't know if it was Kira Salak's walk through the almost impossibly untouched jungles; or the diversity of the tribal cultures and languages Salak encountered; or the fact that Salak took her journey over 20 years ago, so the landscape she traversed could be entirely changed by now; or the idea that Papua New Guinea just feels so very far out there — but this book gave me a bad case of wanderlust. Maybe it was just Salak's great writing. You'll have to try it out for yourself.
Click Here To Buy
It might be hard to imagine now, but in the 1960s and '70s the Middle East was the place to be. Known as the "hippie trail," a route ran through Europe, parts of the Middle East, and Southeast Asia before landing its travelers in India or Nepal — and people from all over the western world were taking it. In 1963 Dervla Murphy hopped on her bicycle and began the trail herself. Starting in Ireland, Murphy rode across Europe, through Iran, Afghanistan, the Himalayan mountains, and Pakistan, before finally landing in India. Phew. Luckily, she kept a diary of her journey.
Click Here To Buy
For better or for worse, Tanya Shaffer is a woman after my own heart (the first time I used travel as an excuse to break up with a boy was in the eighth grade, and I've gone on to break up with a ton of — ahem, I mean I've seen a serious amount of the world since then.) With the intention of heading to Ghana, Shaffer instead stays an entire year on the African continent, offering herself as a volunteer building schools and hospitals as she makes her way from one country to the next. Through it all, Shaffer is thoughtful and self-aware, writing with humor and honesty about the differences between North American culture and African.
Image: averie woodard/Unsplash