13 Funny Gift Ideas For Your Sassy BFF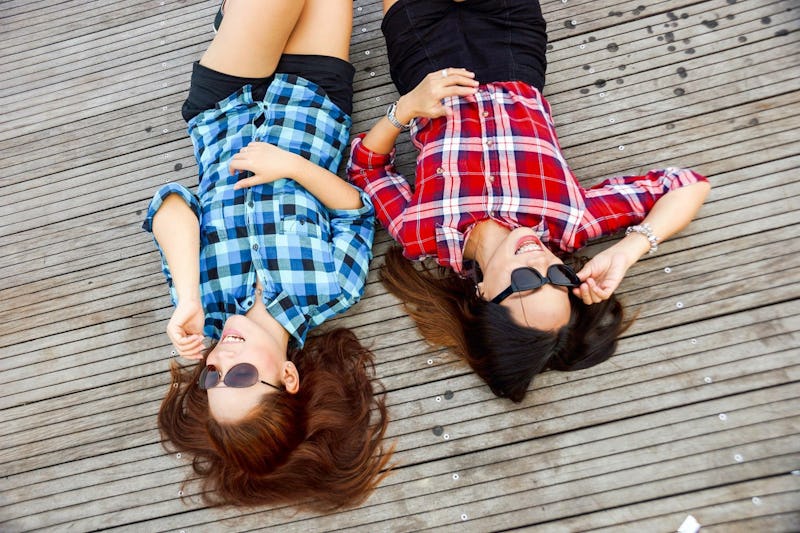 What I love about my friends is that we've achieved the perfect level of inappropriateness — one that comes from years of knowing the worst about each other. So when it comes to birthdays, we always go for the funny, sassy gift ideas for each other. I use the years of knowledge I've gathered about them to find the best hilariously sarcastic gifts for each of my best friends — gifts that show how much I love them, even though they're the worst.
(Still, only I can say they're the worst — I've earned that privilege with the years I spent listening to break up stories.) Finding sarcastic and sassy gifts for these best friends of mine isn't easy by any means, but it's so worth it. After all, I'd expect nothing less for the friends whose bullsh*t I can spot from a mile away (and still love them as though they were my own kin). From a "Nope" necklace your best friend can wear when it's just one of those days, to a workout companion that says what you know your best friend is thinking (always pizza, duh), this round up will set you on your way to finding the perfect attitude-filled sassy gifts.
For your friend with attitude through the roof, why would you get anything less?
1. Nope — Not Today, World
Nope Necklace, $15, Amazon Handmade
This sassy "Nope" necklace is exactly what your friend needs for those days when she is just not having it (aka every day).
2. I Donut Care Pillow
I Donut Care Funny Throw Pillows, $4, Amazon
Sometimes, there are just no cares left to give. For those times, there is this cute donut pillow case
3. In One Ear
In One Ear, Out The Other Earrings, $14, Amazon
These earrings are pretty much the fashion equivalent of "Talk to the hand."
4. Thug Mug Sippin'
Ankit Thug Mug Ceramic Coffee Mug, $15, Amazon
For your friend who is convinced she is the toughest broad on the block, there is this mug. Gotta love the brass knuckle handle, too.
5. Such Long Eyelashes You Have
Faux Leather Zipper Pouch, $25, Amazon
If you have a friend who is the queen of throwing shade, this hilarious pouch is probably the most polite she'll ever be when it comes to calling people on their crap.
6. It's All In The Fine Print
Valfré Official 3D Poison iPhone 6/6S Case, $38, Amazon
This phone case is a gentle mix of unicorn blood, witches brew, and broken hearts. The usual.
7. You Woke Up Like This
Gold Foil Typography Print, $14, Amazon
Your sassy friend isn't afraid to tell the world she thinks she looks pretty great — even if it's first thing in the morning. This handmade real gold foil print will make her smile every time she pulls herself out of bed.
8. Don't Tell Me To Smile, Creep
Don't Tell Me to Smile Screen Printed Tote Bag, $18, Amazon
My favorite thing to see is one of my friends shooting down the male gaze. This tote is a badass companion for a nonsense girl.
9. No One Cares
Vadim Tee (Sizes S-XL), $5-$6, Amazon
Sometimes your sassy friend's attitude levels are through the roof, and on those days, it's this T-shirt that needs to come out.
10. After This We're Getting Pizza
ban.do Women's Work It Out Water Bottle, $20, Amazon
Let's be real, the best part of a workout is often the part you do after — like eating pizza. This water bottle is just saying what everyone is thinking after that group workout class.
11. Tell It Like It Is, Sister
Knock Knock Tell It Like It Is Sticky Note Packet, $14, Amazon
Some of my friends are honest to a fault, but it's always what I need to hear. For your too-honest friends, these sticky notes tell it like it is.
12. I Am Very Busy
I Am Very Busy Classic Agenda, $22, Amazon
We all have that one friend we only see once a month because they are just oh so busy. Get them this cute notebook and pencil in all the days you demand a BFF check-in.
13. You Slay All Day
I Slay All Day Gear Bag: Sport Roll Liberty Bag, $24, Amazon
Your friends are the baddest, bestest, bossiest bunch around — and yes, they slay, so send this gear bag their way.
Bustle may receive a portion of sales from products purchased from this article, which was created independently from Bustle's editorial and sales departments.
Images: Pexels(1); Amazon (13)