Lip Smacker's Summer BBQ Lip Balms Have Landed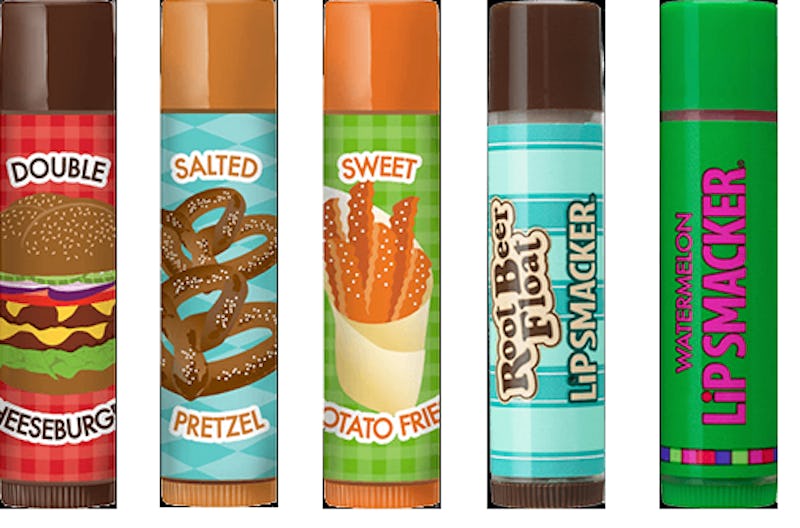 Summertime usually comes with a few must-do staples ranging from lazy beach days to long weekend road trips. But one thing most folks make the time to do is throw a BBQ. If you're a fan of those grill get-togethers, then you're in luck: You can now buy Lip Smacker Summer Barbecue Lip Balms to keep the memory of hot dogs and cold brews close to your heart during the boring work week.
Could these be the brand's new cult-favorite contenders, ready to take over Dr. Pepper's throne? While I won't go that far (just yet), you have to admit that the idea is intriguing. Coming in a variety of flavors that range from sweet potato fries to watermelon, you can pick how safe or how novel you want to get with your balm. While quirky, these are just that: Lip balms that help you out when your pout is feeling parched.
Popsugar reported, "The Lip Smacker formula is just as hydrating as you remember it to be! That makes these products ideal for soothing a sun-scorched pucker after a long day spent outside at a summer barbecue."
And although the idea of smearing something burger-flavored across your lips might seem slightly odd (and maybe a little, um, unappetizing), keep in mind that the scents and flavors are never too overpowering.
For instance, Popsugar reported on the sweet potato option, noting that the "caramelized undertones (just like you'd find in a roasted tray of the tubers) keep the balm from being too savory."
Sweet Potato Fries, $2.50, Lip Smacker; Salted Pretzel, $2.50, Lip Smacker; Double Cheeseburger, $2.50, Lip Smacker; Root Beer Float, $2.50, Lip Smacker; Watermelon, $2.50, Lip Smacker
So in the end, it won't feel like you're smearing your mom's sweet potato recipe across your lips. If you want to upgrade your makeup arsenal with a few of these eccentric flavors, you can easily get your hands on the collection.
While you can try checking your local drugstore, it'd likely be easier to get them online as not every store carries the more novel, limited-edition flavors.
Simply hop onto lipsmacker.com and look up the new babies in the collection: Sweet Potato Fries, Double Cheeseburger, Salted Pretzel, Root Beer Float, and Watermelon. And while you're there, may I also suggest the Ice Cream Sandwich and the Sundae Funday? Because what kind of BBQ doesn't have desserts?
So, which one will you be trying out first?
Images: Lip Smacker