The 'Justice League' Introduces A New Flash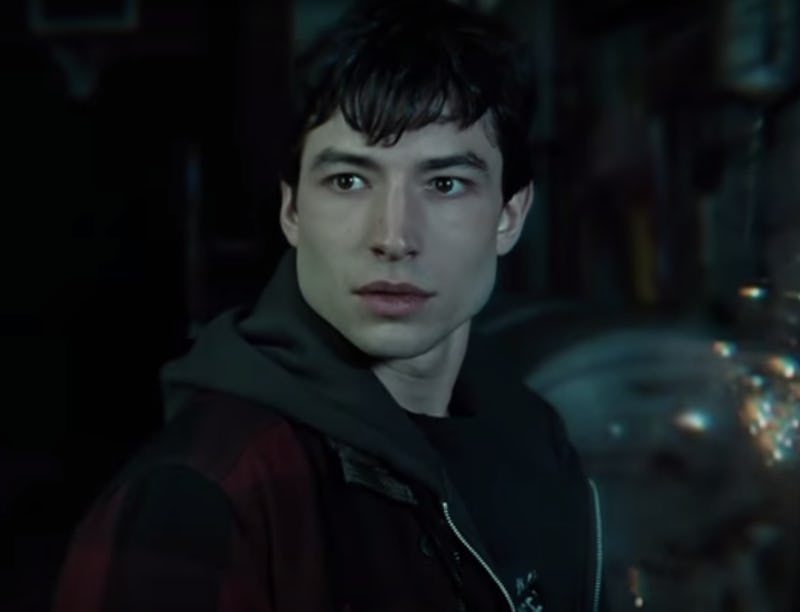 On Saturday, DC Entertainment proved they're ready to take on the big screen with the release of the first trailer for Justice League at San Diego Comic-Con. The trailer reintroduced old favorites, Batman and Wonder Woman, and gave an even deeper look into Aquaman, Cyborg, and the Flash. However, as fans of the CW show, The Flash, may have noticed, it wasn't Grant Gustin suiting up in red and yellow. Instead, Ezra Miller's portrayal of Barry Allen took center stage in the trailer. Miller's nerdy, socially awkward, and humorous take on the character was hard to ignore — to the point that he nearly stole the whole show.
The trailer began with the dramatic introduction of Aquaman (played by Game of Thrones' Jason Momoa), before Batman (Ben Affleck) set out to get the Flash on the growing team of heroes. That's when Barry Allen immediately became relatable. After immediately accepting the task that Bruce Wayne laid out for him, Miller's Allen awkwardly explained, "I need friends." That was the definitive moment that fans officially realized they weren't dealing with Gustin's take on hero anymore. There's a new Flash in town, and he's equally amazing.
Of course, both portrayals stay true to Allen's natural genius. However, Miller is already proving Barry Allen to be more of an outsider than Gustin was when his powers were first introduced. His lack of confidence is made up for in humor, but there's no shame or hiding his powers here. Miller's Flash doesn't long to own up to his new abilities, which is in opposition to Gustin's constant early struggle to hide who he is. Plus, something tells me Gustin fairs a lot better with the ladies than we'll see Miller's Barry Allen do for himself in Justice League.
But this doesn't mean that Ezra Miller's Flash is going to taking away from the CW hero we know and love. In fact, Grant Gustin is just as excited for this new portrayal as fans are.
Justice League hits theaters November 17, 2017.
Images: Warner Bros. Pictures/YouTube