Aaron Carter, Hilary Duff & 9 Couples Who Should Never (Ever) Get Back Together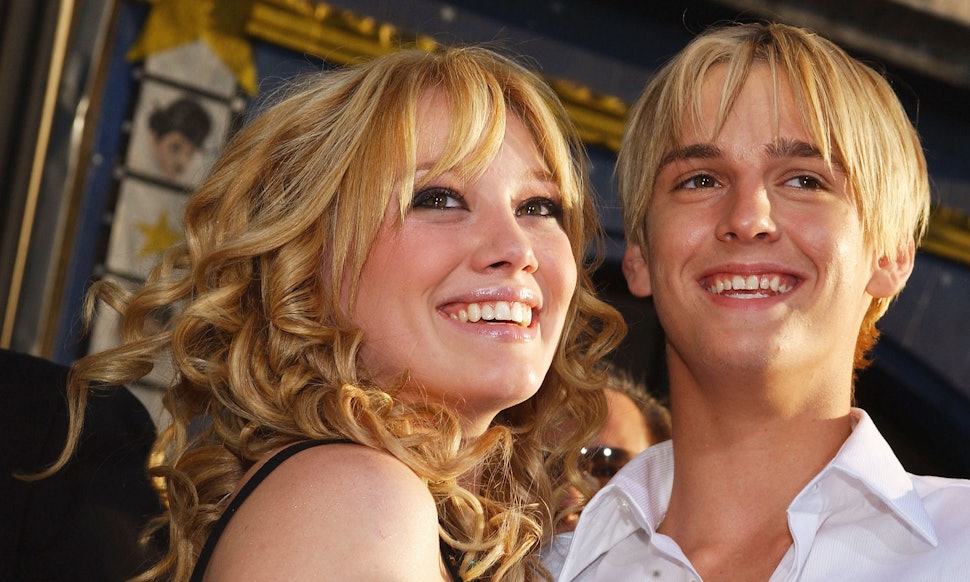 Lucy Nicholson/Getty Images Entertainment/Getty Images
So this is a thing that happened: Aaron Carter professed his love for Hilary Duff. And it wasn't in 2002. He retweeted a pic of Hil and then tweeted, "Don't be that stupid douche that loses the love of your life forever.. Like me...I'll spend the rest of my life trying to better myself to get back to her. I don't care what ANY of you think."
Oooookay, Aaron. Even though Hilary is newly-single after her split from husband Mike Comrie, somehow a reconciliation with the middle school BF who cheated on her with then-rival Lindsay Lohan doesn't seem like the best life choice. But Hilary and Aaron (Haaron?) aren't alone in the "should never (ever) get back together" club.
Here are 9 celebrity couples who shouldn't ever rekindle their former flames.
Hilary Duff & Aaron Carter
Back in the early 2000s, Disney darling Hilary Duff had an on- and off- thing (as tweens do) with popstar Aaron Carter. Aaron was enjoying his 15 minutes and making the most of his teen heartthrob status by playing Hilary and fellow-teen star Lindsay Lohan. The result was a feud and falling out that seemed bigger than the Brangelina/Jennifer Aniston ordeal when you were a kid. Now, both of their stars have faded, but Aaron is still pining for Hilary on Twitter, kicking his middle school self for letting Lizzie McGuire slip away. But should they ever get back together? Of course not. Are you going to marry the d-bag who was your boyfriend for three lunch periods in a row and then left you for your frenemy from biology? No. Take a cue from Elsa and let it go, Aaron.
Justin Bieber & Selena Gomez
These two are kind of like the modern day Hilary and Aaron, but with more resilience. They've done the breakup/makeup thing more times than we care to count. Call it a case of bad timing, but the relationship seems to have drifted into toxic territory, with reports that it contributed to Selena's hush-hush rehab stint earlier this year. They've given this one more than enough chances and both deserve some happiness.
Ryan Gosling & Sandra Bullock
Okay, so Ryan and Sandra weren't really a troubled couple by most accounts, but is it so wrong to want him to stay broken up with every single girl who's already had a chance with him? I think not. There's a big wait list for Ryan's heart, even if he's not officially following it.
Katy Perry & Russell Brand
Have you seen Katy's concert movie/life-altering documentary, Part of Me? If you have, then you understand exactly why they should never get back together. Russell broke Katy's heart, divorcing her long-distance and breaking the news just moments before the biggest show of her world tour. But broken as she was, Katy was a champ and pulled it together to get on stage and sing her full set (including a heart-wrenching rendition of "The One That Got Away").
Britney Spears & Kevin Federline
The world still weeps for pre-K-Fed Britney. Those chaotic years and the tumultuous, whirlwind relationship mark the beginning of a bad period in Brit's career and life and, even if they're both different people now, it's hard to see an argument for going back to that time.
Taylor Swift & Joe Jonas
Taylor Swift has had her fair share of failed Hollywood romances, but Joe Jonas was, for all intents and purposes, her Hollywood high school boyfriend. They were both sweethearts on the teen music scene. She was in love. He said is would be "forever and always." Then he met Camilla Belle and her eyebrows and he infamously dumped Taylor in a 27-second phone call. Such is young love. They seem to have mended the bridges. He comes out for her shows and goes on record calling her talented and wonderful and she's moved onto writing wistful songs about their time together. But can any relationship really bounce back from an angry breakup song and candid ex-bashing on Ellen? Doubtful.
Kristen Stewart & Robert Pattinson
They were plagued by rumors that their off-screen romance was just a ploy to drum up publicity and excitement for the Twilight franchise long before Kristen's cheating scandal made headlines. After that, they were apart for months and she reportedly begged him for a second chance, which he seemed to grant her - just in time to do press for Breaking Dawn: Part 2. Soon after press for the film's DVD release ended, however, Rob and Kristen called it quits for good, proving that the reconciliation wasn't meant to be.
Rihanna & Chris Brown
This one probably needs no explanation, but domestic abuse is a good time to end any relationship. Permanently.
John Mayer & Anyone
Does anyone ever breakup with John Mayer and have anything nice to say about him? He's been through a slew of famous girlfriends, from Jennifer Love Hewitt to Jennifer Aniston to Jessica Simpson to Taylor Swift to Katy Perry (twice now). Come on, John, just try settling down with a nice, normal girl and prove to us once and for all that you can love a person more than publicity.