Google's Movie Comparison Feature Is Really Cool & Makes Film Info Very Digestible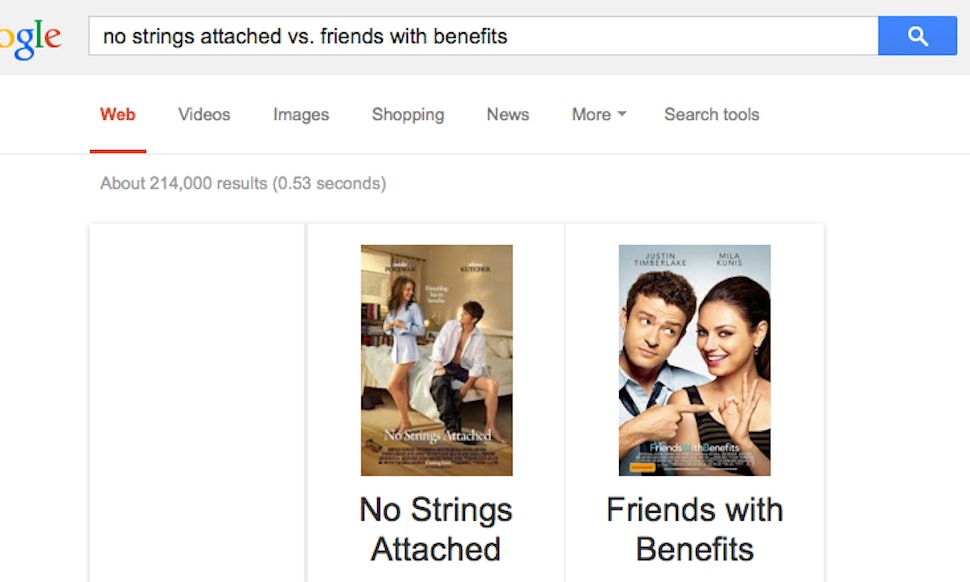 It's no secret that Google kind of rules the modern technology age. It knows everything about us and if it ever gained true sentience it could stomp us all into the ground like a tech Godzilla in a matter of seconds. But it's also really cool and super convenient! An example of this that definitely appeals to harried entertainment writers like myself? Google's taking answering your questions about when Divergent comes out (March 21) to a new level: You can compare any two movies on Google now, all the better for those times when you have to explain to your confused mom the difference between No Strings Attached and Friends With Benefits (and then immediately regret ever discussing movies about f***buddies with your mother in the first place).
It's still missing some key info — the films' aggregate critical reception and total grosses are key bits of information missing, but their inclusion would also likely mean bad news for some other big sites — but it can still be fun to just take a gander at, especially if you want to compare things like budget, director, casts, award nominations/wins, etc. In terms of archiving information in the most convenient way possible? It's damn good.
For some examples, click on through.
Images: Google
'The Hunger Games' Vs. 'The Hunger Games: Catching Fire'
Changes in director, additions to the cast, etc.
'Clueless' Vs. '10 Things I Hate About You'
The battle of the iconic '90s teen movie.
'Much Ado About Nothing' Vs. 'Marvel's The Avengers'
Or two very different films by the same director.
'Captain America: The Winter Soldier' Vs. 'Guardians of the Galaxy'
Or if you just need a quick comparison of a couple upcoming films.
'Wet Hot American Summer' Vs. 'They Came Together'
Or how one classic comedy film starring Paul Rudd and Amy Poehler compares to the upcoming one.