Marijuana Legalizers 'Feeling The Bern' In Philly
by Rosie Holden Vacanti Gilroy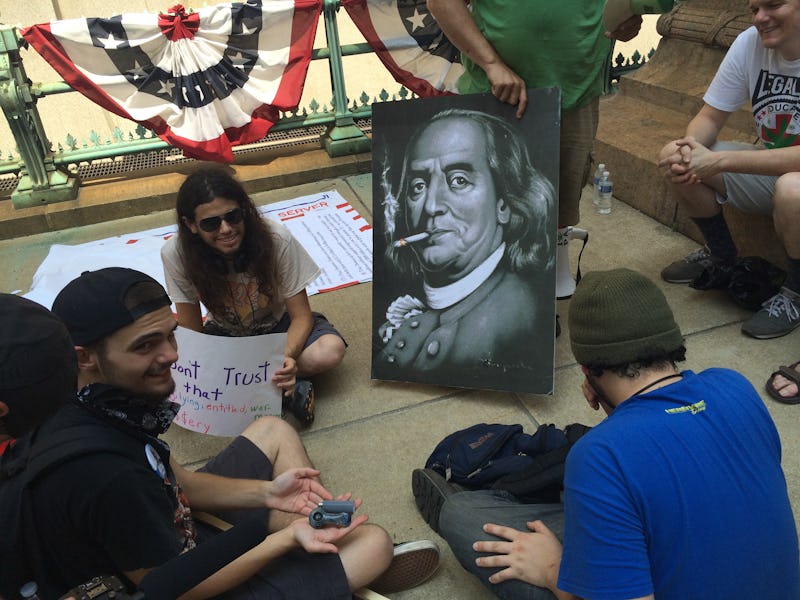 The Democratic National Convention began in Philadelphia on Monday night, and demonstrations have already begun in the City of Brotherly Love. Perhaps unsurprisingly, Bernie Sanders supporters took to Philadelphia streets on Monday to show their support for the candidate who will (almost certainly) not be receiving the Democratic Party's nomination for president. Among the thousands of demonstrators taking part in the pro-Sanders march were members of PhillyNORML, a group that works to reform marijuana laws. Needless to say, in an interview with Bustle, Chris Goldstein, a PhillyNORML leader, makes it clear that many activists who support the legalization of marijuana are still "feeling the Bern."
As he waited for the march to commence, Goldstein, 40, a former radio reporter now based in Philadelphia, described PhillyNORML as an organization that works, "To legalize marijuana for everybody, to make sure nobody is ever in jail for marijuana after legalization, and to make sure there are fair prices and high quality for consumers."
Goldstein and PhillyNORML certainly drew attention to their cause at the Sanders demonstration. The group marched over three miles through Philadelphia with two 51-foot inflatable joints, one reading "Berned by the DNC" and another which said "End the Racist Drug War. Legalize."
So why did PhillyNORML decide to march in support of Sanders? Goldstein told Bustle, "I would say a majority of cannabis consumers I knew were Sanders supporters and contributors — and a lot of them are here. We're going to join in the Bernie rally — his message [on] marijuana legalization, the DNC is taking that on as the party platform." Goldstein and PhillyNORML braved the nearly-100-degree temperatures on Monday not only in support of Sanders' candidacy, but in support of the Vermont senator's position on the legalization of marijuana — a position they'd like to see Hillary Clinton adopt.
When asked if he will vote for Clinton in November, Goldstein replied,
I haven't decided yet. Quite frankly, Gary Johnson is a very viable candidate. I don't know what I'm going to do. I need Hillary Clinton's campaign to adopt Bernie Sanders' message on marijuana, which is to remove it from the Controlled Substances Act completely.
Although Gary Johnson may not appeal to very many Democratic voters, the former governor of New Mexico and the Libertarian Party's nominee for president is a major advocate for the legalization of marijuana. In fact, Johnson himself has stated that he often smokes pot (though not while running for the presidency, The Hill reported). Therefore, it makes sense that Goldstein would consider casting a ballot for Johnson this November. Clinton, too, supports the legalization of marijuana, but many say her policy on the issue is not as liberal as Sanders'.
Thousands of pro-Sanders demonstrators are expected to be in Philadelphia for the DNC, and it's clear that not everyone turned out for the same reasons. Goldstein and PhillyNORML marched to show their support for Sanders' position on the legalization of marijuana, thus proving that many such activists have yet to get onboard with Clinton's candidacy.
Images: Bustle (2)