7 Cute Yoga Towels To To Get Your Om On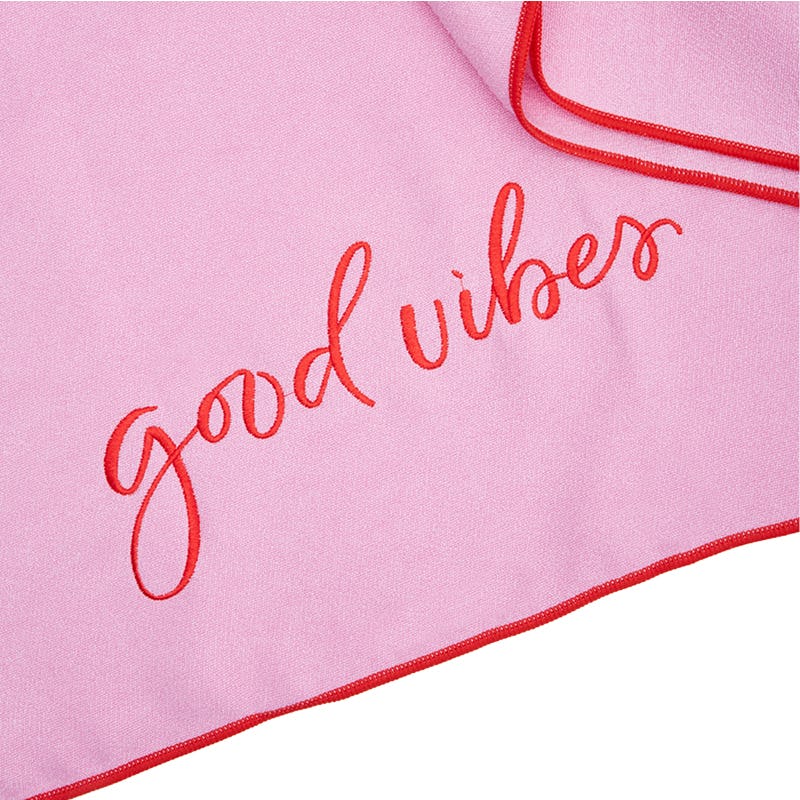 Whether you're enjoying some yoga out on the beach or during a Bikram hot yoga class, having the right accessories for your session can lead to a better yoga experience. In order to keep your mat dry and slip-free while perfecting your poses, a good, cute yoga towel is a must.
When you're sweating in a yoga class, you can tell the difference between a regular bath or beach towel than when you use a yoga-specific towel. Most of the yoga towels are made with moisture-wicking materials that make it much easier to hit those tough yoga positions without having to worry about slipping or sliding. From personal experience, doing hot yoga wouldn't be possible without having a towel that helps you go through the yoga flow faster and easier.
If you're just now getting into yoga at public gym classes or another studio that provides their own mats, you can bring along a yoga towel to minimize the contact you have with unwanted germs. The towels are perfect for a hot yoga studio where sweating may be impossible to avoid with the hot temperatures. Whether you're a beginner or an advanced yogi, adding a towel to your yoga gear collection might make your yoga classes more enjoyable and care-free.
1. Summer and Rose Yoga Towel
Summer and Rose Yoga Towel, $36, Fab Fit Fun
You might know the FabFitFun brand from the company's quarterly subscription boxes, and here's one more reason to subscribe: This cute yoga towel from their Venice-inspired beachwear brand, Summer and Rose, comes in their summer box. The towel comes in three colors and will remind you to have "good vibes" only.
2. Yogitoes Mystique Continuum
Yogitoes Mystique Continuum, $64, Manduka
Don't worry about this towel fitting onto your favorite yoga mat — it comes in the standard 68" size that will fit all normal yoga mats.
3. YogaRat Yoga Towel
YogaRat Yoga Towel, $27.49, Amazon
If you're also in need of a hand towel, make sure to snag a matching YogaRat hand towel that will match your mat towel.
4. Gaiam Grip Yoga Towel
Gaiam Grip Yoga Towel, $19.99, Target
If you do hot yoga in both the summer and the winter, ditch your old mat for this fun, bright-colored one for the summer.
5. Yogitoes Skidless Premium Towel
Yogitoes Skidless Premium Towel, $48.99, Athleta
Feel the namaste with this Bohemian-styled skidless towel.
6. Thrive Market Collage Green Towel
Collage Green Towel, $24.95, Thrive Market
This yoga towel is fast-drying while also being slip-free to keep you from falling.
7. Tapas Towel
This specific towel has four corner pockets that will make it the ultimate no-slip mat towel.
Images: Courtesy of Brands