You Need This Travel-Friendly Coconut Oil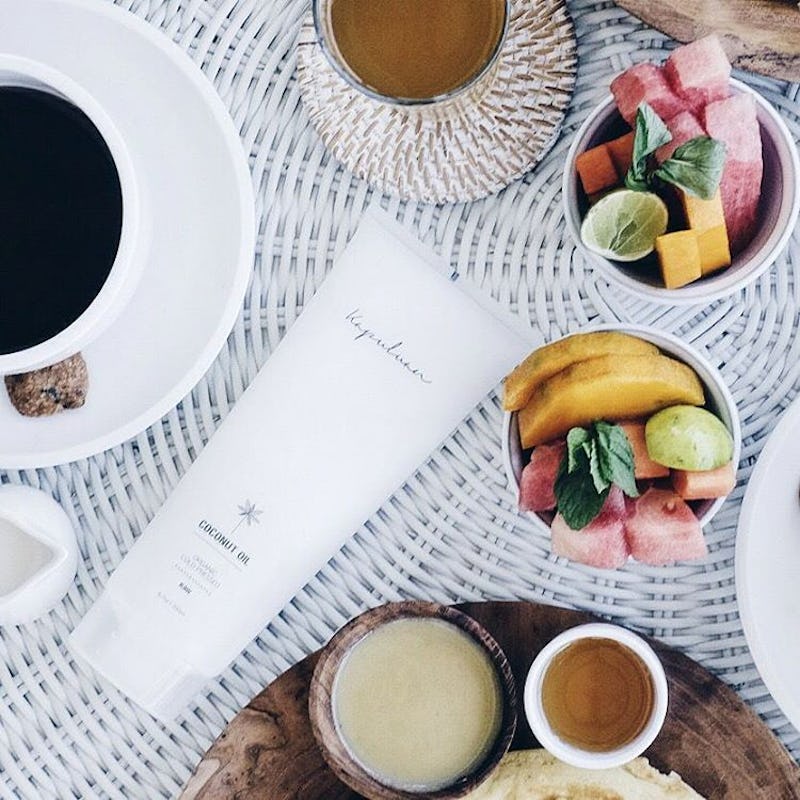 You've probably heard by now about the many benefits of coconut oil. Not only that, you can use it in so many ways, from moisturizing your hair to using it as a coffee creamer. But just because you're headed on vacation doesn't mean you need to put the breaks on your coconut oil obsession. This travel-friendly coconut oil product is a huge lifesaver, and you can take it pretty much anywhere you need to go this summer.
If you bring one thing along on your summer vacations this year, don't forget to pack coconut oil. According to the Coconut Research Center, coconuts have healing properties, so of course you should apply it to dry hair and skin after long days out in the sun. You can apply it to your hair to keep the frizz away, smooth chapped lips, and heal dry skin — so many uses, so little time!
Specifically, we're loving Kapuluan's cold-pressed raw coconut oil that comes in an easy-to-carry tube. It's great to pack for a beach day, as coconut oil can even be used as a hydrating tanning oil. In order for the coconut oil to protect against sunburn, you must use a non-toxic coconut oil that doesn't contain any chemical or health-compromising ingredients, according to Kapuluan.
If you haven't jumped on the coconut oil bandwagon just yet, now may be the perfect time of the year to give it a try.
Here are a few more reasons we're loving Kapuluan's coconut oil right now:
Kapuluan Coconut Raw Organic Coconut Oil, $18, Amazon
This coconut oil, which comes in a handy 3.38 oz bottle, is one of the easiest ways to bring your beloved miracle product with you everywhere you go.
It's pure coconut oil, and that's it. What more could you ask for in a product that you can ingest and use on your body?
Kapuluan focuses on the Filipino coconut industry because it faces adversity on many levels including exploitation of farmers, unsustainable industrial practices, and natural disasters.
In an interview with Toronto Life, Shay Mitchell said Kapuluan coconut oil is one of her favorite products. "I'm obsessed with this brand Kapuluan. They source coconuts from organic farms in the Philippines and give back to the community," Mitchell said.
Within their One for One initiation, for each product sold, Kapuluan plants one coconut tree in the Philippines, which improves crops and oil quality, reduces carbon emissions, and helps Filipino coconut farmers rebound from the destruction of typhoon Haiyan.
Images: Enrou; Courtesy of Kapuluan Coconut; kapuluancoconut/Instagram