12 Items That Make Playing Pokémon Go Even Better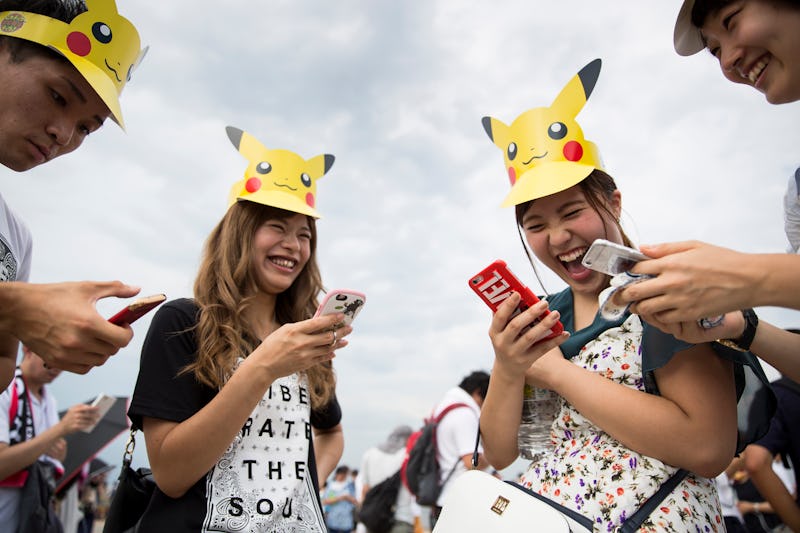 Tomohiro Ohsumi/Getty Images News/Getty Images
I had deemed myself "not a face-in-phone" person until Pokémon Go came out. Turns out that the combination of nostalgia, augmented reality, and the catch 'em all mentality is fairly addictive to most of the human race. Plus, with all these awesome Pokémon Go products that make playing even better, sorry to say, but none of us stands a chance. At least my friend group is getting significantly more exercise than they ever did during our beer-and-Super-Smash-Bros tournaments.
The game launched in America earlier this July, and it very quickly became the most downloaded app of all time. The servers crashed continuously, further releases were delayed in other countries, and it's been estimated that the app gets 9.5 million users daily. What's surprised me the most, however, is how many full-grown adults are playing Pokémon Go regularly (myself included), and the best part about being an adult is that you don't have to beg your parents to buy you the things that'll help crush your Pokémon Go game like never before. Check out these awesome gadgets and accessories that'll make you the very best because it's time to just embrace the fact that Pokémon Go has officially taken over your life.
1. Keep Your Pokémon Go Plus Safe & Stylish
POKEWARES Shield for Pokémon GO Plus , $15, Amazon
After several news stories surrounding Pokémon-Go-induced injuries, Nintendo came out with a wristband that allows people to feel a vibrational alert when there's a Pokémon nearby, and ultimately play the game without looking at their screen. The wrist band is currently out of stock, but if you've already got one or you're just one for preparation, this POKEWARES Shield for Pokémon GO Plus lets you personalize your device with a sleek protective wood cover that shows off your team and style.
2. Stay Charged With This Portable Battery Charger
Pokemon GO Portable Power Bank , $46, Amazon
This app drains your battery like nobody's business, but this epic Pokémon GO portable power bank not only provides portable power wherever you are — it's got an awesome high-quality LED light so you can see in the dark or help your teammates find you. Charge any phone or device with the USB connection port, and never run out of battery again.
3. Use The Sun To Power Your PokeQuests
Solar Power USB Charger , $45 (Was $56), Amazon
If you're looking at a full day of catching Pokémon in a state park, this solar power USB charger is an awesome investment. It uses sunlight to charge your devices quickly and efficiently, and because the unit is lightweight, waterproof, and durable, you can mount it on your backpack or take a break in a sunny spot to give your battery levels a boost.
4. Stay Stocked While Representing Team Mystic
Pokemon Go Team Mystic Backpack , $20 (Was $33), Amazon
Carry all your essentials and represent the most popular team with this Pokémon Go Team Mystic backpack. It's durable and machine washable, but the lightweight drawstring design makes it easy to bring along snacks, supplies, and chargers for a successful day of catching 35 Weedles and maybe one Voltorb.
5. Keep Your Phone Charged With This External Battery Phone Case
iPhone 6S Plus Battery Case , $36 (Was $51), Amazon
This epic iPhone 6S Plus battery case helps you to conserve your phone's power with its rechargeable external battery and power-saving switch. It's also extremely durable and protects against drops and scratches, and one thrilled reviewer has called this a "Pokémon Go Must-Have – This battery case has been a great way to combat the battery drain while searching for the elusive Pikachu."
6. Display Your Valor On Your Phone
Pokemon Go Team Valor Themed Pokedex iPhone 6 Cover , $10, Amazon
Showcase your Valor spirit with this awesome Pokémon Go Team Valor iPhone 6 cover. It snaps right on to your iPhone 6 to protect the sides and back from bumps and scratches, and because it's made from a scratch-resistant hard plastic, you can look the part while keeping your phone safe from the walls and stop signs you now regularly walk into.
7. Mount Your Cell Phone On Your Bike
Taotronics Cradle Clamp Rubber Phone Mount , $15, Amazon
The app's got a built-in function that won't allow you to make significant progress while you're traveling past a certain speed, but this Taotronics rubber phone mount lets you mount just about any phone to your bike handles for easy Pokémon access. It's durable, easy to install, guards against any slips or falls, and can be clamped onto strollers and push carts, as well.
8. Transform Into The Very Best, Like No One Ever Was
Ash Ketchum Baseball Snapback Cap , $5, Amazon
Next time you head out into the great outdoors, keep the sun out of your eyes with this Ash Ketchum baseball snapback cap. It's made from high-quality cotton, and its snapback adjustable design fits most adults, so reviewers are pleased regardless of whether they got it for cosplaying, Halloween, or everyday wear.
9. Showcase Your Support For Team Instinct
Pokemon Go Team Instinct Shirt (S-3X) , $3-$10, Amazon
If you're Team Instinct, this Pokemon Go Team Instinct shirt makes an awesome addition to your Go collection. It's made entirely from cotton, so it's durable and machine washable, and you can also get it in Valor, Mystic, or Pokémon Go Logo designs.
10. Nature-Proof Your iPhone
LifeProof iPhone 6 Waterproof Case, $32 (Was $80), Amazon
Total homebodies (like all of my friends) are turning into nature freaks solely because of this app, so a solid case like the LifeProof iPhone case is definitely a good idea. It fits the iPhone 6 to protect against water, snow, dirt, scratches, and drops, so you've got guaranteed device-safety wherever you might be searching.
11. Nerd Out With This Accessory Belt
Pokémon Clip 'N' Carry Pokéball Belt , $20, Amazon
Complete the overall look with this shamelessly nerdy Pokémon Pokéball belt. It's made for children, but it is adjustable, and it allows to you to carry up to six (you heard me: six) plastic Pokéballs with you at all times. Yep. Living the dream.
12. Create Your Own Portable Wifi Spot
Skyroam Mobile Hotspot , $100, Amazon
Another massive issue with the Pokémon Go app is that it eats up your data like crazy. This Skyroam mobile hotspot allows you to connect up to five devices to fast, secure WiFi. It turns cell phone signals into wireless internet anywhere in the world, so you don't have to worry about data, roaming charges, or slow signals.
Images: Tomohiro Ohsumi/Getty Images; Amazon (12)
Bustle may receive a portion of sales from products purchased from this article, which was created independently from Bustle's editorial and sales departments.