My Rio Olympics Send-Off Made Me Ready To Go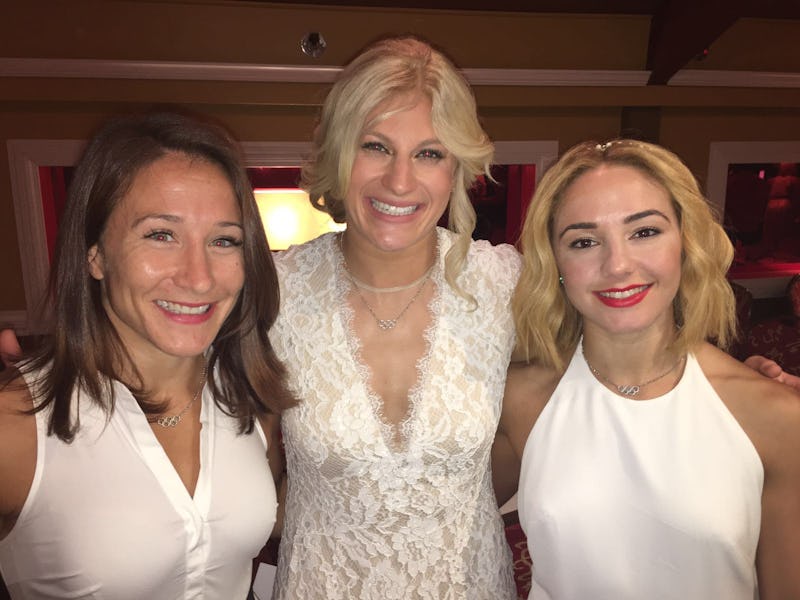 Location: Home.
Three weeks to go. I am in the middle of the final two weeks of training for the Rio Olympics. Two weeks of two-a-day judos and five sessions with my strength coach and his infamous circuits. Sleeping in my own bed helps, but only a little. Almost there.
In the middle of the week, my two Olympic teammates, Marti and Angie, and I head to the mall for some much needed time away from training. We have a send-off party on Saturday to go to, and we all decided all white dresses were the way to go. It hurts to walk around the mall, but it also feels nice to be doing something normal for a few hours in the day. For the last few months, our lives have revolved around training, eating, sleeping, and more training.
Right away, Marti finds a cute sleeveless shirt dress that fits her perfectly. We add some red shoes and a belt, and boom — she's good to go. Angie, being the pickier of the three, is going to take some more convincing. As we shop, I also find a dress. It is sleeveless and knee length. The back is open with a sheer V in the front. Its white, shiny material will work perfectly with some gold shoes I have at home.
The rest of the week goes smoothly. We train hard, and many nights I am in tears. Most people think I am crying because I want it to be over, but really the tears are of frustration. I don't want it to be over. I want to be better. A saying always pops in my mind during these times: Don't pray for it to be over, pray to be stronger than the battle in front of you.
On Saturday, I go to my strength coach Paul's and do my last workout of week one — a circuit consisting of 12 of the hardest exercises he can put together in the most difficult fashion. I'm also up against a time clock. Trying to finish the circuit in 10 minutes usually leaves me depleted and more often than not being sick in the bathroom. Today is no different, but I finish my last circuit in nine minutes and 35 seconds. I'll take it.
After Paul's, I head to the hair salon for some much needed pampering. My coach's sister Tanya has been doing my hair for years, and she insists on doing a little more today for the party. She creates an elaborate up-do that leaves me feeling like a princess. Tonight is special, and I feel every ounce of the anticipation that has been slowly building for four years.
"And finally, this young lady is going to Rio to defend her title, to become a two-time Olympic Champion, our golden girl, reigning Olympic champion, Kayla Harrison."
Once back at home, Marti and I get ready. My hair is done, my makeup is on, and I'm ready to go.
At the send-off, the room is packed. So many people have come out to wish our team good luck, and it is so heartwarming for me. Kids running around getting their belts signed with dreams of one day being Olympians. Old timers who have been a part of judo for years come to wish us well and show their support.
The Olympians sit at a table in the front of the room and halfway through, Jimmy gets up to introduce us all. He goes down the list. Angie, a first time Olympian who has fought tooth and nail to get here. Colton, another first-time Olympian who has so much promise. Travis, three-time Olympian and my longtime teammate who I know is going to shine in Rio. Marti, my partner-in-crime and best friend. Bronze in London, but I know she will be golden in Rio.
And then me.
Sensei starts rattling off my accolades, and a smile creeps on my face. "And finally, this young lady is going to Rio to defend her title, to become a two-time Olympic Champion, our golden girl, reigning Olympic champion, Kayla Harrison."
I join my teammates in standing in front of everyone, and the whole rooms stands to applaud and wish us well. My stomach grows tight, and my smile won't leave my face. We are ready. Rio here we come.
Image: Courtesy of Kayla Harrison (3)