How Pigeon Man Could Fit In 'Hey Arnold's Sequel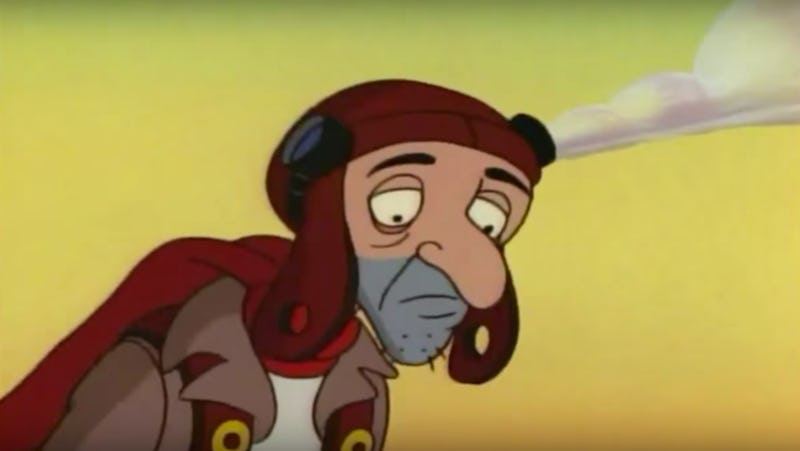 San Diego Comic Con was, as per usual, a wonderful place for fans of all ages, shapes, and sizes, to learn exciting things about their favorite movies, television shows, and comic books. Speaking of weird shapes, Buzzfeed got the opportunity to sit down with Craig Bartlett, the executive producer and original creator of everyone's favorite childhood show, Hey Arnold, and talk about the 2017 reboot of the Nickelodeon show (which will be called The Jungle Movie). In the interview, Bartlett revealed that the reboot will "answer every fan question [it] possibly [can]," and he also did a good job explaining some things before the reboot even has a trailer — like Arnold's full name (Arnold Phillip Shortman), and the fact that Pigeon Man lives and might be in the reboot. These other things are all well and good, but the news about our favorite aviator's got me wondering... how could Pigeon Man fit into a Hey Arnold reboot?
The episode of Hey Arnold in which Pigeon Man appears, "Pigeon Man," is emotionally stirring to say the least. In it, Arnold's prized pigeon Chester takes ill, so he heads to the roost of the mythical and feared Pigeon Man — despite the warnings of his friends who believe things like, "he's a guy in a chicken suit; a lonely, deranged man wanting only birds for company."
Arnold finds out Pigeon Man does prefer pigeons to humans but is also pretty great at healing the birds and that the two of them are low-key kindred spirits. After Shortman (aka ARNOLD BECAUSE THAT'S HIS LAST NAME!) convinces Pigeon Man to walk around the neighborhood and the duo have a pretty good time doing it, they head back to the roof but discover P.M.'s setup has been completely destroyed by some pranksters (Harold, Stinky, and Joey). Pigeon Man becomes horribly disappointed with humans and takes his pigeons with him to fly somewhere else — though he does admit that Arnold renewed his faith in humanity.
One Reddit user theorized that Pigeon Man's launch into the sky was a metaphor for the character killing himself, but Craig Bartlett told Buzzfeed that this was simply not the case,
I shouldn't say, but I have plans for Pigeon Man. Let's just say, he's not dead. [There are some] bad misconceptions about that [scene], that it was a suicide scene where he jumped off the roof. He doesn't commit suicide, he hooks up all those pigeons and flies away. I always imagined that he went to Paris, because that would be a good place to take care of pigeons."
In The Jungle Movie, we will find our favorite characters a year older and headed to San Lorenzo — which is where Arnold's parents were last seen — with Arnold on a secret quest to locate the Shortmans. I'm thinking that if Pigeon Man were to be involved in The Jungle Movie, it would be while they're lost in the jungle. Perhaps the crew runs into our pal, Pigeon Man. I mean, flying to Paris with pigeons can't be easy, so it wouldn't be shocking if he got blown off course and ended up in South America. I wouldn't be surprised if he's chilling in a tree house deep in the forest and manages to save the team from some hijinks like evil monkeys or something along those lines. Meanwhile, he does have a whole crew of eyes in the skies (pigeons) so maybe he'll even be able to help Arnold locate his parents.
Though it's very sad that the original actor who portrays Pigeon Man, Vincent Schiavelli, won't be able to reprise his role (he unfortunately passed away in 2005) I'm still excited to see the role come to life again. The bond between P.M. and Arnold was a really beautiful thing to watch as a child, and I can only assume it will be just as nice as in the reboot. We'll just have to wait until Thanksgiving 2017 to find out!
Images: Nickelodeon, Giphy (2)