Stylish Heels Under $50 That You Can Wear All Day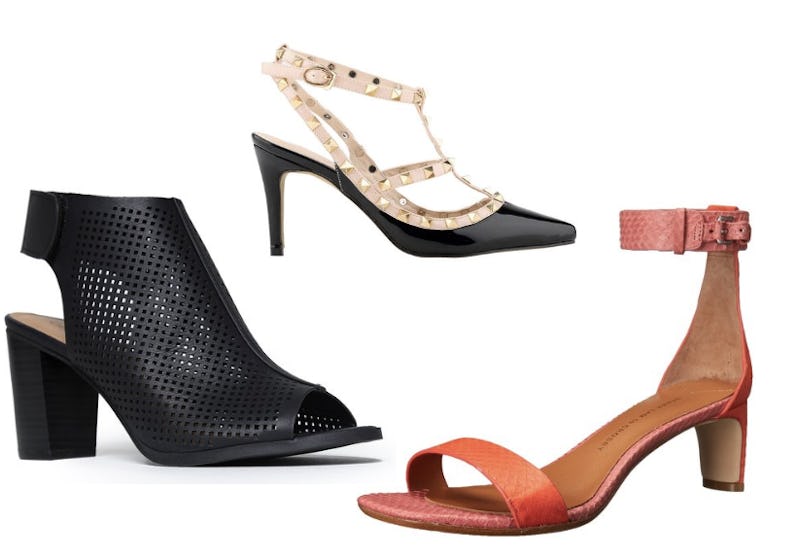 I think that one of the greatest accomplishments in terms of fashion is when you find a great pair of heels that you can wear all day long. You know those comfortable heels — you forget you're wearing them, or they feel so great, you don't want to take those heels off. It doesn't happen often, but when it does, you should go out and buy that shoe in every color and style imaginable (and if said-heels are under $50, why wouldn't you?).
Most of the heels in my own closet are all made by the same designer and differ by color and style. It's just too hard to search for a shoe that makes you feel like you're walking on a cloud. The things that I look for when searching for a comfy shoe are heel height, shape, and size. I also see what the inside of the shoe feels like (there is nothing worse than your foot sticking to a shoe or acquiring a blister because of the material on the inside). And then sometimes I will even buy shoes with comfort insoles because those are usually always the most pleasing to my feet.
So, I've rounded up a bunch of great heels under $50 that won't make you want to change into flats at the end of the day.
2-Inch Heels Mean Comfort
10 Crosby Tehama Dress Sandal (size 8.5), $44, Amazon
The best way to make sure your feet stay comfortable? A low heel. This dress sandal's heel height comes in at 2 inches, allowing you to gain a little bit of extra height while giving your feet a break from sky high heels. Plus, it comes in a gorgeous coral snake skin color, giving your outfit the pop of color it needs.
Thick Heeled Lightweight Bootie Gives Support
Peep Toe Bootie Sandal (sizes 5.5-11) , $23-$35, Amazon
Find a shoe that is not only lightweight, but also features a thicker heel. These booties have a sturdy rubber outsole, which means you can get away with wearing them all day at work and then out for cocktails afterwards. Get a custom fit with an adjustable ankle strap.
Go For Breathable With Perforated Leather
Nine West Shesgone Leather Pump (Sizes 5-12) , $45, Amazon
If sweaty toes are your first concern is tight heels all day, sport the style that features little laser cutouts for a more breathable fit.
Block Heel Makes Things More Comfortable
Delicious By Soda Yummy Cutout Stacked Heel Sandal (size 5.5-11) , $24-$42, Amazon
Block heels are the perfect way to ensure comfort. Plus this is a great shoe that you can dress up or dress down depending on the occasion. One user said, "They are comfortable and can be worn at work for eight hours straight with no problem!"
Memory Foam Insole For Optimal Comfort
J. Renee Fizzle Dress Pump (size 5, 5.5,7.5, 8, 9,10-11) , $30-$49, Amazon
Create the illusion that you're walking on clouds with a memory foam insole. The shoe is stylish and perfect for work followed by a fun night out. You'll forget that you're wearing heels because the memory foam gives your foot the extra cushion it needs to feel good all day.
If You Hate Ankle Straps, You Can Still Get Support
Calvin Klein Ginnie Mule (Sizes 6.5-10) , $50, Amazon
If ankle straps give you blisters, ditch them! You can still get support with a low heel mule. This one straps just across the front, so nothing rubs against your heel.
Be Bold in A Patterned Shoe With Short Heel
Nine West Callen Pumpe (size 5.5, 6,7, 8.5, 11) , $22-$50, Amazon
If you like to be bold and make a statement with your footwear, why not rock a shoe with an awesome pattern? Opt for one with a low heel (3.5 inches max) for the most comfortable wear. One user said, "It's a high heel, but it doesn't do that toe breaking, 90 degree angle thing like some ultra high heels. Instead, it's designed with a perfect slope that actually feels good."
Stacked Heel & Ankle Strap Means More Support
Bandolino Dress Sandal, (select sizes) , $25-$49, Amazon
The ideal heels for the office, these pebbled leather and buckled heels feature a stacked heel, which means no more needless tottering around.
All-Day Style And Comfort
Nine West Fire Nice (Sizes 6-10) , $33-$35, Amazon
When you find a shoe that makes you feel like you're wearing slippers, you go out and buy it in every color you can find (and you can you can snag another pair in white or pink, too).
Stay On Trend All Night Long
Loslandifen High Heels (size 5-10) , $30-$40, Amazon
These RockStud look-a-likes are an awesome addition to your closet. They come in several different colors and the heel height is only 3.15 inches, so you'll be able to walk around all night. The leather buckle closure gives you additional support. Size up for optimal comfort.
Cushion Soft Technology Equals Comfy Shoe
Clarks Glacier Charm Sandals (size 6-7.5, 8.5-10) , $50, Amazon
Your feet will feel extra comfy in these stylish booties because of the cushion soft technology. You'll have soft, reliable, antimicrobial support and your feet will look great. The best part about these shoes is you can wear them all year round.
Sensible Shoes That Are Still Stylish
Chinese Laundry Only You Micro Pump (Sizes 6.5-11) , $44-$50, AmazonSometimes when you think of comfort, boring also comes to mind. That doesn't have to be the case with these Nine West pumps. You can add a pop of color to your date night outfit with these 2.5 inched heels. Plus, you won't find yourself limping around because your feet hurt.
Stylish Comfy Shoes That Turn Heads
Bandolino Madia Dress Sandal (size 5, 6-11) , $30-$50, Amazon
Don't sacrifice rocking the latest trend because you think you'll be uncomfortable. You can wear strappy heels and still be able to walk all day. Rock a great pair of shoes for your next big event without feeling pain. One user said, "I was able to stay on my feet for hours without being uncomfortable which rarely happens when I wear heels!"
A Pump Designed With Comfort In Mind
Naturalizer Michelle Dress Pump (select sizes) , $45, Amazon
Doesn't it make you feel good that a shoe company designed great looking heels with comfort in mind? That means that you can have a shoe that looks stylish and makes you feel like you're wearing pillows on your feet. The subtle platform brings the heel height down about half an inch, which still maintains the illusion that you're rocking high heels.
T-Strap Design Means More All-Over Support
Calvin Klein Dress Sandal (Size 7.5) , $37, Amazon
A shoe that is on trend and comfy is a great find — this one has a cute T-strap that will make sure all the pull of the shoe isn't coming down on one area of your foot.
Bustle may receive a portion of sales from products purchased from this article, which was created independently from Bustle's editorial and sales departments.
Images: Amazon (15)