Where Is The Cast Of 'Crazy Stupid Love' Now?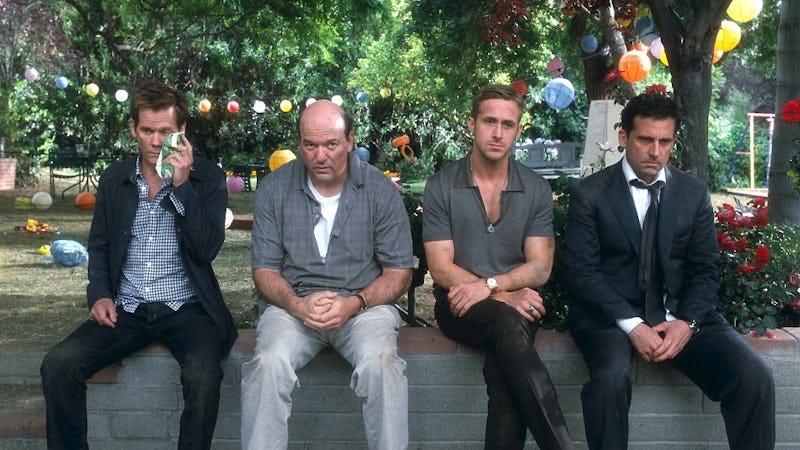 Sometimes a movie comes along like Crazy, Stupid, Love and has a cast that is just so good, like you can't believe the stars aligned and all of those actors somehow landed in one movie. And like the 2011 hit movie, it's simply magical. Five years later, where is the amazing cast of Crazy, Stupid, Love now? Well, they're crazy successful. The ensemble romantic comedy film starred Ryan Gosling, Julianne Moore, Steve Carrell, Emma Stone, Marisa Tomei, Analeigh Tipton, Josh Groban (yup, the singer), and so many others in just one movie. Seriously.
Crazy, Stupid, Love follows Cal (Steve Carrell) as he reenters the dating scene after his wife (Moore) cheats on him. He relies on friend Jacob (Gosling) to advise him on the new ways of dating and singledom, even though Jacob begins unexpectedly falling in love with a woman named Hannah (Stone). For his role, Gosling was nominated for a Golden Globe for Best Actor — Musical or Comedy in 2011. Since then, the cast has been busy churning out movies on the big screen and making more magic on the TV screen.
So what are the actors from Crazy, Stupid, Love doing now? Read on to find out more about their recent projects.
Steve Carrell
Comedy, drama — this Oscar-nominated actor does it all. Carrell can currently be seen in the Woody Allen flick Cafe Society and in the upcoming movie Battle of the Sexes opposite Stone as Billie Jean King. He's also the creator, exec producer, and writer of the TBS series Angie Tribeca, along with his wife Nancy Walls Carrell.
Ryan Gosling
Since 2011, Gosling has had two daughters with Eva Mendes. He starred in the movie The Nice Guys opposite Russell Crowe earlier this year and will reunited with Stone in the upcoming film La La Land.
Julianne Moore
The Oscar-winning actor has continued her prolific film career, starring in last year's The Hunger Games: Mockingjay Part 2, this year's Maggie's Plan opposite Greta Gerwig, and the upcoming flicks Wonderstruck and Kingsman: The Golden Circle.
Emma Stone
The actor's upcoming films will reunite her with some of her Crazy, Stupid, Love castmates. She's starring in Battle of the Sexes opposite Carrell as Bobby Briggs and she'll appear with Gosling again in La La Land. This year, she also made a cameo in the Lonely Island movie Popstar: Never Stop Never Stopping.
Marisa Tomei
The Oscar-winning actor entered the Marvel universe as Aunt May Parker in Captain America: Civil War and she'll continue the role into the upcoming Spider-Man: Homecoming. Earlier this year, she also guest starred on Fox's hit TV series Empire as Mimi Whiteman.
Josh Groban
The singer/actor released an album in 2015 called Stages, which is made up of songs from Broadway musicals. He is currently on tour this summer in the United States, according to his official website.
So it's no surprise this awesome cast has been up to even bigger and better things since Crazy, Stupid, Love premiered in 2011.
Images: Warner Bros. Pictures (7)