Tons Of Celebs Recorded A Clinton Music Video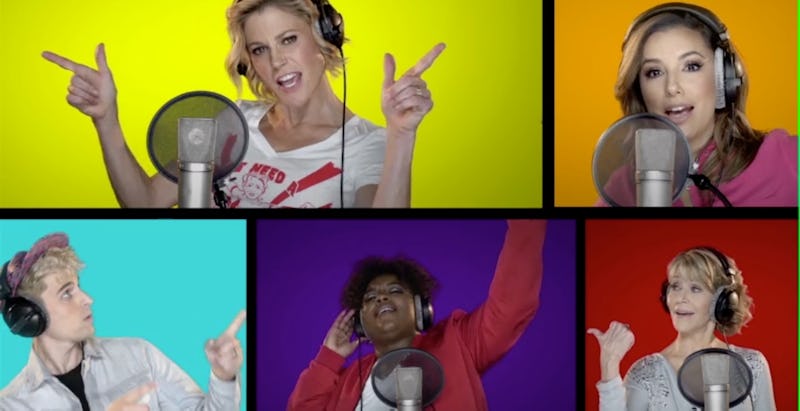 If Hillary Clinton needs an anthem for 2016, she's found it. A ton of celebrities recorded a Clinton-inspired version of "Fight Song," and produced a corresponding music video. The clip offered just the right tone for the second night of the Democratic National Convention in Philadelphia, and could prove a favorite throughout the election, pumping up crowds before Clinton speeches from Florida to Washington.
Singing in front of colorful backgrounds — kind of like a 2016 version of the Brady Bunch intro (but cool, really!) were countless famous Dems. Many of those featured are known for having killer pipes. You'll recognize Idinza Menzel and Kristin Chenoweth's signature voices. Heavily represented were stars not just from Wicked, but also Pitch Perfect. That makes sense, given that Elizabeth Banks co-produced the video, and started it off by saying, "This is for Hillary."
The song, which has become a favorite of Clinton's while stumping across the country, was co-written and originally recorded by Rachel Platten, who also appears in the video. This version is quite different, though. The sound of the music is very much Pitch Perfect — which makes sense. The sounds came from the voices of the stars involved — it was all sung a cappella and then arranged. Plus, Banks produced the original and directed Pitch Perfect 2.
Another difference from the original is a rapped verse. The lyrics are clearly inspired by Clinton:
It take a village to raise a child,Prepare 'em to run the nation.We got some hard choices butTogether we gonna make it.We livin' in history,America take a bow.We 'bout to show the world, ya,Women are equal now.
Among the voices you hear and faces you see are some extremely popular stars from television, film, and Broadway. Here's the list from the DNC of everyone included, as USA Today reported:
Aisha Tyler, Alan Cumming, America Ferrera, Ben Platt, Billy Porter,Chrissie Fit, Connie Britton, Elizabeth Banks, Ellen Greene, Esther Dean, Eva Longoria, Garrett Clayton, Hana Mae Lee, Ian Somerholder, Idina Menzel, Jaime King, Jane Fonda, Jesse Tyler Ferguson, John Michael Higgens, Josh Lucas, Julie Bowen, Kathy Najimy, Kelly Jackle, Kristin Chenoweth, Mandy Moore, Mary McCormack, Mary-Louise Parker, Mike Thompkins, Nikki Read, Rachel Platten, Renee Fleming, Rob Reiner, Shelley Regner, Sia, and TR Knight.
The video was introduced by Banks at the convention. "My friends and I, we believe in this idea of 'Stronger Together.' We believe in Hillary Clinton. So we made something for her," she told the delegates and the millions watching from home. Get ready to hear this for months to come, because surely Clinton will like it, too.