15 Great Back To School Deals Happening Right Now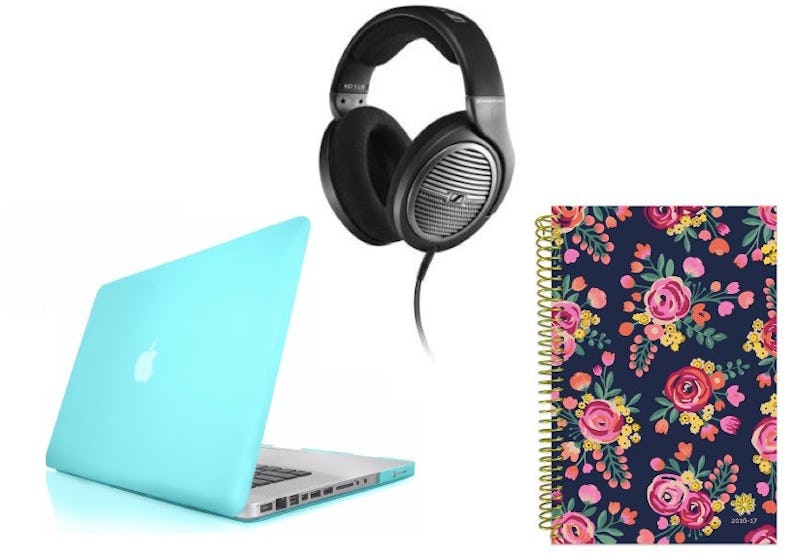 I never really minded heading back to school. That being said, the best part about the start of the new school year was still taking advantage of awesome back to school deals. Especially if you're not a massive nerd (like I was), the transition from all-day freedom to the shackles of a desk can hit you pretty hard, but knowing that you've got a brand new backpack filled with fresh supplies (as well as a vastly inappropriate adult coloring book) makes the back-to-school blues just a little bit easier.
You could spend hours waiting in lines for Walmart's supplies sales or Staples' back to school deals, or you could start up your computer and save on awesome fall deals right from the comfort of your own home. Amazon has tons of incredible sales every single day, but come summer, you can start saving on school supplies and necessities using their technology, back to school, and college categories. However, if you're hesitant to sort through all those deals (because there are a lot), I've done some of the heavy-lifting for you, and I assure you — anyone can benefit from these sales. Whether you're a high school student, a college student, a recent graduate, or a full-on working adult, here are some of the best back to school deals going on right now.
Stay Well-Read And Entertained This Fall
Fire HD 6 Tablet, $70 (Was $100), Amazon
Whether you're using it for work or entertainment, this Fire HD 6 tablet is an incredible buy this back-to-school season. It's great for e-books, movies, music, and games, and because it's lightweight, fast, slim, and reliable, reviewers are saying things like, "The single best value Fire in the entire line."
Strengthen Your Wifi Signal
TP-LINK Wi-Fi Range Extender, $18 (Was $30), Amazon
Whether you're at home or in a dorm room, this TP-LINK Wi-Fi range extender lets you surf the internet without any connection issues. It plugs right into the wall to significantly boost your wireless connectivity signal (as long as you already have a wireless router), and the Tether App allows easy access and management from all your devices.
Keep Your MacBook Safe And Scratchless
Mobility Hard Case Cover For MacBook, $9 (Was $14), Amazon
Keep your MacBook safe and scratch-free with this Mobility hard case cover. Its snap-on design is easy to apply to your MacBook 12" with retina display, and this convenient and slim case comes in 11 different colors to personalize your style.
Block Out The World While You're Working
Sennheiser HD 518 Headphones, $68 (Was $130), Amazon
If you're looking to block out your roommate, the chatter in the library, or anything else, these Sennheiser HD 518 headphones could just be your best study buddy. The crackle-free ear pads are soft and comfortable, the build is lightweight and high-quality, the sound is crystal clear, and the price can't be beat.
Release Your Stresses After Class
Release Your Anger Adult Coloring Book, $8 (Was $12), Amazon
Check out this Release Your Anger adult coloring book for a screen-free way to unwind after class. This adult coloring book is more adult than usual, as it features 40 beautiful and intricate designs centered around your favorite swear words.
Color Your Way To Relaxation
Sargent Art Colored Pencils, $9 (Was $20), Amazon
These Sargent Art colored pencils pair wonderfully with the above rage-filled coloring book, as they're particularly well-made, vibrant, allow for smooth, streak-free coloring, and come in a set of 50 for all the colors and hues you can imagine.
Keep All Your Dates In One Place
Bloom Daily Planners, $15 (Was $17), Amazon
Whether you're starting school or trying to get your work-life organized, this Bloom daily planner is a great way to do it. It runs from August 2016 to July 2017, and it features a sturdy cover, monthly views, weekly views, and inspirational quotes at the start of every month.
Decorate Your Desk With Practicality
Victor Technology Pencil Cup with Note Holder, $16 (Was $18), Amazon
Keep your desk and your life organized with this Victor Technology pencil cup with note holder. Not only does it look particularly sleek with its wooden build, but it's an awesome way to store your supplies while showcasing your notes for the day in a place where you'll see them.
Brown-Bag Your Lunch In Style
Bento Lunch Box with Insulated Bag, $23 (Was $25), Amazon
If you're looking to go healthy this fall with some homemade lunches, this Bento lunch box with an insulated bag has a slim leak-proof design that fits in backpacks, purses, and briefcases. The three sealed compartments allow you to varietize, the insulated cooler keeps everything fresh, and the dishwasher- and microwave-safe construction makes things as convenient as possible.
Travel Back & Forth In Style
EcoCity Unisex Classic Backpacks, $25 (Was $60), Amazon
If you're looking for a classy way to carry your books or laptop back and forth from school or work, look no further than this EcoCity Unisex classic backpack. It's made from washed denim, has several different pockets for organization, and features adjustable padded shoulder straps for comfort.
Wake Up To Warmth This Fall
Best Morning Ever Donut Warming Mugs, $24 (Was $40), Amazon
Did I say that back to school deals were the best thing about fall? Because warm tea and pumpkin spice donuts are actually the best things about fall. These highly-rated Best Morning Ever donut warming mugs make those cold fall mornings a little better. This set of two is designed to warm your bagels, donuts, cookies, and muffins on their porcelain shelves, all while keeping your coffee or tea hotter for longer.
Sharpen Your Pencils & Charge Your Devices
Westcott USB Charging Station Pencil Sharpener, $21 (Was $30), Amazon
A step-up from your average pencil sharpener, this Westcott USB charging station pencil sharpener is a space-savvy and practical way to keep your writing utensils sharp and your devices charged. It's got three built-in USB charging ports, and reviewers say it actually delivers on the pencil front.
Check Out This Inkjet Photo Printer
Canon PIXMA MG2420 Inkjet Photo Printer, $42 (Was $70), Amazon
Scan, print, and copy documents to your heart's content. Reviewers are saying this printer takes no time at all to set up, and does exactly what it says it will (with no headaches included).
Make The Most Of Your Closet Space
42 Cells Hanging Closet Organizer, $24 (Was $60), Amazon
Keep your closet as organized as possible, in order to make the most of the tiny space. Whether you're off to a dorm or just have a tiny post-grad apartment, keep everything in a place of its own to ensure you're maximizing your space.
Check Out This Sleek Energy-Efficient Desk Lamp
Lux Dimmable LED Desk & Table Lamp, $21 (Was $40), Amazon
This LED desk and table lamp is ideal for dorm rooms or home offices because it's got a smart touch-control panel for brightness levels and temperature modes, a natural-looking and energy efficient bulb, a USB charging port, and a flexible neck to direct light anywhere you need it.
Bustle may receive a portion of sales from products purchased from this article, which was created independently from Bustle's editorial and sales departments.
Images: Unsplash/Pexels; Amazon (15)