e.l.f. Holiday Palettes Are Super Affordable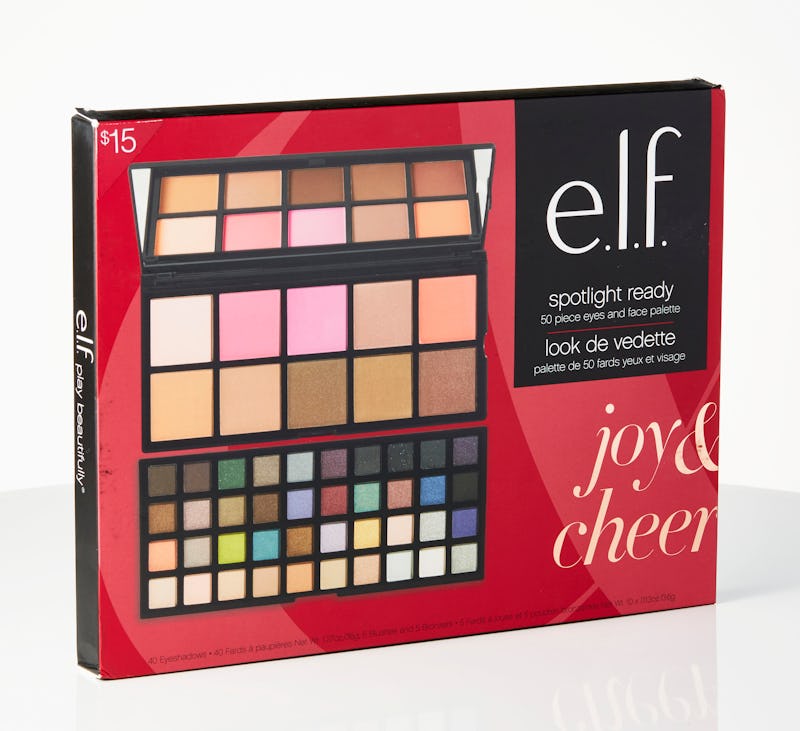 Summer may still be in high gear, but it's never too early to start thinking about your holiday wish list. Let's face it, the best part of the holiday season is getting (and, you know, giving) gifts, and with so many incredible makeup launches lately, it's hard to pick and choose which to ask for. I'm here to help get your gift needs sorted, because I've caught a glimpse of the new e.l.f. holiday palettes, and trust me when I say, they will quickly rise to the top of your Christmas list. So how much are the e.l.f. 2016 Holiday palettes? You won't have to break the bank for these beauties.
The cosmetics label is notorious for providing quality products for super affordable prices, and the same applies to their holiday offering. The Holiday range is quite extensive, comprised of 22 kits covering everything from eyes, lips, and face, to tools and nails. Each kit has a unique theme with curated product. The Desk to Dinner kit, for example, contains three eyeshadow duos with light and dark shades to take you from day to night. The Little Brow Book is your one-stop shop for everything eyebrows, including brow stencils, powders, brushes, wax, and even a tiny tweezer. The best part? The kits start as low $5 and only go as high as $20. It really doesn't get much better than that.
Check out all the holiday kits broken down by price range.
$5 Kits
Desk To Dinner, $5, elfcosmetics.com
Three gorgeous eyeshadow splits with shades of pale nude as well as bold pops of color, so you can transition your makeup look from the office to cocktails.
Defined Eyes, $5, elfcosmetics.com
Comprised of a smudge brush and two angled brushes, this kit has all the tools you need to pair with your favorite eyeshadow palette.
Glowing Star, $5, elfcosmetics.com
This mini blush and bronzer duo is perfect for getting glow on-the-go.
Lip Parade, $5, elfcosmetics.com
How adorable is this colorful lip balm trio?!
Matte About Shimmer, $5, elfcosmetics.com
Packed with an eyeshadow duo, a liner, and an eyelid primer, I bet you wouldn't mind waking up to this beauty in your stocking on Christmas morning.
Prep & Play, $5, elfcosmetics.com
Made up of a lip exfoliator and a nude matte lip color, consider this the more affordable version of Kylie Jenner's Lip Kit.
Radiant Eyes, $5, elfcosmetics.com
These five shimmery jewel-toned liners are perfect for festive holiday party looks.
Lined & Lovely, $5, elfcosmetics.com
With a liner pencil and two liquid liners, this neat little kit has everything you need to create the perfect cat eye.
$10 Kits
48 Color Beauty Clutch, $10, elfcosmetics.com
Forty-eight different colors?! This is every beauty lover's dream come true.
All About Eyes, $10, elfcosmetics.com
The perfect little nude palette plus a primer and a liquid liner. This kit may just be my favorite yet.
Brush It Up, $10, elfcosmetics.com
Every makeup maven needs a good set of brushes, right?
Get Glowing, $10, elfcosmetics.com
Everything you need for the perfect highlight — an illuminating palette, a highlighting brush, and shimmering facial whip for some extra glow.
Mad For Matte, $10, elfcosmetics.com
Four gorgeous matte lippies for $10?! Yes, please.
Little Brow Book, $10, elfcosmetics.com
A whopping 10 eyebrow products to help you get #BrowsOnFleek.
Pout Out Loud, $10, elfcosmetics.com
The most extensive lip kit you'll ever see, containing a lip exfoliator, moisturizing lipstick, a lip color remover, and a lip pencil.
$15 Kits
Blended Beauty, $15, elfcosmetics.com
These beauty blenders not only work like magic, but they'll also look pretty in our makeup bag.
Chic Sixteen, $15, elfcosmetics.com
As the name suggests, this lovely kit provides you with 16 varying shadows so you can mix & match tons of fabulous combinations.
Endless Eyes, $15, elfcosmetics.com
One-hundred eyeshadows for $15?! Wow. Just wow.
Spotlight Ready, $15, elfcosmetics.com
Forty colorful shadows, five blushes, and five bronzers — do you need anymore than that?
$20 Kits
Love Your Look, $20, elfcosmetics.com
A gorgeous 20-piece eyeshadow palette that is just as a good of a gift to give as it is to get.
Luxe Brush Collection, $20, elfcosmetics.com
If you're looking to expand your brush collection, this kit is for you, because it contains 11 brushes for all different purposes.
Images: elf cosmetics (21)