15 Craziest 100 Layer Challenge Videos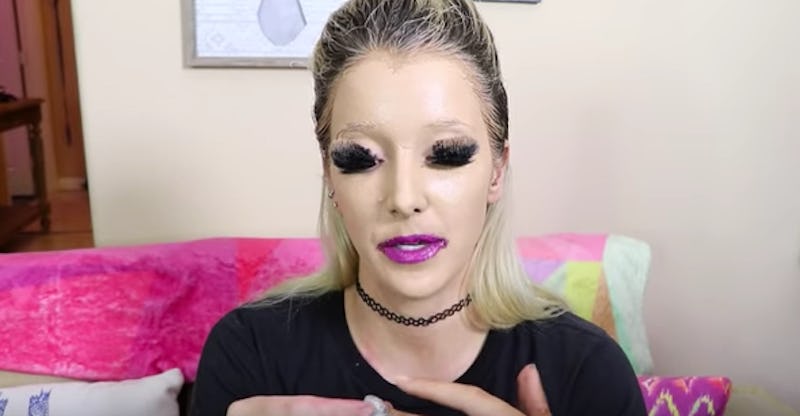 I love a good makeup video challenge. The types of challenges range from seriously hilarious, like the "my boyfriend did my makeup" challenge, to creatively impressive, like doing an entire look with only kids makeup, liquid lipstick, or highlighter. Most are in good fun, but some are just flat out weird (and impossible to look away from). Case in point: these 15 100 layer challenge videos you have to watch.
"This is the Internet I signed up for!" exclaimed Jenna Marbles, a YouTube star, as she layered on dozens of coats of mascara. Indeed, 2016 has been captivated by the "100 layers of..." video challenges every makeup and beauty guru (and some comedians) are filming. It's pretty cut and dry — apply 100 layers of product all at once. It can be mascara, foundation, lipstick, you name it. The result? An often funny and freaky look that reminds us to stay appreciative of that no-makeup makeup trend. Sometimes, the results look straight up painful — I can barely power my way through the day with one coat of liquid lipstick, let alone 100.
But like any good train wreck, it's hard to look away from these videos. Most of us have never seen what 100 coats of anything looks like, so behold — here are the craziest 100 layer challenges.
1. 100 Coats Of Dipbrow
Don't you ever let anyone tell you your brows are too bold.
2. Ultimate 100 Coats of Things
One minute you're watching a typical YouTube makeup tutorial, and the next you're 100 coats in. Who hasn't been there?
3. 100 Layers Of Fake Tan
This is a level of weird I haven't encountered before. I think 100 layers of sunscreen is more my style.
4. 100+ Coats Of Nail Polish
"This is taking way longer than I thought it would take." Uh, yeah. She makes it all the way to coat 116 before losing consciousness. (Just kidding about that last part...kind of.)
5. 100 Layers Of Mascara
Honestly, these are my ideal lashes. Clumpy spider legs forever.
6. 100 Coats Of Liquid Lipstick
I dare you to watch this without gagging or crying or both. Grab some lip balm and prepare yourself.
7. 100 Layers Of Foundation
You know in Mrs. Doubtfire when Robin Williams gets a custom latex mask? This is kind of what that looks like. But scarier.
8. 100 Layers Of Face Mask
I'll take giant pores any day, thanks though!
9. 100 Layers Of Liquid Eyeliner
Welcome to my personal nightmare.
10. 100 Layers Of Highlighter
100 layers later and I'm still like "Yaas, give me more!" You can do no wrong with highlighter.
11. 100 Layers Of Concealer
Hangover eyes, begone.
12. 100 Coats Of Hairspray
I'm pretty sure this is how my mom got through the '80s.
13. 100 Layers Of Glitter
Lisa Frank-approved.
14. 100 Layers Of Contour
Let's be real: One layer is hard enough.
15. 100 Coats Of Lipstick
Ouch!
Images: Jenna Marbles/YouTube