Use Orly Breathable Polish For The Perfect Mani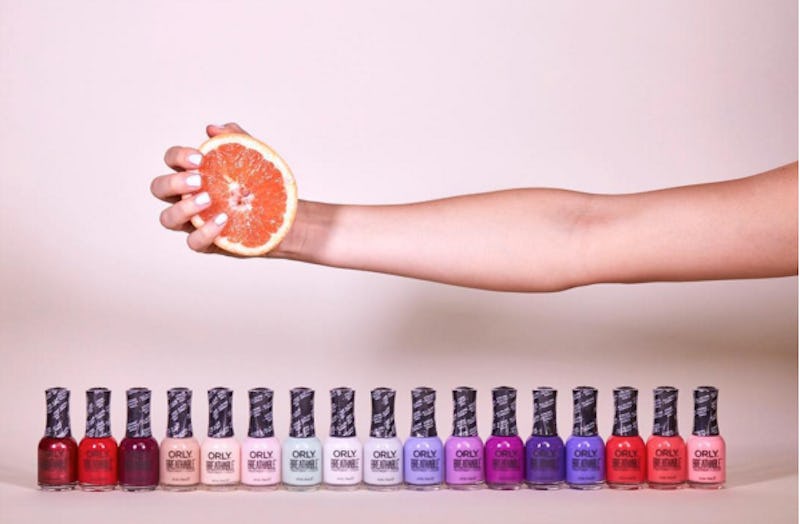 We all know that leaving polish on our nails year-round isn't necessarily the best for their growth and overall health. But who wants to go without it? Orly's out to change all that no-paint nonsense, and that's exactly why you need to find out when to buy Orly's Breathable nail polish. Because this stuff is going to change the way you paint your nails, for good.
According to a press release, their new formula allows oxygen and hydration to pass through your lacquer and reach the nails. That means you'll be promoting nail growth and thickness while still rocking some color. The Breathable collection comes in 18 different shades, ranging from subtle nudes to bold purples and everything in between. So, no matter what your manicure style may be, there's a polish to suit your needs.
The Breathable line is already available to shop on the Orly website. It's also available at Ulta, JCPenney and salons nationwide. Retailing for only $8.99 a bottle, there's really no reason why you shouldn't slick this all-in-one treatment and color on your nails, stat. You know as well as I do that you've got a summer full of painted nails to recover from. So, get ready to say bye to bare nails and hello to a healthy nail bed, all at the same time.
With 18 different shades to choose from, you're going have a hard time picking just one of these. Feel free to shop as many as you'd like, though. Your fingers and toes deserve it! I've been wearing the nude/pink shade "Rehab" for about a week now and loving every minute of it.
There's no need to apply a separate base coat or top coat with these polishes. Two layers of Breathable is all you need for long-lasting, nourishing color.
Here's just a sampling of the shades available for purchase now.
1. Fresh Start
Orly Breathable Polish in Fresh Start, $8.99, Orly Beauty
This minty color is going to look great, mojito in hand!
2. Nail Superfood
Orly Breathable Polish in Nail Superfood, $8.99, Orly Beauty
A bright coral shade couldn't be more fitting for the season.
3. Pamper Me
Orly Breathable Polish in Pamper Me, $8.99, Orly Beauty
This light pink color is perfect for when your nails need a little pampering.
4. Rehab
Orly Breathable Polish in Rehab, $8.99, Orly Beauty
Rehab is just what you need for a minimalistic manicure.
5. Stronger Than Ever
Orly Breathable Polish in Stronger Than Ever, $8.99, Orly Beauty
A sequin-packed polish is sure to get you noticed!
6. Give Me A Break
Orly Breathable Polish in Give Me A Break, $8.99, Orly Beauty
If you're looking for the perfect statement-making purple, well, I think you just found it.
Who's in the mood for a little at-home spa sesh, now? You bring the Orly polish, I'll bring the wine!
Images: orlynails/Instagram (1); Courtesy Orly Beauty (6)