This 'Manzo'd With Children' Trailer Is Emotional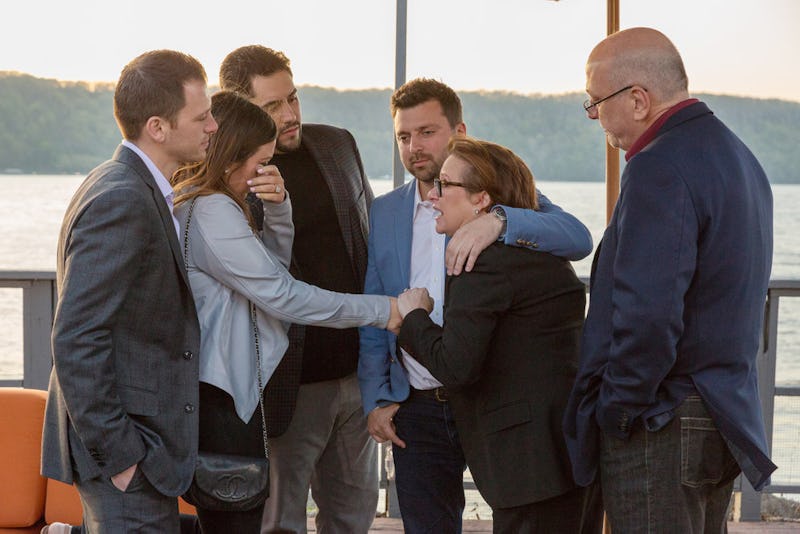 The Manzo family is usually in high spirits, all about pranking one another, having fun, and, of course, wanting the best for each other. Based on the Manzo'd With Children Season 3 trailer, the same can be said, but the footage also shows that this is going to be a very different season for the former Real Housewives of New Jersey clan. Actually, it just might be the toughest one yet for Caroline, Albert, Lauren, Chris, and Albie. Not only are there a lot of changes ahead, but some tough moments they will also face together.
One of the things that stands out the most in the trailer is when Caroline tells her kids that she's found a lump in her chest. Even though only a little bit of their conversation is shown, it's extremely emotional. "I'm the strongest person you'll ever meet when I'm battling for somebody else, but when it's me, oh my God," she says during her private interview. There are a lot of tears shed and understandably so. It's unclear if Caroline has been diagnosed with breast cancer or what happened after she found the lump, but it's something that may very well be explained in Season 3. In addition to that, Lauren and Vito are struggling to have a baby, Chris contemplates moving away from Jersey to experience life elsewhere, and Albie has several altercations with different family members.
Don't worry, though, because the entire season isn't going to be filled with serious moments. They take a trip to San Francisco to visit their close friend Greg Bennett and spend some time in Las Vegas where Albie partakes in Zumanity (the erotic Cirque du Soleil show), which both come with a lot of laughter and smiles.
Be sure to stock up on tissues for when Season 3 premieres Sunday, Sept. 11 with two back-to-back episodes starting at 9 p.m.
Image: Greg Endries/Bravo