8 Hilarious Books For New Parents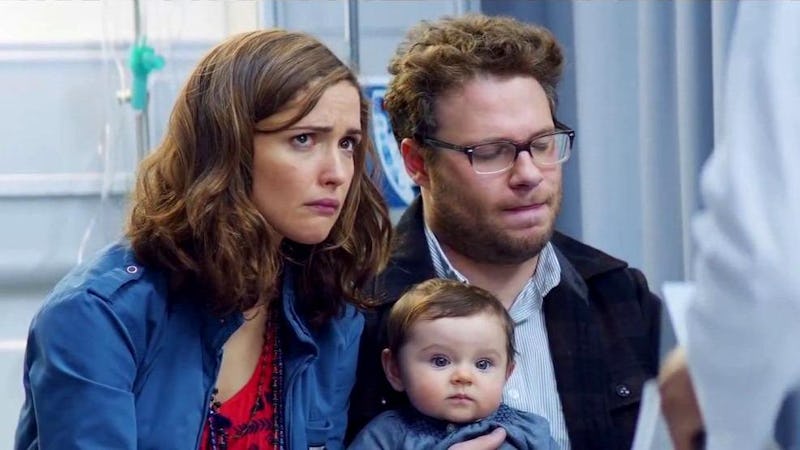 New moms and dads hardly have time to take a quick nap, check their phones, or even eat — let alone read a book for new parents. For book-loving parents, it can be a rough time when you realize your TBR list will very likely be abandoned for the next few months (or years.) But on the bright side, reading children's books is a whole new ballgame of fun. And knowing that you're starting your child off right with a love for literature — well, there's no comparison.
At some point, though, you'll definitely get the hang of things and get back to some normalcies in life. There are parenting books that are helpful, full of advice and wisdom about raising your children to be self-sufficient humans who aren't terrible. And then there are the laugh-out-loud books that every new parent needs every now and then. Sometimes you need to laugh about the fact that your kid cries over ridiculous things. Sometimes, you need to know that you aren't alone in this weird experience called parenthood.
There's an endless list of great books for new parents in need of some smiles and reassurance. So the next time you find yourself with a little quiet time — maybe grandma is babysitting or your partner is taking over for a few hours — find a cozy reading spot and laugh along with these hilarious books about raising a child:
Being a new parent means your "me-time" is limited, which is why a book filled with quick, hilarious, and incredibly accurate portrayals of the truth of parenting is perfect for you right now. You'll easily relate to that moment when your screaming baby is finally asleep but the doorbell rings... or when you finally go out for dinner but your baby stinks up the place in less than a minute.
If you're a new mom or dad, you're most likely receiving contradictory advice from family members, friends, and complete strangers — but as a new parent, you can use all the advice you can get. It can seem overwhelming, and Stefanie Wilder-Taylor knows just how it feels. In her book, she offers up some great advice in short, easy to digest essays.
The title alone says it all, and if you're a parent of multiple kids, this book will especially make you laugh. These quick chapters are filled with hilarious moments about kids being... well... a-holes.
If you're a mommy blogger or if you love to read mom blogs, this is the book for you. It's a collection of essays from 37 amazing and kick-ass mommy bloggers, who write about all the brutal, rewarding, and downright funny moments of motherhood.
Sh*tty Mom celebrates the uncensored and hopelessly embarrassing moments of motherhood. It also discusses the intense competition that exists to be the best mom on the block (and the 'gram). All those unspoken worries you're probably (definitely) feeling are voiced in this guide to motherhood.
Moms tell themselves and their kids lies just to make the day easier, and if you've ever caught yourself in a strange predicament with your child, you'll easily relate to O'Bryant. Her writing is fun, honest, and most importantly — helpful. She'll get you through a lot of those weird new parent moments, and reveal that while being a mom or a dad isn't always pretty, it is always real and rewarding.
If you're a new parent and you aren't following this hilarious Facebook page, I urge you to change that immediately! Now in book form, Reasons My Kid Is Crying, is exactly what it sounds like. Honest parents share honest reasons why their sons and daughters are screaming — all of which are hilarious. This is the perfect book to keep in the bathroom or at your nightstand when you have a few moments to yourself and could use a laugh.
Johanna Stein describes parenting as an extreme sport, and she isn't here to offer advice. She's here to share a lot of relatable, mostly awful parenting moments. This is one hilarious book you'll need to help you get through those embarrassing and hectic first years of parenthood.
Images: Universal Picturse