"I'm With Careless" Is The GOP's Latest Attack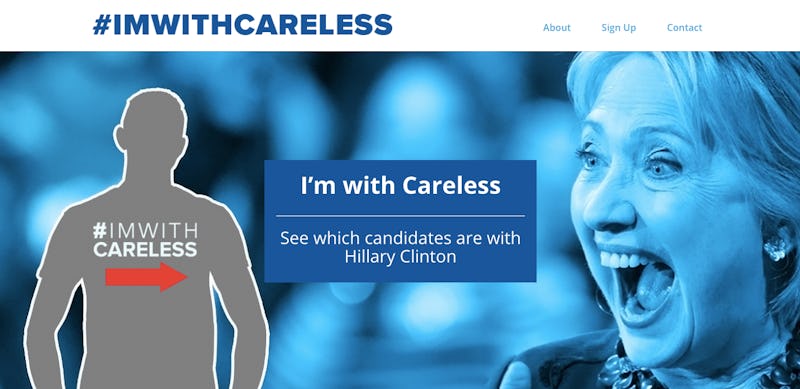 Oh wow. The Republicans are at it again, with yet another anti-Hillary Clinton website up and running. However, the newest webpage is (surprisingly) not about attacking the Democratic presidential nominee — instead, the site, "I'm With Careless" aims to defeat Democrats in Congress, by associating them with Clinton, whose unfavorable ratings are historically high right now. The Congressional Leadership Fund Super PAC runs the "#I'mWithCareless" site, and the PAC is "dedicated to protecting and strengthening the Republican Majority in the House of Representatives." Yes, that's right, the super PAC is using Clinton to attack Democrats running for seats in the House, in order to maintain a Republican majority.
The website name, "#I'mWithCareless," comes from FBI director, James Comey's July 2016 statement on the investigation into Clinton's private email server — Comey called Clinton's use of the server "extremely careless," but did not suggest the former Secretary of State be indicted for her mistakes. The Congressional Leadership Fund Super PAC combined Comey's statement with one of Clinton's campaign hashtags, "#I'mWithHer," and voila, "#I'mWithCareless" came to be.
It will come as little surprise to visitors of "#I'mWithCareless" that the site is adorned with multiple zoomed-in photos of Clinton — photos that undeniably make the candidate look like she is screaming at the top of her lungs. Yeah, it's *not* sexist at all.
When visitors to the site scroll down, there are head shots of 12 different Democratic congressional candidates — candidates running for reelection in tight races, according to BuzzFeed. Each candidate is shown wearing a (clearly photoshopped) "I'm With Careless," t-shirt featuring an arrow pointing to the side of the page at — you guessed it — another zoom-in of a screaming Hillary Clinton.
By clicking on each congressional candidate's image, visitors can read about their ties to Clinton, and find out what the candidates have said about the Democratic nominee for president. The website even shares what the congressional candidates have written about Clinton on their Facebook pages, and whether or not they've contributed to the Clinton campaign.
Tying Clinton to congressional Democrats running for reelection makes sense for the Republican super PAC — according to CNN, Clinton's unfavorable ratings have never been higher, and therefore Clinton's candidacy might reflect poorly on other Democrats running for office. Although the "#I'mWithCareless" website seems particularly gauche, with its unflattering photos of Clinton, and photoshopped images, to be fair, BuzzFeed reported that Democrats are using similar tactics to take control of the House — Trump, too, has historically high unfavorable ratings, which Democrats are taking advantage of in their congressional campaign advertising.
Of course, at the bottom of the page on "#I'mWithCareless" there is a form for visitors who wish to "STAND AGAINST CARELESS" — voters can sign their names to a statement saying, "I will not support the candidates who stand with Careless Hillary Clinton." Of course, it's a super PAC, so donations are accepted, too.