11 Cut-Out Pieces You Need To Buy Now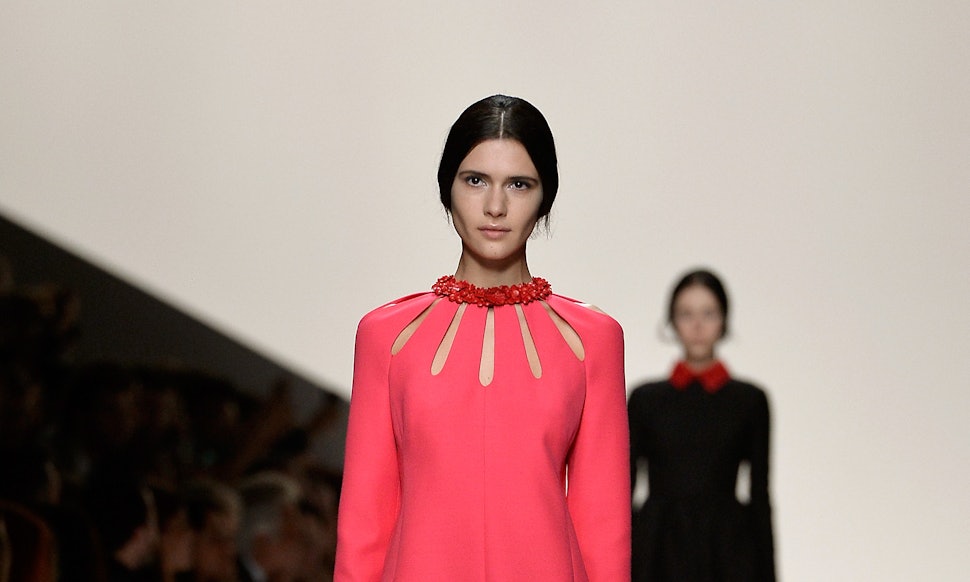 Pascal Le Segretain/Getty Images Entertainment/Getty Images
Cut-out dresses and tops have been trendy for a while now, but with celebrities like Karlie Kloss showcasing interesting and different ways to switch up the classic cut-out dress — it seems like they're getting even more popular. While a cut-out showcasing your under boob or butt cheeks may be more Karlie's thing than yours, there are still a variety of ways to wear cut-out pieces that are interesting and different. Here are 11 cut-out pieces that need to make their way into your closet ASAP.
Midi Dress
Textured Cut Out Midi Dress, $65.87, ASOS
A little bit of cut out, a lot elegant.
Leather Dress
On The Edge Cutout Dress, $27.80, Forever 21
Every girl needs a leather dress, so why not switch it up with some classy cut-outs.
Little Black Dress
Style Me Snazzy Dress, 52.99, Modcloth
This dress is a lot like Taylor Swift. We're not sure if it's sweet, sexy, retro, modern, or all of the above — but either way, it looks good.
Chambray Shirt
Chambray Cutout Shirt, $43.50, Nasty Gal
For all those moments you just really wish your collar bones could get some air.
Crop T-Shirt
Cut-Out Crop T-Shirt, $9.99, Zara
For the girl who likes the most subtle of cut-outs.
Backless Dress
MSGM Cutout-back bouclé mini dress, $555, Net-A-Porter
Colorful, textured, and backless? Yes, please.
Boyfriend Shirt
Boyfriend Shirt with Cut Out Panel Detail, $56.46, ASOS
Bringing a whole new meaning to "baring some midriff."
Bikini
Black Triangle Cutout Bandeau Bikini, $68, Topshop
Who says that cut-outs are only for everyday clothes?
Satin Bralet
Satin Cut Out Bralet, $72, Topshop
Because, honestly, who doesn't need a satin bralet in their wardrobe?
Cape
Top With Cut Out Cape Detail, $60.22, ASOS
Wear cut outs, look like Batwoman. A winning scenario.
Off the Shoulder Dress
Blu Moon Open Shoulder Halter Dress, $150, Planet Blue
For the bohemian goddess in all of us.