How To Find Your Dream Job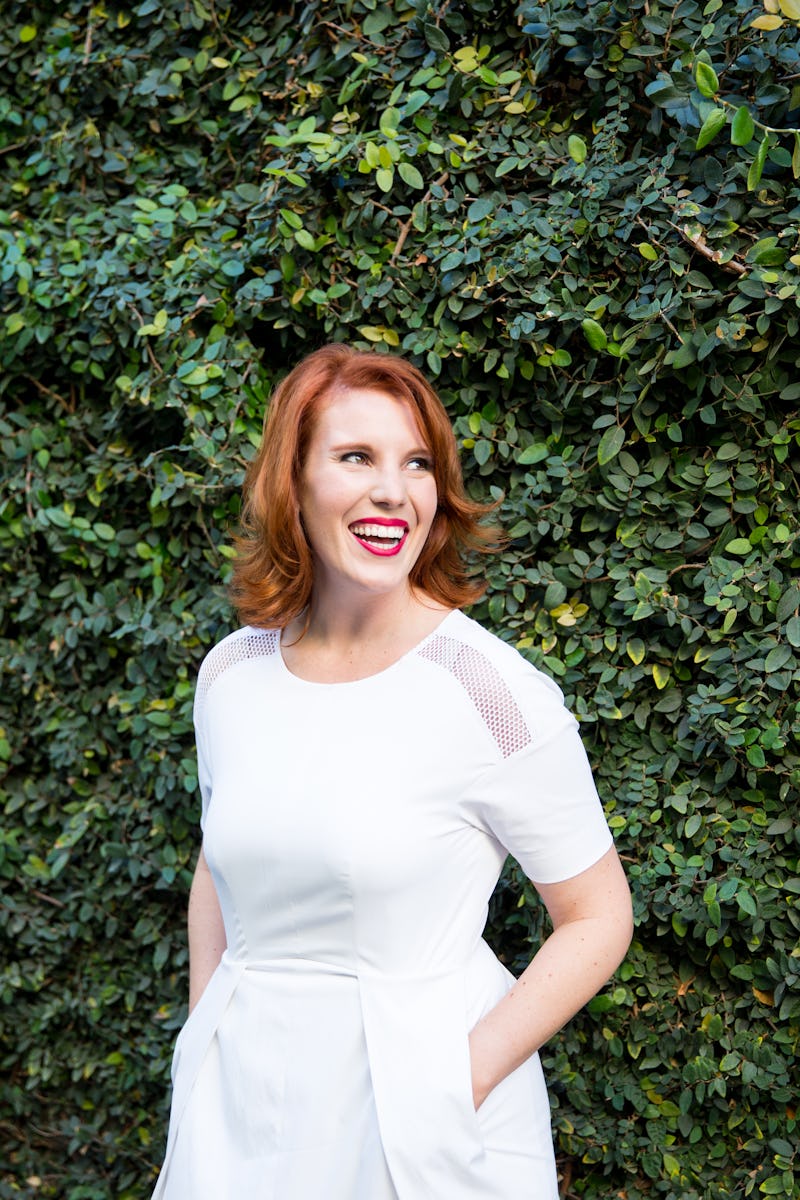 One of the most stressful things about choosing a college major is the notion that you're tied to a single track for the rest of your days. But what if you graduate from college, find that dream job, and then realize that it isn't what you thought it would be? Of course, you don't want to spend the time (or the money) to get a whole new degree. But that doesn't mean you're locked into the field you chose to study back when you were 18, either. Don't believe me? Take it from a girl who has made the career switch three times over.
Today, Maxie McCoy is an authority for millennials who find themselves in the same situation she was in just a few years ago: feeling uninspired at a job that seemed to make sense at the time, but turned out not to be the best fit. After studying journalism in college and getting her masters in media, McCoy pursued a career in broadcasting. And she was good at it. She landed an on-air role with Fox Sports, and when her contract ended she began interviewing for morning shows. "[I] was in the process of doing different tryouts, but it just kept feeling more and more wrong," says McCoy. "I wasn't being true to myself in the work I was providing the world. I felt like there was more to do and more to add — and it wasn't coming from hosting for me anymore."
Feeling that it wasn't the right fit, McCoy accepted an opportunity in a different industry and prime location (San Francisco), but was still dissatisfied. So she returned to the one thing she always loved to do: writing.
"I decided to write about the stuff that I always cared about... how to move our careers forward as women, and the importance of mentors and sponsors," she says. One of her classmates recommended she contact two women who were starting a company called Levo League — a business aimed at helping women find their career paths — and they hired her. A few years later, she was able to channel her personal and professional experiences into a new career.
"I started writing about these universal issues on my blog," she says, "and it ended up taking off and really building an audience. All the pieces started to crystalize, and I realized that this was a business I could really build out, to give individuals the tools they need to have more energizing careers and move their dreams forward."
No matter where you are in your journey of finding out what you're really called to do, you have the power take charge of your professional goals. In partnership with Microsoft, here are Maxie McCoy's best tips for identifying your purpose and finding a job that fits with your values.
1. Ask Yourself, "What Would I Do For Free?"
One big indicator of what kind of work would best suit you? You'd do it even if it weren't for the money. McCoy recommends reflecting on what it is that excites you so much, you'd do it even if it wasn't in your job description.
"Ask yourself: What parts of your work have given you the most energy, excitement, and pride?" she says. "What are the things that I am passionate about, that I would do without recognition or appreciation? Think about how that could show up in another way when it comes to a specific role. This will give you insight into what to do next."
2. Talk With Your Community About Where They See You
If you're having a tough time coming up with answers to what it is that you're really passionate about, she suggests tapping into your trusted inner circle for some insight.
"Pick a few people who just 'get you,'" she says. "Ask them where they see you in five or 10 years, and why. Often, people are amazing mirrors and see our greatness before we do. Hold onto whatever resonates, believe them, and do something about it."
3. Get Clear On What The Work You're Pursuing Really Means
When deciding on a career path or trying to figuring out a new line of work to pursue, it's easy to get caught up in surface-level things like the company you'd want to work for, or the title you'd want to see next to your name on your business card. But McCoy recommends getting really clear on the "dream job" you're planning to pursue and identifying how it aligns with your purpose.
"Look at that broader concept of your 'dream job,'" she says, "and find out what kind of meaning that work has for you. When you really understand your 'why' in this world, you can match that up with a job that allows you to do that more days than not."
4. If You're At A Job That's Not Your Dream Job, Find A Way To Make It Meaningful
You're at a job that's less than inspiring, and you know you need to make a move. But you're not exactly sure what that move is just yet. If you're waking up every morning to a job that isn't "it," McCoy's advice is to find some value in the experience you're in.
"What will help you stay satisfied in that role is to know what you're getting out of it and why," she says. "You may not know where you want to go next, and this job is not it, but maybe you're learning from this person, or you're able to have this flexibility, or maybe you really enjoy this specific part of the job. Knowing why you're there and what you're learning right now [...] is really going to help you stay satisfied until you're ready to jump."
5. Know How To Tell Your Story To Best Position Yourself For Your Next Role
If you're looking to transition into a different industry, being able to tell your story is your most valuable tool.
"It's all about telling the story of why you're the right person for the role, even though you haven't had all of the experiences that ladder up into it," she says, "and being able to convey that within the context of your cover letter and resume, and in your interview—whether it's in person or via Skype. Even if this job is a little bit of a stretch for you, or a big leap, really being able to showcase your passion in a way that allows you to stand out will help get you there."
For an easy, high impact way to show potential employers that you're passionate about the field you're looking to transition into, McCoy recommends penning a blog post or two on a topic that's relevant to the industry. No platform? No problem. You can publish your post using Microsoft's free Sway app, and choose the template that best highlights your piece.
6. Be Ready For New Opportunities
Just because you're not sure what your next move is doesn't mean that you shouldn't be armed with an updated resume.
"So many opportunities come knocking when you least expect it," says McCoy. "We often go through the day-to-day in these jobs, and then someone approaches us about an interesting opportunity and we're not ready." One way to ensure that you're able to take advantage of whatever may come your way is have your resume ready to send off. Of course, that's easier said than done. Which is why McCoy teamed up with Microsoft to create easy-to-use resume, cover letter, and portfolio templates in Sway and Word.
"Microsoft's resume templates make it so easy to just plug in your information," she says, "instead of spending a whole weekend saying you're going to do it and then not do it. Because if you are in a job that's not it, things might be showing up that you weren't even paying attention to because you weren't ready for the opportunity for it to show itself."
This post is sponsored by Microsoft .