Rewatching 'The Princess Diaries' As An Adult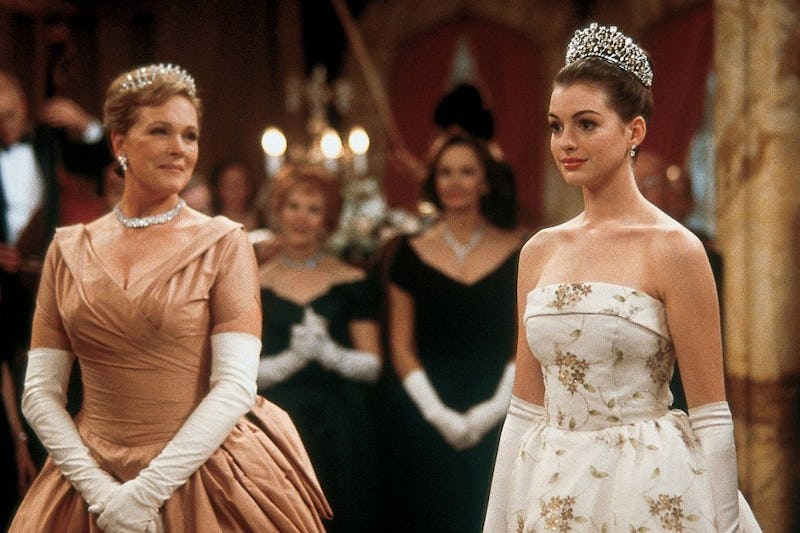 It's a very special birthday for kids who grew up in the early 2000s. That's right, The Princess Diaries is celebrating its 15th anniversary. So there's no better way to honor Mia Thermopolis, Clarisse Renaldi, or the late Garry Marshall, then watching the film, as an adult — with lots of wine.
In 2001, Anne Hathaway made her big screen debut alongside Julie Andrews. The film, based off the book by Meg Cabot, was an instant classic. They went on to make a sequel in 2004 and there were even talks of a Princess Diaries 3 earlier this year. Unfortunately, legendary director Garry Marshall passed away last month and the film just won't be the same without him. We should keep the memory of the film with him.
So, in honor of the special anniversary, I rewatched the film and wrote down all the things I never noticed when I first saw the movie in the summer before seventh grade.
1. When Did Everyone Start Hating Anne Hathaway?
Honestly, this movie is a national treasure. Was it around the time of Devil Wears Prada? Also a great movie. Or was it Le Mis? I don't know, but she was awesome as Mia Thermopolis.
2. Mandy Moore Needs To Come Back
She plays the world's best villain and she needs either new music or a new movie role ASAP.
3. Erik Von Detten
Remember when Erik Von Detten was all the rage? Team Pup N Suds for life.
4. Mia's Room
Between the sky painted on her ceiling and "The Tower," everyone wanted Mia's room in the early 2000s. Not to mention their house in general is freaking awesome. Now that I'm rewatching though, all I can think about is how much that place would cost per month.
5. Scooters
Aw, scooters! You never forgot your first Razor.
6. Sandra Oh
Christina Yang is the Vice Principal!
7. Michael Moscovitz
First of all, Michael Moscovitz was actually a lot hotter than Josh Bryant. Second, let's talk about how Robert Schwartzman is a member of one of the most important Hollywood families. His uncle is Francis Ford Coppola, his brother is Jason Schwartzman, and he's the cousin of Nicolas Cage and Sofia Coppola.
8. Julie Andrews
Best. Grandma. Ever. Imagine life if your grandma was Mary Poppins.
9. Anne Hathaway Was Meant To Be 15 In This Movie
To be fair, she was only 19 when the movie was made, but it's still pretty unbelievable that she was supposed to be 15.
10. Joseph Is The Best
Let's be real, we're really shipping Clarisse and Joseph. They're the it couple of the film.
11. Bulimia Convention
Pretty sure that dig about Mia speaking at a bulimia convention so she could speak and throw up at the same time would not be kosher in movies these days.
12. This Amazing Diss
"If Brooke Shields married Groucho Marx, they would have your eyebrows." Never noticed that burn from Paolo before.
13. Lilly Is Kind Of An Awful Friend
Honestly though, who is that mean about their friends awesome new haircut?
14. The Foot Pop
Every single girl wanted a foot pop after this movie came out.
15. Margie!
Hey guys, it's Margie from Zenon: Girl of the 21st Century
16. This Girl
Who hangs out in this position? Mia should have kicked her over.
17. "I Just Consider Myself Royally Flushed"
Ouch!
18. This Soundtrack …
… is perfect. I can still sing every song in the movie, including the Genovia National Song.
19. The Ultimate Rom Com Quote
Cue the water works. Gets me every time.
Images: Princess Diaries/Screenshot (6); Giphy (14)