Kylie's New Kyliner (& Kit) Is Set To Be Wild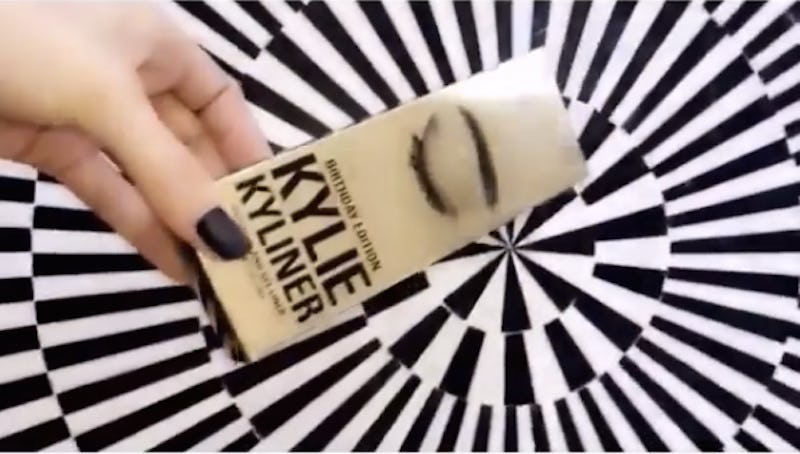 Since Kylie Jenner began teasing her #SummerSurprises on Snapchat, makeup lovers have been waiting with bated breath to see just what the makeup mogul had up her sleeve next. It appears that a Kylie Cosmetics Kyliner and Kyliner Kit is in our near futures, as part of the Kylie Cosmetics Birthday Edition Collection. And the question on my mind is definitely: When can I get my hands on it?
On Sunday, Jul. 31, Jenner took to Snapchat to announce her next series of #SummerSurprises. While there was a lot of buzz about whether the product would be a brand new lip color or another eyeshadow palette, the latest surprise happened to be a whole heap of new goodies.
Jenner first teased a new makeup bag: A sleek black pouch with her signature lip logo on it. But it was the products — yes, plural — that took me by surprise most. And one in particular: The Kyliner. That's right, guys, Jenner just debuted her first ever eyeliner, and needless to say it is my favorite product in her Birthday Edition Collection. Although Jenner's other products — the Matte Liquid Lipstick Kit, a new gloss called "Poppin," and creme eyeshadows, seem noteworthy, her Kyliner in shade "Dark Bronze" reigns supreme in my mind.
The brand new Kyliner Kit comes equipped with an angled eyeliner brush, a pot filled with the Dark Bronze eyeliner, and a pencil eyeliner in the same hue. The shade of note, "Dark Bronze," is not necessarily what I expected from her. I figured a black or brown color would debut first, but I am delighted as it seems like the bronze will be very complementary on a variety of skin tones.
As you can see via the swatches on Snapchat, the shade is a metallic bronze that is not to sparkly nor too shiny. It's the perfect eyeliner color, no?
As to when you can purchase the Kylie Cosmetics Kyliner, it should be available along with the rest of her Birthday Edition Collection on KylieCosmetics.com starting on Aug. 1 at 3 p.m. PT for 10 days only (right up until her birthday on Aug. 10), as per Jenner's Snapchat.
While 10 days might seem like a short period of time, Jenner said on Snapchat, "I've been building this quantity for a long time, so I know there will be enough for everybody." It's reassuring to hear that there is a large quantity of products coming, considering how hot that Kyliner color is, but I think there is a possibility that the entire line will sell out sooner than she thinks. I mean, just look at those swatches.
Here's hoping that Jenner comes out with even more Kyliner shades very soon.
Image: kylizzlesnapchats/Instagram (1)